Gaining hands-on experience in the assessment and measurement field
News
---
By: Shannon Shevlin
Creative Services Student Writer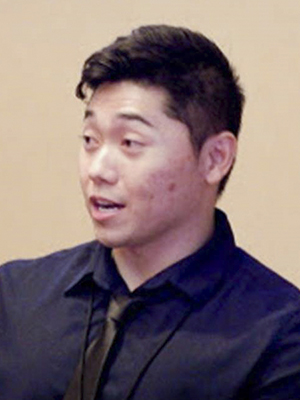 It's often said that the expert in something was once a beginner. For students, internships are a key way to build useful expertise and prepare for their future careers. Thai Ong, a third-year student in JMU's Assessment and Measurement (A&M) Ph.D. program, found two highly immersive and rewarding internships. These experiences encouraged Ong to explore his interests, and strengthened his professional skills and competencies.
Originally from Phoenix, Arizona, Ong earned his bachelor's degree in psychology from Arizona State University. His interest in research methods and statistics led him to the Psychological Sciences Master's Program (Quantitative Psychology Concentration) at JMU. After graduating from the program in 2016, Ong was accepted to the A&M Ph.D. program where he currently enjoys rigorous coursework in research methods and data analysis. Ong plans to graduate this spring and attributes his readiness for the future to his education at JMU, relationships with faculty and internships in the A&M field.
During the summers of 2017 and 2018, Ong interned for the American Board of Surgery (ABS) in Philadelphia, a nonprofit that provides qualified physicians with specialized certifications in surgery. During his time at ABS, Ong contributed to long-term research activities, including projects about gender bias and raters' behaviors on oral exams. Ong said his experience at ABS was positive and insightful and helped shape his future career goals.
Ong is currently interning for the National Board of Medical Examiners (NBME) in Philadelphia, Pennsylvania. Similar to ABS, the NBME is a nonprofit that evaluates training and education for physicians by maintaining the United States Medical Licensing Exam (USMLE) along with many other testing programs. Ong's role at the NBME focuses on research regarding how to improve the USMLE. His favorite aspects of this role include learning about the internal structure of assessment bodies, and how exam questions are constructed, administered and scored.
These internship experiences have proved transformative for Ong, both personally and professionally, but they wouldn't have been possible without JMU's powerful network of alumni. Ong discussed how he obtained both internships by talking with alumni at academic conferences and being transparent about his interests and ambitions. He advised students to utilize the power of networking and find the courage to get out of their comfort zone.
While next steps for Ong are not set in stone, he is keeping an open mind about life after graduation and future career prospects. He will be applying for jobs within the medical certification/licensure field in the upcoming months. Whatever the future holds for him, Ong knows he wants to make the most of every opportunity.
Ong's curious spirit and willingness to learn not only gave him two successful internships, but also equipped him with a versatile skillset and strong foundation for his career. He encourages students and new graduates to be open, teachable and optimistic. He said, "What matters most is not what you learn, but rather, how you teach yourself things and learn as you go," he added, "you have to be able to say 'I don't know how to do that, but I'll figure it out'." Ong reminds students that learning is a lifelong process and they should take advantage of every opportunity to explore their passions and grow from the experience.