News
Students participate in Summer Autism Camp
---
Story By: Sara Banton
Video By: Marck Anthony Marquez
Creative Services Student Associates

A collaborative group of students from occupational therapy (OT), communication sciences and disorders (CSD) and pre-professional health served 11 children with autism and their families through the Summer Autism Camp at JMU's Occupational Therapy Clinical Education Services this past summer. This program, directed by OT professor Elizabeth Richardson, CSD professor Marsha Longerbeam and OTCES Associate Director Cindy Colwell, benefitted not only JMU students, but area families as well.
During the summer camp, students created and facilitated activities for the children under the supervision of the faculty directors. While doing so, students completed fieldwork and coursework, such as learning how to interact with, observe and provide treatment to children, how to document what they observe and how to communicate with families.
OT students Mackenzie Ross and Charis Okuda participated in the Summer Autism Camp and agree that the opportunity strengthened their skills in both the classroom and the clinic.
"We learn about these certain diagnoses and interventions and things like that, but to actually apply what we're learning in class is super beneficial," Ross said. "I thought it was helpful to adapt and learn how to, as our professor says, have 'cognitive flexibility' and think on the fly with some of the activities we did."
"This experience helped prepare me for my future career in really building my confidence when working with children with Autism Spectrum Disorder," Okuda said. "I haven't worked with this population very much this far, so having an experience that was all-encompassing and being able to spend a lot of genuine time with them and watch them progress throughout the camp was really cool."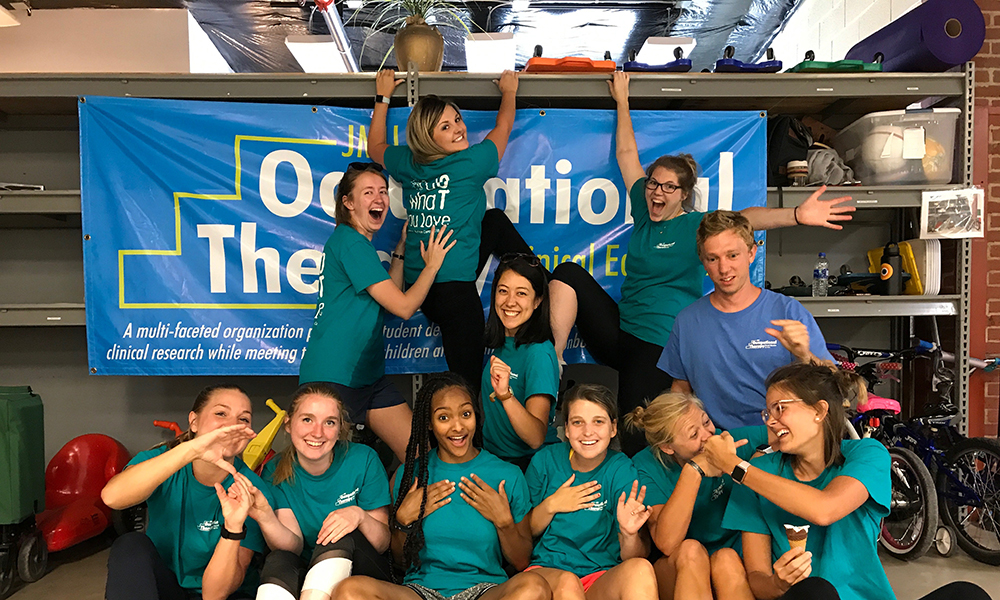 Combining the skills of students from different fields of study allowed the students to learn from each other through collaborative work.
"It was really helpful being able to work with the OT students during the Summer Autism Camp," SLP student Rebecca Ciafre said. "We are going to have to learn how to work with other professionals through all walks of life during our career and I think it's really important to start early and learn how to collaborate early in our career."
"In most of our disciplines in this college, we like to start working on interprofessional education skills at this level because once our students go out into the real world, they are going to have to be able to participate in interprofessional disciplines and teams, so this gives them the opportunity to practice that skill," CSD professor Marsha Longerbeam said.
Additionally, being part of the summer camp provided an experience for students that may reinforce their intended career path or specialty field.
"I've always loved working with children with autism, but this has pointed me in the direction of wanting to work with children with autism as the main focus of my career," SLP student Hope Erdmann said. "I definitely got to build a passion and practice a lot of skills."
While the camp benefitted students, it also aided the families of the campers, who were given peace of mind, knowing that their children were having fun and interacting with others.
"The experience allows the families to send their children to a camp like typically developing kids would go to and they can get the type of support that they need," Richardson said. "It's an environment where we better understand what their needs are."
The student participants reflect positively on the camp as an opportunity to practice real-world applications for the skills they have learned, while also building bonds with children with autism.
"I would recommend it to other OT or speech students. You really learn a lot and it is definitely a lot of work, but it is incredibly worth it and you learn so much. You just fall in love with the kids. They were all amazing," Okuda said.
"Every year that we get started, it's a lot of work. It's a lot of work to coordinate and organize it, it's a lot of work every day, it takes a lot of energy and creativity to work with the kids; it takes a lot of energy to work with kids in general. But the payoff is huge," Richardson said. "Getting feedback from the students, too, that it's something that has been meaningful to them and that they can continue to carry that forward as they continue to develop as an OT professional or a speech therapist is really rewarding all the way around."