News
#CHBSChats with Amber Tordoff
Read more about Amber's time in the Physician Assistant Program
---
Series produced by: Morgan Bond
Creative Services Social Media Assistant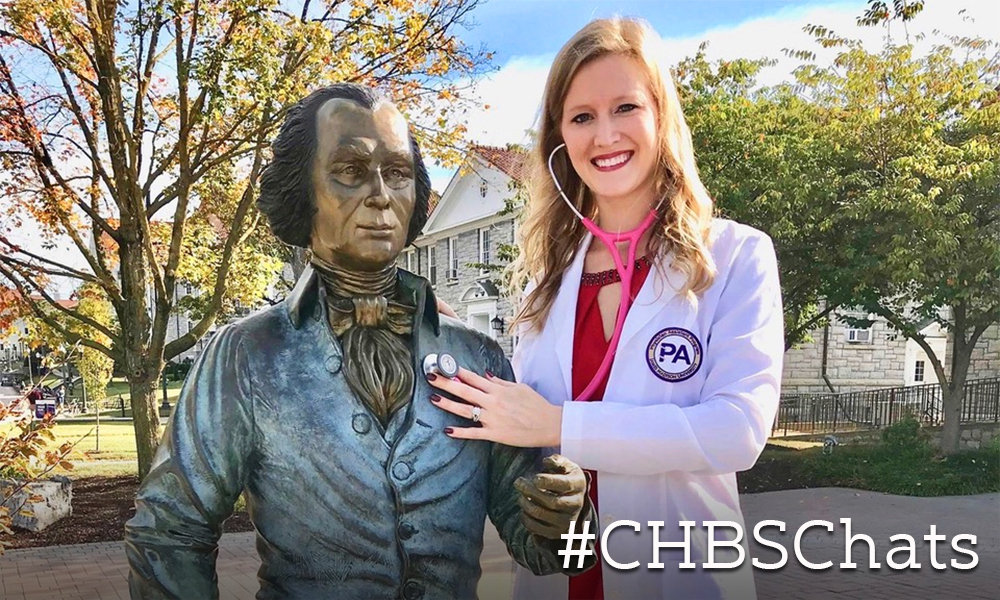 What inspired you to become a PA?
I was an animal science major at Virginia Tech with the dreams of becoming a veterinarian, when at the end of my junior year I felt led to pursue a career in human medicine. This inspiration occurred after witnessing my sister-in-law's graduation ceremony. With 50,000 plus individuals piled into Lane Stadium to celebrate their loved one's greatest accomplishments, I could not help but wonder how foreign such an enormous celebration probably is to so many across the world. In that moment, I felt extremely blessed to have been given the opportunity to receive an education. How lucky was I to be born into a country where I have the opportunity to pursue a career in something I have a passion for? After that day, I knew I was meant to pursue a career in human medicine so that I could love on those who were not as fortunate as I and who need someone else to care for them.
What's been the most rewarding experience you have encountered in your program so far?
Now that I am almost done with my clinicals and only have two out of ten rotations left, I would have to say my most rewarding experiences have come from my patient interactions. Specifically, on my pediatric rotation. I received a lot of positive feedback from parents who recognized and acknowledged the time I spent with them and their children. They enjoyed the education I provided relating to certain topics pertaining to their children's health, and were especially touched with how I spoke with their adolescent children and counseled them on sensitive subjects. It was such a pleasure to be able to serve others who were so appreciative of my time and efforts, and made me feel like I was making a difference in others' lives and doing good in the world.
Tell us more about your clinical rotations.
Every student does 10, four week rotations which consists of two rotations in family medicine and two in internal medicine. My two internal medicine rotations were hospitalist and nephrology. We also all have one rotation in obstetrics and gynecology, pediatrics, emergency medicine, behavioral health, surgery and an elective of our choosing. The two rotations I have yet to complete are my behavior health rotation and my elective which is in pediatric hematology/oncology.
Do you have a job lined up after graduation? 
Upon graduating in December 2018, my husband and I will be moving to Valdosta, Georgia where I will serve as a Physician Assistant for the United States Air Force. I will be working in primary care for the first several years followed by numerous opportunities to specialize and complete additional training in other fields, or the option to apply to work as a medical provider on different missions and in a variety of locations.
How has the PA program helped prepare you for your new job?
With the combination of our didactic education and clinical training, I believe JMU has provided me with all the tools needed to become a successful medical provider. We have endured 15 months of intense instruction by amazing faculty, followed by 12 months of hands-on learning with well-qualified physicians, physician assistants and nurse practitioners. This training has not only taught us the fundamentals of medicine, but has also provided us with the confidence to be able to assess, treat and manage a variety of medical conditions. While I'm certain I will continue to learn in the field of medicine for the rest of my life, I feel as though JMU has paved the beginning of that never-ending path. 
What parts of your new job do you expect to challenge you?
As I did not grow up in the military, I believe adjusting to the military lifestyle will be challenging. Additionally, not only will my duties consist of providing medical care to other service men and women and their families, but I will also have to fulfill my duties as a military officer. I get bored easily so I am looking forward to having a variety of job responsibilities, but I am most certain that will come with many challenges.
What unique perspective do you think PAs bring into the healthcare setting?
As a physician assistant, you have general training in the primary divisions of medicine and can move between specialties with more in depth training while on the job. I believe this flexibility allows for medical providers to be more easily cross trained in different areas and have a diverse educational background with a wide variety of professional work experiences. I believe this adds to the knowledge base of our providers and allow for better, more comprehensive care to be provided to our patients.
Just for fun...
Favorite thing to do in your free time?
I enjoy traveling the world and exploring surrounding areas with my husband.