News
Graduate turns thesis into successful career
---
By: Brittany Bell
Creative Services Student Writer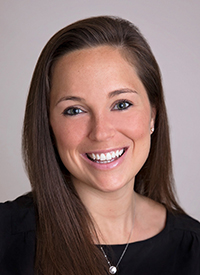 Rachel Gregory ('16) graduated with a Master of Science degree in nutrition and physical activity. Like every student in the program, Gregory had to choose a thesis statement and conduct research on the topic during her studies. She decided to focus on studying low-carbohydrate, ketogenic diets combined with six weeks of CrossFit training, hypothesizing that the combination would improve body composition and performance.
Now nearly two years later, Gregory has started her own successful business and even published a book; all based on the research she completed in graduate school. Not only was her hypothesis proven correct, but unexpected positive results made the study even more beneficial by finding new information on the topic.
"The study was really successful in terms of our hypothesis coming true," Gregory said. "The fact that the keto diet was successful in not only helping people lose body fat but also maintaining muscle mass and performance, and I could see it actually happen, was pretty cool."
Gregory chose the keto diet after her adviser, professor Jeremy Akers, encouraged students to pick a topic they would be interested in that lacked current research. After the success of her work, Akers suggested she publish the study in an academic journal, and a year later it was published in the International Journal of Sports and Exercise Medicine.
"After graduating, I presented the results of the study at the National Strength and Conditioning Association conference and continued to dive deeper into the ketogenic research" Gregory said. "I started following the keto lifestyle myself and saw many benefits beyond weight loss."
Gregory faced challenges during her research in graduate school. The time-consuming and organizational nature of performing clinical trials added long hours to her daily routine. Even after the research was done, preparing the study for publication was time consuming.
Gregory's first step toward building a career based on her thesis research began after the study publication. After introducing the keto diet to her CrossFit gym, she created her own personal brand on Instagram to share recipes and tips. This eventually evolved into her website where she created the 21-Day Keto Challenge online course that quickly turned into her own business. The course takes people through different keto related topics daily to educate them on the subject without being overwhelming.
After the success of her website, publisher Callisto Media asked Gregory to write a book on the keto diet. They wanted a book based on her online course that included recipes and information on lifestyle aspects of the diet such as overall health, long-term weight loss and weight maintenance. The book, 21-Day Ketogenic Weight Loss Challenge, was published in August of this year.
Gregory admits that the harder parts of her journey were getting the business started and speaking publicly on the topic. Thanks to her graduate school studies she was well-prepared in research but needed to focus on applying her study in the real world.
"One of the most important skills you need to have when presenting in front of people is not only knowing what you're talking about, but being able to articulate it in ways that other people can absorb without being confused," Gregory said. "My background studies definitely help me explain these complicated scientific topics to people in laymen terms. 
Despite the challenges she faced, Gregory was determined to work hard until she found success. Instead of following the usual finding-a-job-after-college route she had originally planned for herself, she decided to branch off and follow her passion.
"It's scary not going the traditional route - getting a full-time job with benefits and financial stability. But, I think the risk is definitely worth it if you're willing to put in the work." Gregory said. "If you have something that you're passionate about and you want to work towards it because you think it has value, then go for it." 
Learn more about Rachel by visiting her website.
Published: Thursday, September 20, 2018
Last Updated: Monday, October 28, 2019