College of Health and Behavioral Studies
#CHBSChats with Scott Caravas
Read more about Scott's experiences in the social work program and his choice to attend grad school
---
Series produced by: Morgan Bond
Creative Services Social Media Assistant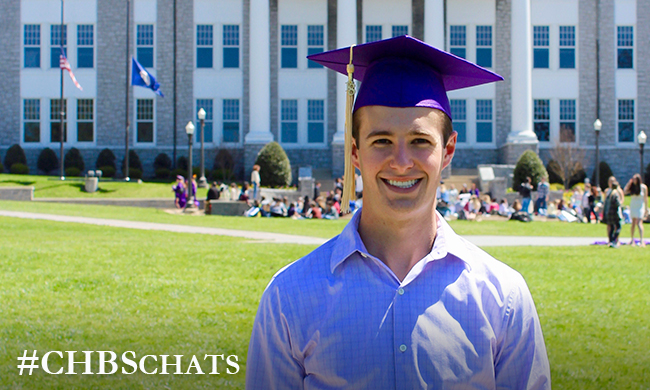 Why did you choose to study social work? 
In my opinion, college is about discovering what you are passionate about, finding a major that fits your passion, and then figuring out a career in which you can get paid for doing what you love every day. My passion is and always has been service. I truly find joy in helping people through difficult circumstances in their lives. Service is a cornerstone of social work practice and by definition it is a helping profession. I love the empowerment philosophy of social work that encourages clients that they have the power to make changes in their own lives. Social work has been a great fit for my desires and values. 
Tell us about your senior field practicum.  
My senior field practicum is at the 26th District Juvenile Court Services Unit. We offer a variety of services including diversion, case management, an early intervention program, probation and parole. Our clients are all mandated to complete our services through the court system. I assist with my coworkers' caseloads, therefore, no day is ever the same. Some days I am writing social histories, other days I am covering court, other days I am driving to visit clients (home visits, jail, group homes, etc.). It all depends on where I am needed that day.
I have thoroughly enjoyed my field placement. It has given me the opportunity to learn so much about our country's legal system as well as local policies. I have definitely seen myself improve upon my skills as a social worker since I have started here.
Why you are choosing to go to graduate school? 
I am choosing to go to graduate school because having a graduate degree opens up a host of opportunities going into practice. The jobs tend to be better as well as the pay because you are further trained and more qualified for various upper level positions. You automatically become a Qualified Mental Health Provider (QMHP) and it also streamlines the process of becoming licensed (a very desirable thing in any human services profession). The great thing about having a BSW is that you are eligible for an "Advanced Standing MSW Degree," which means you can get your masters in a year. It's super rad. 
Tells us about the graduate program you're pursuing.
I am pursuing a Master of Social Work (MSW) degree at Radford University! I am stoked for the program because it is very experiential learning focused, has a small cohort of students and deals with a rural clientele. 
What parts of graduate school are you most excited about? 
As previously stated, I am very excited for the field practicum aspect of graduate school. By nature I am an experiential learner, therefore, I learn a lot by "doing." Having a field practicum side-by-side with the information that I am learning in class will expedite my learning. I am excited to be with a small (12!) group of students for the year and to also work in a more rural area of our state.
I actually have already been assigned a field practicum for the upcoming year! I will be working with a substance abuse program through Radford University's campus. My clientele will be solely students who are either mandated through school policy to attend our program or volunteers. So I will be running groups and assisting in counseling work. I am excited to work with undergraduate students with a topic that is so influential during the college years.
How has JMU's social work program helped prepare you to be successful in graduate school? 
JMU's program has helped me prepare for graduate school by establishing a strong social work base. I know the theories, the skills, and practices, now it is time for me to hone those skills in grad school. It has been a supportive environment for me to improve as a professional anywhere from my writing to my dress.  I also know that I can take on the academic intensity of graduate school with confidence. 
What are your long-term plans for a career in social work? 
As weird as it sounds, I am excited to bounce around in my 20s. I am not a guy who has a direct, singular interest or one job that I absolutely must get. I think it would be really cool to work in a hospital right out of graduate school. Later down the line, I do have a dream of opening up or joining a farm focused on sustainable agriculture, educating youth on the importance of nutrition, therapy through working, and partnering with food banks. That would be really cool. 
Just for fun...
Favorite thing to eat on campus?
The Cali from the Panini place in SSC

Favorite thing to do in Harrisonburg? 
I am such a foodie so it'd have to be going around to different food joints. My favorites are Tacos El Primo (the blue food truck on Reservoir across from Hardees), Blue Monkeys from Little Grill, and Sticky Nugs from Billy Jacks on Thursday nights… obviously.

Purple, Gold, or White? 
I bleed purple. 

Favorite outdoor activity? 
This is a tough question because I am a pretty avid outdoorsman. Since moving to the mountains, I have fallen in love with rock climbing. I love lead climbing at our local crag in Franklin, WV and hanging out with homies in the middle of nowhere! Back home in Virginia Beach, I am on the water 6/7 days a week rather fishing or surfing. 
Published: Monday, April 30, 2018
Last Updated: Monday, April 30, 2018