News
Social work faculty and students attend conference
---
By: Creative Services Staff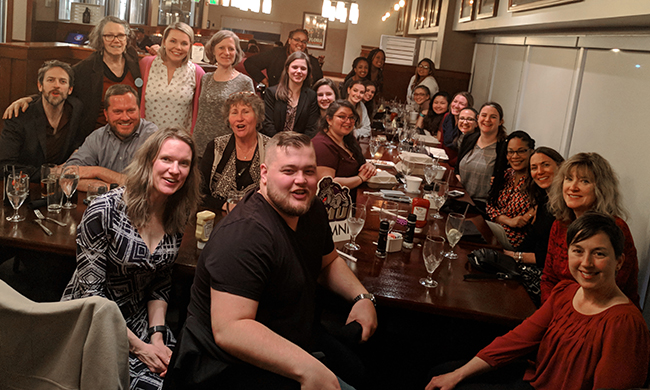 The field of social work has been described as one of relationships. The JMU program focuses on building advanced relationship skills by fostering connections between students, faculty and alumni that continue long after graduation. One way these relationships are developed is by students and faculty interacting in different settings. In March, JMU social work faculty members, Laura Hunt Trull and BJ Bryson took 14 students to the annual Association of Baccalaureate Social Work Program Directors, Inc. (BPD) conference in Atlanta. The BPD is dedicated to the promotion of excellence in undergraduate social work education. The conference is designed to provide top-quality education and dialogue opportunities and includes peer-reviewed educational workshops, papers, electronic posters, roundtable sessions and salons.
"I hoped they would connect with their profession on a different level. That they could see the social work roles of educator, scholar and advocate at work in a different way than they might otherwise." explained Trull. "We have taken students to conferences in the past, but this was my first time taking them [to BPD]. I think it is important for them to see some of the energy and enthusiasm that goes into being a baccalaureate social work educator. There are some exciting and innovative approaches out there."
Each year, the conference brings together more than 600 members and individuals as well as 150-200 students from regional schools. "I liked being able to connect to other social workers in different stages of their career and profession. I was able to meet different professors and students from all over the country. To see the passion in the room about several topics, and the discussions around social justice and inclusion was inspiring and refreshing." said social work student Kassandra Baltazar.
Besides connecting with other social workers the students who attended developed a closer bond with their faculty. Another student attendee, Madison Avery Summers, commented, "I loved getting to create a greater relationship with my professors through this opportunity."
Trull feels that the JMU social work program is unique, explaining, "It has all the joys of a small program - faculty and students getting to know one another, rigorous curriculum, individual advising and support - nestled within the opportunities of a large university."
In addition to providing opportunities like the BPD conference the JMU program prepares future social workers through hands on learning. "You get experience working with others even before you get accepted into the BSW program." said Baltazar. "Being able to use supervision effectively and maintain good relationships with coworkers is a transferable skill that I think I have developed by getting to know my professors."
Summers agreed saying, "The BSW program is preparing us for all the different aspects that may be in our future. One of the most beneficial aspects I have gained this year is the interviewing and listening skills I can use anywhere."
The conference experience energized the students and reinforced their commitment to their career choice. Baltazar commented, "I also think being able to see social workers from all over the country gave me a sense of belonging and reinforced social work is where I am meant to be."
Published: Friday, April 27, 2018
Last Updated: Friday, April 27, 2018