College of Health and Behavioral Studies
Barron reflects on leading JMU's psychology learning community
---
By: Creative Services Staff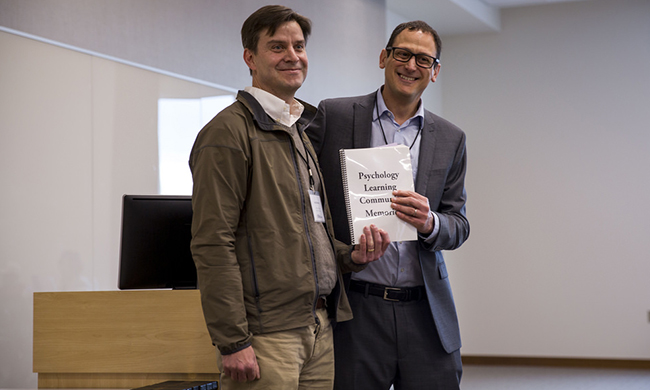 When Kenn Barron founded the JMU Psychology Learning Community (PLC) in fall of 2002, there was a university-wide initiative to develop innovative engaged learning opportunities for students.  Over the years, he has watched the community give freshmen a jump start into the psychology major.  They have become better writers, experienced researchers and stronger students due to their participation in the community. After serving as head of the PLC for 15 years, Barron will step down from his role at the end of the semester. He says he will miss many things about the learning community, but especially the meaningful relationships students are able to have with each other and with faculty.
Starting the Psychology Learning Community involved establishing a set of goals, developing a curriculum, gathering a network of supportive faculty and recruiting first-year students who wanted to fully immerse themselves in the psychology major early in their academic career.  When first developing the plan for the community, Barron used established research to determine what drives a college student's academic success.  He found that meaningful relationships and focused time on task, paired with psychology-specific learning skills were key elements.
Each fall, a group of 18-20 freshmen make up a new cohort of the PLC.  They share a residence hall and are enrolled in a cluster of courses exclusively open to the learning community.  Additional advising and mentoring experiences promote each students' academic growth and development. They're also given the opportunity to hear guest speakers and attend professional development events.  In an end-of-year evaluation one past participant said, "The Psychology Leaning Community establishes a group of friends, a network of connections to various professors and a greater understanding of the field of psychology. Being a member of it is an amazing experience that every psychology major should undertake. I've been really lucky to be a part of such a group."
The existence of the PLC is also something that sets JMU apart from most universities that offer an undergraduate program in psychology.  Currently, there are only 13 psychology-based learning communities at U.S. universities.  Keiva Brannigan, a sophomore who participated in the PLC said, "I have formed a number of professional relationships and have been given so many opportunities because of my decision to join the PLC." She was able to declare two minors and finish her psychology prerequisites a year early due to her involvement with the learning community.
During the time Barron has led JMU's PLC, he has become an expert on the subject of learning communities. He has published numerous journal articles and a book on the topic. As Barron prepares to pursue new challenges, he will pass the reins of the PLC to his colleagues. Psychology professors Tracy Zinn and Jessica Irons have volunteered to lead the program beginning in fall of 2018.
Both Zinn and Irons have been PLC guest speakers in the past and are excited to fulfill a larger role in the community. Irons said, "We wanted to work together given our shared values in education and our common appreciation for the potential benefits of the learning community."  Zinn went on to say, "Being a part of a community helps students as they transition into college. Having a smaller cohort within the college environment can be helpful. Also, the community will provide students an opportunity to get involved with the psychology major earlier and expand possibilities for what they can accomplish during their time here."
For more information about the PLC, contact Jessica Irons (ironsjg@jmu.edu) or Tracy Zinn (zinnte@jmu.edu).
Published: Friday, April 27, 2018
Last Updated: Friday, April 27, 2018