College of Health and Behavioral Studies
#CHBSChats with Rachel Civale
Read more about Rachel's new nursing job
---
Series produced by: Morgan Bond
Creative Services Social Media Assistant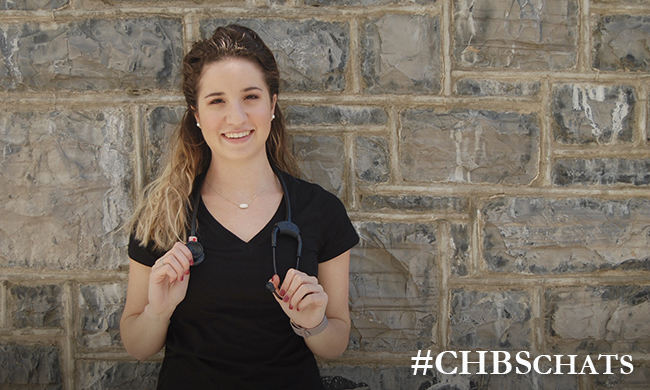 Why did you choose to become a nurse?
I chose to become a nurse because I have a passion for helping others. I have always been the type of person to lend a helping hand to anyone in need and find it truly rewarding to make a difference in someone else's life, even if it is small. I have always been drawn to the fact that nursing is a holistic profession and one that has many roles. I can be an advocate, teacher, supporter, caregiver, and much more to my patients and that versatility is something I value greatly. The field of medicine will always be evolving and nurses play an integral role in being a part of the change that will hopefully impact the patients I care for in a positive way. As I am a person who is always striving to leave the world in a better place than I found it, I believe I found my calling in nursing.
What are some of your favorite experiences you have encountered while being a part of the nursing program?
My favorite experiences in nursing come mostly from my simulation and clinical rotations. Being able to use the skills I have learned in the classroom in an actual clinical and simulation setting has helped me to make the connections from what I have read in the textbook or heard in class to the actual clinical setting. Right now, I am in my capstone clinical which consists of 200 clinical hours, one-on-one, with a preceptor. Capstone is definitely my favorite experience because I finally get to put all the pieces of what I have learned over the past two years in the nursing program together and truly see all the hard work pay off as I make the transition from a student nurse to a new graduate nurse.

Tell us about the different leadership roles you've played in Nursing Student Associations?
During my time in nursing school I have served as the Secretary and First Vice President of the JMU Nursing Student Association as well as the Secretary of the Virginia State Nursing Student Association. These roles have all been a blast to serve in and have truly shaped me into the person I am now. Through these roles I have gotten to represent the voices of student nurses and help create an educational and welcoming environment for nursing students to interact in at JMU and in the state of Virginia. One of the coolest things I got to do is help organize the annual VNSA Conference which was held at JMU this past year. This was probably one of my favorite tasks in these leadership roles because I got to connect the state level board of directors with the JMU executive board and pull together a great event for nursing students statewide.
Tell us about the job you have lined up after graduation?
After graduation I will be working at Duke University Hospital on the Cardiothoracic Surgery Intensive Care Unit. I will be taking care of patients who have had heart transplants, lung transplants, and Coronary Artery Bypass Surgeries as well as working with different lifesaving technologies such as Extracorporeal Membrane Oxygenation (ECMO) and Intra-Aortic Balloon Pumps.
How did the JMU nursing program prepare you for your new job and future as a nurse?
The JMU nursing program has prepared me for my new job and future as a nurse by creating a safe environment to learn and always challenging me to work my hardest. All of our Professors are extremely passionate and dedicated to what they do and it inspires me to always work hard in hopes that someday I will be as great of a nurse as all of them. The program has also done a great job at allowing students to have as many different experiences as possible in the classroom and clinical environment which has helped me to decide that I wanted to work in an ICU setting.
What parts of your new job are you most excited about?
There are so many things I am excited about with my new job but if I had to pick one I would say that the patient population I will be working with is my favorite part. I will be working with patients at their most critical point right after surgery and helping to stabilize and rehabilitate them so that they can move out of the ICU and continue on their journey of recovery. I find this part of the job extremely rewarding because seeing the patients coming into the unit with an abundance of monitors and life-sustaining technologies hooked up to them and then getting to leave without most of those things is truly amazing and inspiring.
What are your long-term goals for your career in nursing?  
My long-term goals, as of right now, for nursing are to become a Nurse Anesthetist and someday teach in nursing school. I say "right now" because that's just one of the beauties of nursing and if there is one thing nursing school taught me it is that nothing goes according to plan.  There are so many different things you can do as a nurse and I want to see where my journey leads me and be open to as many opportunities as possible on the way.
Just for fun...
Favorite thing to do in Harrisonburg? 
My favorite thing to do in Harrisonburg would be sitting on the Quad when it's sunny and warm outside but getting Kline's Ice cream is a close second. 

Favorite TV show? 
My favorite TV show is "Friends" because I can watch it all the time and it never gets old.

Favorite fictional nurse? 
My favorite fictional nurse is Nicolette "Nic" Nevin from "The Resident" because she always goes above and beyond for her patients and is very intelligent. 

Favorite hobby? 
My favorite hobby is 100% shopping. If you take me into a store I can usually find something I "need" to buy. 
Published: Thursday, April 5, 2018
Last Updated: Thursday, April 12, 2018