News
School of Nursing receives Compass Award for Diversity and Inclusion
---
By: Katherine Gentry
Creative Services Student Writer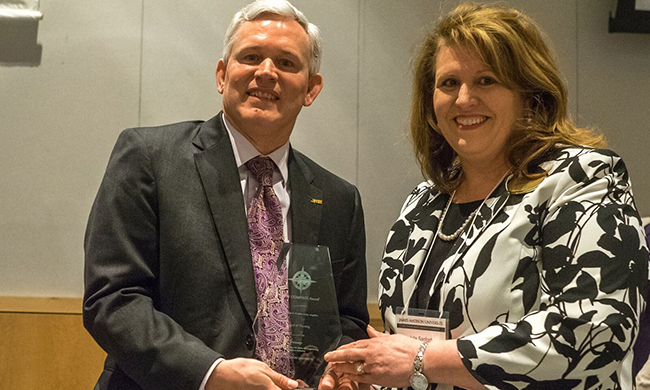 In recognition of its contributions to James Madison University and the Harrisonburg community and its commitment to supporting diversity and inclusion, the Office of the President has presented the School of Nursing with the Compass Award for Diversity and Inclusion. 
According to nursing professor Joseph Tacy, "The School of Nursing is committed to inclusivity by honoring the richness that diverse perspectives bring into our world. The school is a leader, advocate, and innovator that propels diversity within their curriculum." Faculty intentionally thread diverse experiences into the curriculum. One way they accomplish this is by using diversity simulations, which were developed to expose students to diversity issues that are commonly experienced by nurses. Held in the simulation lab, these scenarios allow students to develop competence when faced with a wide range of diversity issues such as language, culture, and religion, disability and ethical decision-making concerning sexual orientation. 
Nursing professor Emily Akerson noted, "The School of Nursing leadership is visionary and forward thinking, and provides support and encouragement for faculty to be innovative in developing and promoting strategies for mentoring, guiding and influencing students to think broadly and inclusively about their role as health professionals. Students are encouraged by faculty to advocate for all of their patients, families and communities, and aspire to the nursing code of ethics, which calls nursing to practices with compassion and respect for the inherent dignity, worth and unique attributes of every person."
Several clinical experiences are also designed to expose students to diverse populations. New programs in rural underserved communities, homeless shelters and the free clinic have been developed to build capacity for providing care. Other diversity initiatives include study abroad programs and the Interprofessional Health Policy Collaborative which provides for research and support for practical policy solutions and experiential learning on advocacy for improved health outcomes of all populations. The JMU School of Nursing continues to strive to educate students to be inclusive and respectful of all individuals.
Published: Friday, April 6, 2018
Last Updated: Friday, April 6, 2018