News
Health sciences students present research at conference
---
By: Caroline Whitlow
Creative Services Student Writer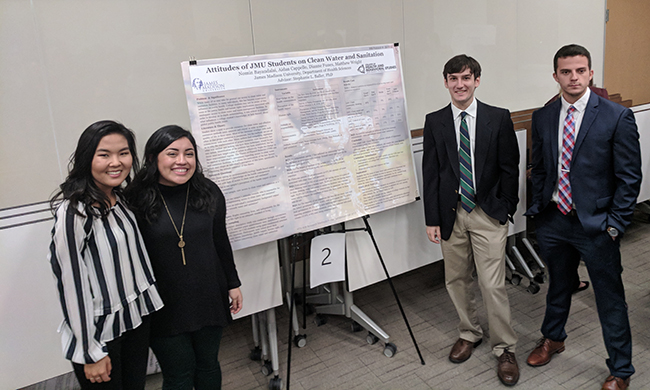 On April 18, four teams of JMU health sciences students will travel to the Georgetown Undergraduate Research Conference (URC) in Washington, D.C., to present their own findings on diverse and pressing health topics. Students were competitively selected to give oral presentations based on their submitted posters and performance at a JMU symposium in the fall.
Hannah Altieri and Samantha Cohen researched the impacts of adverse childhood experiences (ACE's) on reckless driving behavior.  They wanted to know how ACE's such as abuse and neglect impact an individual's daily living later in life but noticed a lack of comprehensive literature.  To gather information, they handed out nearly 200 questionnaires approved by the Institutional Review Board (IRB) and utilized Spearman and Pearson's correlation test to analyze the relationship between ACE's, depression, impulsivity and ultimately driving behaviors. They hope that their project will serve as a stepping stone for further studies on the correlates of impulsive behaviors. 
"Specifically, we examined the relationship between adverse childhood experiences, depression, impulsivity, and reckless driving behavior among the JMU population," said Altieri. "Ultimately, we found there were positive relationships between ACE's, depression and impulsivity, and reckless driving."
Another team, Anna Bosworth and Kyle Cook, will share their findings about awareness of pre-exposure prophylaxis (PrEP), a preventative HIV medication. By raising PrEP awareness, Bosworth and Cook aim to reduce occurrences of HIV. Further, they believe that having conversations about HIV and preventative options can reduce the stigma that surrounds accessing care for sexually transmitted diseases and infections.  Like Altieri and Cohen, Cook and Bosworth focused on JMU's population by surveying students with IRB-approved questionnaires.
"We found a large gap in awareness and knowledge of this medication in the health [sciences students] on campus," said Bosworth. "We are excited to have the opportunity to increase awareness at a higher level and bring visibility to this important LGBTQIA+ issue."
Other teams presenting include Noman Bayandalai, Dianne Funes and Aiden Cappello, who studied attitudes of JMU students toward clean water as a human right, and Emily Clark and Olivia Hearn, who studied intimate partner communication.
Because of their experiences at the JMU symposium and guidance from professor Stephanie Baller, students feel prepared for the challenge of presenting at Georgetown.
"It's our first time presenting at an official research conference. We are excited and nervous, but more excited than nervous," said Cohen. "Dr. Baller helped us through the entire semester. She is truly the reason our project was so successful, and we are so lucky to have worked with her."
Bosworth and Cook also cite their guidance from Baller as an important step in their process. "Dr. Baller is [great]," said Bosworth. "She is invested in her students and only wants them to succeed."
In addition to gaining experience with presenting, students will have opportunities to connect with peers and professionals from other universities and seek further dissemination of their work.
"We are looking forward to seeing what else is happening in research at other universities," said Cook. "We are also interested in the possibility of our work being published."
Participation in the Georgetown URC is open to all undergraduate students. For more information, please see the Georgetown School of Nursing and Health Studies website.