News
Exchange student completes CSD research
---
By: Caroline Whitlow
Creative Services Student Writer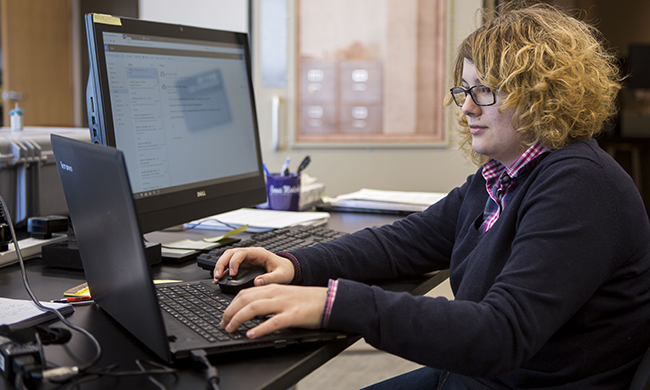 Communication sciences and disorders (CSD) professor Chris G. Clinard and German exchange student Lisa M. Jessen completed research about how the brain processes sounds when we are listening with background noise, and this research aims to expand knowledge about the impact of aging on hearing.
Jessen travelled to the United States through a partnership between JMU and her applied sciences university in Saarbrücken, Hochschule fur Technik und Wirtschaft (HTW). She has a background in biomedical engineering and hoped to find a research thesis opportunity abroad to finalize her undergraduate degree. After Clinard reviewed her application, he thought she would be a good fit with CSD Research Labs and took her on as a student partner. "Lisa was interested in using physiological approaches to studying brain activity, and my lab uses perception and electroencephalography (EEG) to study brain activity so it was a good match between our interests," said Clinard.
Throughout the research process, Jessen worked directly with research participants and enjoyed their interactions during hearing tests.
"I liked how after the first few weeks, I could work individually with patients and subjects," said Jessen. "Dr. Clinard was always there to help if needed, but I was able to improve my own skills."
Clinard expressed gratitude for Jessen's demeanor and work ethic throughout the research process.
"Lisa was great to have in the lab. She is a hard worker, able to think independently, thoughtful about science, and pays attention to details," said Clinard. "In addition, she has a positive attitude and is easy to work with.
Although Jessen speaks English as a second language, she challenged herself to overcome the communication barrier and complete the most thorough research possible.
"Language is always a challenge, of course. There was a lot of terminology to learn, especially since my background is in biomedical engineering and this research focused on audiology," said Jessen. "But overall, I think it went well."
Participating in the exchange program benefitted Jessen not only through its research opportunities, but through the opportunities to work beyond her comfort zone and develop cultural competence. She believes that completing research at her home university would not have provided the same type of cultural experience.
"I would encourage anyone to go abroad," said Jessen. "It's allowed me to explore different stereotypes and prejudices for myself. I really felt like a freshman sometimes, but Dr. Clinard was always there to answer my questions and helped me find my way into the field. I learned a lot culturally."
Soon, Jessen will board her flight back to Europe, where she will present their research at an international conference in Belgium (the Auditory EEG Signal Processing Symposium) and enter a master's program for neural engineering at HTW.
"This experience really gave me input on what I want to study," said Jessen. "Being able to work with Dr. Clinard and see how audiology impacts the brain made my decision clear."
Information on student exchange opportunities can be found on the Center for Global Engagement website.