College of Health and Behavioral Studies
Psychology students receive engagement grants
---
Field placement enriches the student experience in the psychology major in many ways. Working with local agencies gives students a chance to work directly with patients in the community. Working with a mentor in a professional setting might inspire a future career path. But most uniquely, field placement students have the opportunity to practice their grant writing skills in the pursuit of engagement grants.
These mini-grants are funded by the university and allocated by the Faculty Senate and the Student Government Association. Awards of up to $5,000 can be used by students to enrich their engaged learning experiences at JMU.  Psychology majors Kathia Bonilla and Caleigh Strother both had ideas for ways to serve patients in their field placement settings and decided to pursue engagement grants.  Both women were honored to receive grants to make their ideas into reality.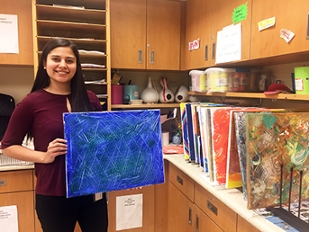 Bonilla was placed at Western State, a psychiatric hospital in Staunton, Virginia. While working with patients, she realized she wanted to pursue clinical psychology and continue working with this population.  Bonilla applied for a grant to expand an art therapy group program she had worked with at the hospital.  "This group gave the patients better coping skills and a way to express themselves," Bonilla explained.  She had grown to know her patients and wanted to further explore how art could be beneficial in improving mental health. The grant funds will purchase supplies like paint, brushes and canvases.
Strother did her field placement at the Commonwealth Center for Children and Adolescents, a psychiatric facility for patients aged three to 18. She chose this location because she wanted to explore a career of working with youth.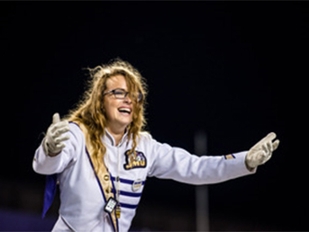 As a former Drum Major for the Marching Royal Dukes, Strother will use her grant money to share her love of music by purchasing ukuleles for the site. While she was working with children at the center, Strother observed the patients responding to music, inspiring her to apply for this grant. She plans to involve a group of JMU music education students that focus on teaching ukulele.  In February, Strother had the opportunity to present her project to the JMU Board of Visitors.  "I wanted to share with them how some of the JMU music programs shaped and inspired me to do this project and how that intertwines with the psychology department."
Both Bonilla and Strother were grateful for the grants and the opportunity provided for hands-on learning and a chance to work in the community. They were both initially attracted to JMU because of these types of opportunities afforded students.
David Szwedo, professor and field placement coordinator said of Strother and Bonilla "they are prime examples of how students can take advantage of opportunities within Psychology to learn, help and grow."