News
#CHBSChats with Grace Berardini
Read more about Grace's time in the Physician Assistant Program
---
Series produced by: Morgan Bond
Creative Services Social Media Assistant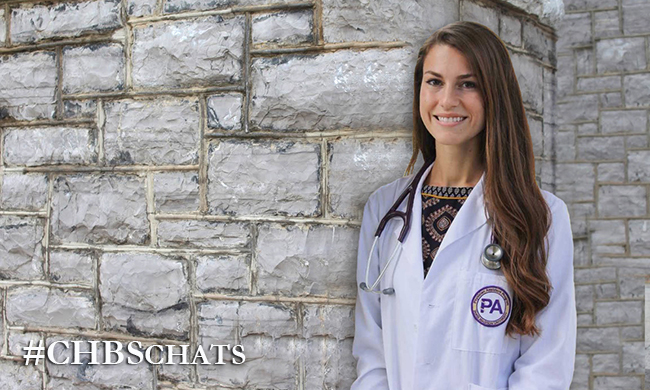 Why did you choose to become a PA? 
I decided to become a PA because I love making people feel cared for, am passionate about promoting health, and want to make a difference in people's lives. I was inspired from a young age by my family medicine PA who is the most compassionate health care provider I have ever known. After spending time shadowing and learning from her, I knew I wanted to care for patients in the same way she did. This experience sealed the deal and I knew that PA was the right career for me.
Tell us about a mentor that has helped you along your way in the program and how they've been important in your education. 
When we start PA school, we each get a "buddy" who is a student in the year ahead of us. Our buddy is someone who patiently answers our questions, listens to all of our concerns, and gives us encouragement throughout PA school. My buddy was a really wonderful mentor to me. All the way from panicking about an anatomy tests during first semester to starting clinical rotations a year and a half later, my buddy has provided constant encouragement and insight into what I was going through, because she had already experienced all of it. She is someone I will always look up to and I know my experience in PA school would not have been the same without her. 
What's been the most rewarding experience you have encountered in your program so far? 
The most rewarding experience I've had in PA school so far has been working at the Harrisonburg-Rockingham Free Clinic. Compassion and patience are not things you can learn in the classroom, but they were certainly lessons well taught at the HRFC. Each patient has a unique story, one that requires compassion, patience, AND the medical knowledge we learned in the classroom. I enjoyed every day I spent in the clinic surrounded by the wonderful volunteers who so generously gave their time to serve the underserved and to teach my classmates and I the lessons of patient care. 
What are some different professional development opportunities through the PA program that you have had in the past? How have they been beneficial? 
Several opportunities come to mind, including White Coats on Call, and the Virginia Academy of Physician Assistants (VAPA) conference.
White Coats on Call is an event hosted by the Medical Society of Virginia and VAPA in Richmond, VA that provides clinicians and students with the opportunity to advocate for various medical laws with the Virginia elected representatives. When we went in February 2017, we advocated for PAs to be recognized as behavioral health providers in the Virginia legislative code. This was a really fun and informative event that helped us understand how we can help bring needed change in our state government for issues we are passionate and knowledgeable about.
Every fall VAPA hosts a continuing medical education conference for PAs from across the state to attend. As students this gives us an opportunity to learn outside of the classroom, along side practicing clinicians and allows us to see the work of our state organization. The purpose of this event is predominantly educational, however it is also a great opportunity to meet and network with fellow PA students and practicing PA's.
How has connecting with and providing services to the local Harrisonburg community through the PA program's partnership with the Harrisonburg-Rockingham Free Clinic prepared you for your clinical rotations? 
I learned so many valuable lessons from working with the HRFC. We worked with people from a multitude of backgrounds, which exposed us to various cultures and ways of life that make up our community. We put our classroom knowledge to the test by practicing our history taking, physical exam, and diagnostic skills on real patients. Our preceptors pushed us to move outside our comfort zone, taught us how to prioritize our patient's needs, and gave us the tools to become confident and competent healthcare providers. And most importantly we learned how to develop a relationship with our patients that was based on trust, compassion, and respect.
Are you involved in the Physician Assistant Student Society? If so, can you tell us about some activities the organization has been involved in? 
I am involved in the PA student society, and I know my experience in PA school would not have been the same without it. We did a variety of fun outreach activities including volunteering at Our Community Place, we had blood pressure screenings at the downtown farmer's market, volunteered at the elementary health and wellness fair, did local stream clean up, participated in Relay for Life, and raised money for the HRFC. We also did several activities just for fun including the JMU ropes course, the lavender farm, as well as local hiking, tubing, and canoeing. 
What kind of setting do you see yourself working in after finishing graduate school?
I haven't quite made up my mind on which specialty I would like to go into. All year we will be rotating through different medical specialties (family medicine, emergency medicine, surgery, internal medicine, etc.) so I am keeping an open mind and will try to get the most out of each rotation before making a decision on which one I would like to work in.  
Just for fun...
Favorite thing to do in Harrisonburg? 
Going downtown to the farmer's market on Saturday mornings

Last good movie you saw? 
Still can't get over the live action Beauty and the Beast. 

Summer or Winter? 
Summer

What's your favorite outdoor activity?
Going to the beach!

What's one of your favorite quotes?
"The future belongs to those who believe in the beauty of their dreams." – Eleanor Roosevelt 
Published: Friday, February 9, 2018
Last Updated: Thursday, July 12, 2018