Women gain strength at MBC event
News
---
By: Caroline Whitlow
Creative Services Student Writer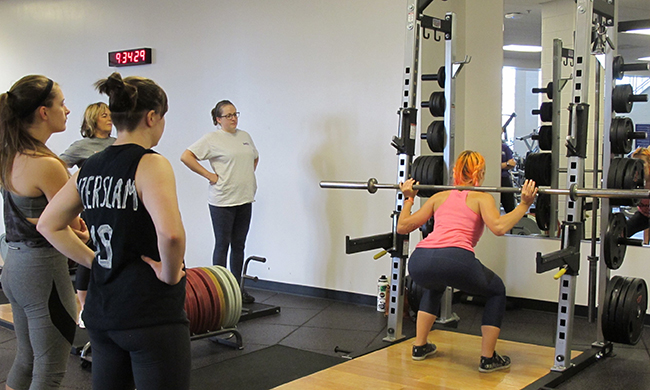 On Nov. 12, Sunday brunch became an athletic affair at the Morrison Bruce Center's third Barbells and Brunch event.  Attendees had the opportunity to learn about proper weightlifting techniques and experiment with nutrition during the free workshop.
"At the Morrison Bruce Center, one of our main goals is serving women and girls across the life span.  When we looked at our programs, we were doing a really great job with kids and we had some programs for older women," said Elizabeth Edwards, Executive Director of the MBC.  "But we saw this gap in college-age and adult women, and we wanted to expand."
Barbells and Brunch came about as an endeavor to introduce strength training to young women.  A former graduate student, Kaci Hardsock, had experienced a similar program at Virginia Tech and suggested creating a workshop at JMU.  Student leadership has since remained vital to the event's organization.
"One of the best parts of my job is supporting and guiding students as they pull off programs like this over weeks of planning.   Seeing their growth is near and dear to my heart," said Edwards.
Implementing weight lifting into a fitness routine brings both mental and physiological benefits, from improved self-esteem to reduced risk of developing osteoporosis. 
"It can have an incredibly positive impact on body image, and as more women begin to strength train, I think we will slowly break the societal mold that 'thin is in' for women and begin to appreciate bodies for what they can do/their strength," said graduate student Ellen Berry. "It also is very important to introduce to college-aged women to help build up bone mineral density while they are young and still laying down lots of new bone."
When participants arrived at UREC, they received instruction on proper eating before exercise and received homemade pre-workout snacks. 
"We're trying to implement nutrition education with the brunch piece, so our 'brunch' is actually our pre-workout and post-workout snacks.  It's just one more tool in someone's tool belt so they can come at weight training more appropriately," said Edwards.
After enjoying their pre-workout fuel, participants circulated through breakout sessions with various weight racks and machines.  Each session targeted a different aspect of training to ensure that all muscle groups received attention.  For example, the Rack City session offered squat rack instruction from Berry, who works as a personal trainer outside of her graduate studies.
"It can be intimidating to walk up to a weight rack.  There are so many moving parts, and it requires a little more understanding than something like a treadmill," said Edwards.  "We all grow up running and skipping and hopping, so we know how to do those things.  We don't grow up knowing how to do a deadlift, though."
The event wrapped up with more 'brunch,' a protein packed post-workout snack to replenish lost energy and aid in muscle recovery.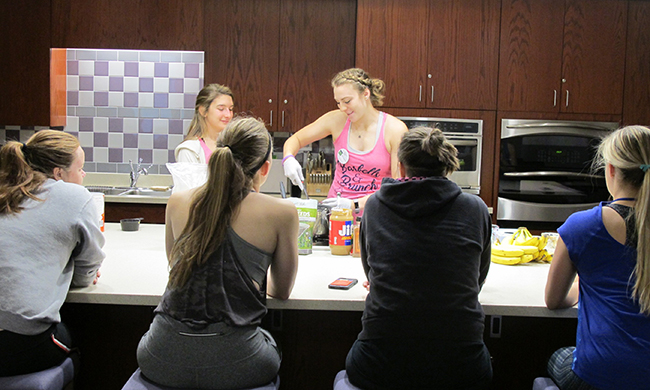 Barbells and Brunch was made possible with the cooperation of UREC, who opened early for the event and provided trained staff.  "I really want to acknowledge UREC and all of their help. The event would not have happened without them," said Edwards.
Upcoming Morrison Bruce Center events can be found on the center's webpage.  Women interested in weekly strength training instruction can also look into UREC's Women on Weights course on the group exercise listing.