News
Student completes adaptive sports internship
---
By: Caroline Whitlow
Creative Services Student Writer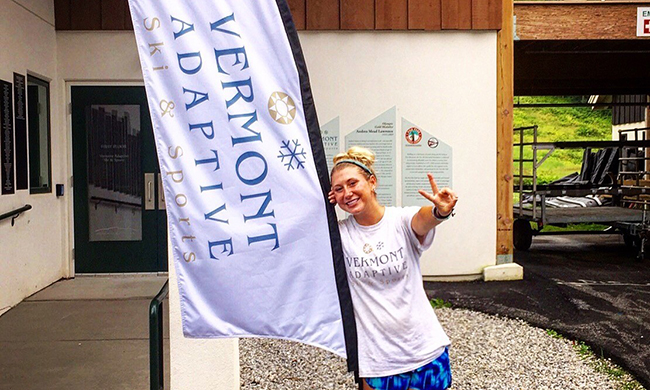 When senior Carly McBain began searching for her exercise science internship the summer after her sophomore year, she knew that she wanted to push beyond her comfort zone to develop professionally and interpersonally. 
Online research revealed an opportunity to spend the summer at Vermont Adaptive Ski & Sports in Killington, VT.  McBain, who grew up in Virginia but is originally from upstate New York, was familiar with the Pico Mountain ski resort that houses the program and jumped at the chance. 
"I had never really worked with individuals with disabilities," said McBain.  "The most amazing part was just seeing how much they can do and how positive their outlook was."
Vermont Adaptive Ski and Sports offers year-round athletic and holistic wellness opportunities for individuals with disabilities ranging from visual impairments to behavioral challenges.  They also provide opportunities for veterans through programs such as the Wounded Warrior Disabled Sports Project that address the physical and emotional damage of combat.
As a non-profit organization, the facility is funded solely by donations, grants, philanthropic events, and sponsorships. These opportunities make it possible to get involved in the lives of individuals with disabilities, even without volunteering.
"It wasn't like being in a classroom.  It was educational to be in the real world and get that hands-on learning," said McBain.  "I learned better communication skills for people with disabilities through the activities I did with them."
Clients are able to participate in activities such as sailing, rock climbing, horseback riding and cycling by using adaptive equipment.  These types of recreational experiences enhance the overall wellbeing of all people.
"Sports and recreation improve quality of life for individuals with disabilities. They get to socialize and engage in physical activity," said McBain.
Working directly with the senior program coordinator, Tom Alcorn,  many of McBain's duties as an intern centered on event planning and organization.  She worked behind the scenes on two of the center's three main summer events:  the Century Ride and the Vermont 100.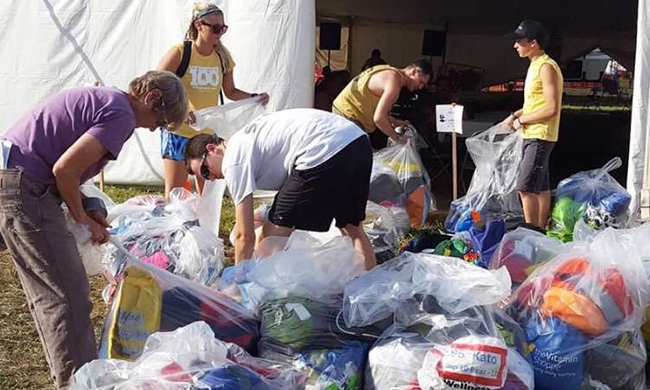 "I had full days, and it was a whole new experience," said McBain.  "But once I got adjusted, I loved being able to put forth my best effort to keep everything in order.  There was just so much going on that it was always exciting."
Alongside organizational tasks, McBain gained active experience with participants by learning to use adaptive equipment to give athletes the best experience possible.
"I'd go out and do things like tandem bike riding and kayaking with the participants, so it was a good mix of paperwork and hands-on experience," said McBain.  "I didn't know that there were that many programs and so much adaptive equipment.  Seeing people be able to play these sports was eye-opening."
Although she entered the exercise science program planning to pursue physical therapy, McBain's interests now focus on adaptive sports and she hopes to pursue a career in this field.  Upon returning to Harrisonburg, she assisted in an inclusive P.E. class at Elkton Elementary.  Now, McBain is in the midst of a practicum with Overcoming Barriers, a fitness and nutrition program aimed at empowering individuals with disabilities.
"I'm taking a gap year before grad school, so I hope that I can do a program with adaptive sports during that time.  I also hope to go back to Vermont and work with adaptive sports there," said McBain. 
Students interested in internships with Vermont Adaptive Ski & Sports can find more information on their website.