News
#CHBSChats with Ashley Rininger
Read more about Ashley's research experiences in the psychology major
---
Series produced by: Morgan Bond
Creative Services Social Media Assistant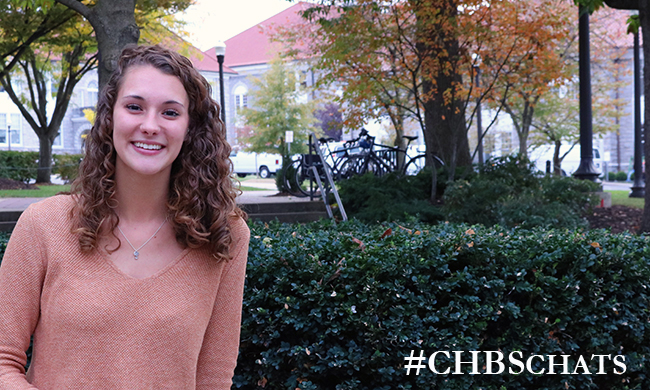 What do you like most about being involved in the psychology major
I love having the opportunity to connect with multiple faculty members and students outside of the traditional classroom environment. In my experience, it has helped me foster a more personal connection with psychology. I also enjoy that while being a teaching assistant, a research assistant, and a psychology peer advisor often includes similar responsibilities, each also gives me the chance to focus on and improve upon a more specific skillset that I can use in my career. 
What are some traits a student needs to succeed in your major? What would you tell a prospective student about your major
In my opinion, a student will see the most success if they are enthusiastic, open-minded, and willing to work hard. My personal psychology experience has been very focused on critical thinking, collaboration, teaching/public speaking, and research.
I would tell prospective psychology students that psychology is a broad topic and extremely relevant to everyday life, which makes it easy to apply outside of academics. I would also tell prospective students that even though there are plenty of non-research opportunities within the field, it is still a science, so course-work usually reflects that. Lastly, I would tell students that the psychology major is easy to personalize, and there are plenty of opportunities to make it your own. If students come in with a desire to learn, work hard, and get involved, they will definitely succeed. 
Tell us about one of your favorite professors in your major and why you like them so much. 
I have worked closely with multiple professors and it is hard to choose one, but I would probably choose Dr. Jessica Irons. I had her as a professor for PSYC 101 my first semester at JMU, and she is one of the reasons I enjoyed the psychology major so much from the very beginning. I am now a research assistant and a teaching assistant under Jessica, and I've been working with her for 2 years. As a professor, advisor, and mentor, she has continuously gone out of her way to help provide me with challenging and rewarding opportunities. Though my career goals are outside of her area of expertise, she still makes a constant effort to make sure my duties as a teaching assistant and a research assistant align with my anticipated career duties. Overall, Jessica has helped shape me into the professional I hoped to become, and she's helped me grow in countless ways as both a student and an individual. 
What future goals have you established for yourself related to your major? 
One of my favorite things about psychology is its relevance to everyday life, and one goal I have established for myself post-graduation is to remain a critical consumer of research and use my psychology background to my advantage when making decisions. Professionally, I hope to work for a non-profit, potentially doing community assessment impact in the long run, and my research and statistics background has played an immense role in helping me begin to narrow down my options. 
How have you used what you've learned in the psychology major in your leadership role with the Alternative Break Program?
This year, I am one of the co-coordinators of the Alternative Spring and January Break programs. My role includes facilitating two two-hour trainings each week for break leaders, and I have found my psychology background to be extremely helpful in this position. Content-wise, I often find myself bringing up topics we've covered in some of my courses. I also find my research background helpful, as there are many articles relating to social justice and community service floating around, and it is important that individuals know when those sources are sound and when to be skeptical. The skills I've learned through my involvement with the Department of Psychology have also been incredibly useful in terms of completing administrative tasks efficiently and effectively, being comfortable with public-speaking, and feeling confident in the facilitator role. 
Tell us more about being a research assistant for the department of psychology. How has being a research assistant helped you become more successful? 
As I've mentioned, I am a research assistant under Dr. Jessica Irons. My primary role is to help collect data during study sessions, though I also coordinate for two studies, meaning I am the point of contact between potential participants and fellow research assistants. Mainly, I assist with recruiting and scheduling. I have also had the opportunity to write IRB proposals, apply for grants, compile, code, and analyze data, and prepare a manuscript for publication.
I would describe myself as a very organized student who excels at time management, but being a research assistant has definitely pushed me to continue refining those skills. I have developed a much stronger attention to detail, and I have become a much stronger writer. I have also gained a lot of administrative experience, which will likely be useful in my career. I am considering pursuing some aspect of research professionally, so being in a research lab has been a tremendous asset and a wonderful learning experience. 
What's involved with being a teaching assistant?
The responsibilities vary greatly depending on which professor you TA for and which course you work with. I was a TA for Psychological Statistics and a combined statistics and research methods course under Dr. Tracy Zinn for a total of three semesters, and my duties included attending class meetings, hosting weekly office hours, hosting review sessions before exams, and grading. My main role was to assist students with understanding difficult or confusing content. This semester, I became a TA for Psychological Research Methods under Dr. Irons, and my duties so far are extremely similar, though my role as a TA is less focused on content and more focused on helping students refine their writing skills. I enjoy the student-student relationship, and sometimes, I am able to get information across in a more convincing way because I have also experienced the student role in these courses. 
Just for fun...
Best place to eat on campus? 
Chick-fil-A
Favorite place to relax on campus?
The little wall between Moody and the Quad.
Favorite thing about Harrisonburg?
The wide variety of things to do outside of JMU
Favorite JMU tradition?
Streamers at the JMU football games.
Best piece of advice?
During your time at JMU, countless individuals will invest time, money, resources, and care into you and your success. When able, it is only fair to repay that mentality in every possible setting – both at JMU and beyond.