News
Sarah Blackstone joins health sciences
---
By: Caroline Whitlow
Creative Services Student Writer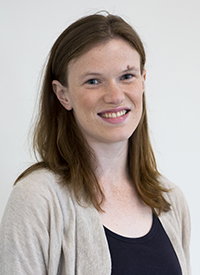 Sarah Blackstone is beginning her time at JMU as a professor of health sciences specializing in chronic disease and disability and infectious diseases.
Blackstone graduated with degrees in psychology and linguistics.  However, her curriculum heavily emphasized cultural competence and the crossover of culture to medical settings.  During her final year as an undergraduate at the University of Pittsburgh, Blackstone volunteered at a free clinic in an underserved area.  She attributes her interest in health sciences to working with those that experience disparities in access to care. This was the focus of her graduate work in public health.  
Before coming to JMU, Blackstone held numerous professional roles with organizations such as the Centers for Disease Control and Livestrong.  These organizations challenged her with diverse experiences from starting a community garden to rehabilitating cancer survivors with physical activity.
Blackstone's research focuses on psychosocial aspects of health and social determinants of health.
In addition to furthering her research, she is looking forward to working with students. "I've had a lot of fun being creative in the classroom and coming up with new ways to teach material to the students," said Blackstone.  "I love the courses that I'm teaching and the content areas."
 Q & A
What is your favorite guilty pleasure food?  Fried pickles.
Dog or cat person?  I'm a cat person.  I have a cat.  Her name is Ginger, and she is crazy.
What is your favorite JMU tradition? I'm not sure yet, because I'm still trying to learn them all.  But I've definitely noticed that people are good at holding the door here, and it always makes my day because I'm still getting used to it.
What advice would you offer to 20-year-old you?  Just don't worry so much.  Things have a way of working out, and you can't necessarily plan everything.  Be open to many opportunities and let things fall into place.