News
Kinesiology senior studies healthcare in Spain
---
By Trudy Horsting
Creative Services Student Writer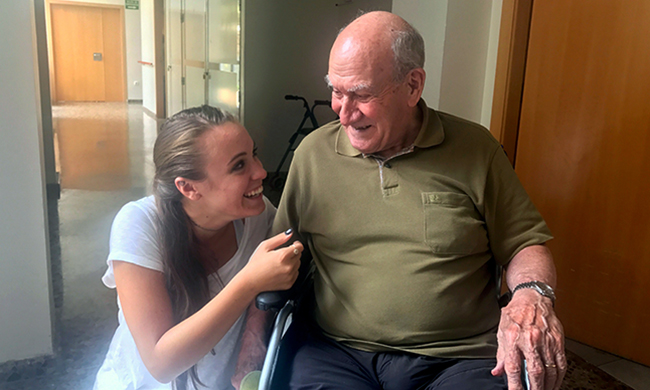 Faced with rigorous academic requirements and tight deadlines, some students feel they don't have time to study abroad. Senior kinesiology major Amanda Reeder proves it's always possible if you're determined to make it happen. Since her freshman year, Reeder knew she wanted to have an international experience. Last summer, she made her dream a reality. She coordinated her own individualized program in Valencia, Spain which fulfilled the four credit, 160-hour internship requirement for her major. She spent four weeks participating in an intensive Spanish course and six weeks interning at a geriatric day care facility. With aspirations to become a physical therapist, the internship was the perfect placement for Reeder, and the experience abroad was everything she hoped it would be.
Reeder worked with the World Endeavors program to help organize the logistics of her trip. She was placed with a host family who spoke only Spanish, and she spent each day of the first four weeks participating in classes. Having not studied the language since high school, this full immersion experience helped her build the proficiency she needed to move on to her internship.
Her internship took place at the Centro Bon Dia where she provided hands-on care for geriatric patients. The center had two groups of patients - one was fully functioning mentally and one had deteriorated mental function. By the end of her internship, Reeder was independently conducting therapy classes for both groups. She says, "People who intern in the U.S. typically don't get to touch patients, let alone work with them on their own, but the very first day of my internship I was helping patients stand assisted." By the end of it, Reeder was completing an hour or two of individual therapy with her own patients each day. The experience taught her about the skills needed to treat different kinds of patients. She explains, "Physical therapy is a profession where you wear a lot of hats. I was supposed to be a PT intern but I did nurse and psychiatric duties too." One of her favorite duties was musical therapy. She says, "It was incredible to hear some of the patients I'd never heard speak a coherent sentence singing songs."
During the six weeks of her internship, Reeder lived with other students in an apartment in the city. This gave her an opportunity to engage with students from around the world in an informal setting. They were in Valencia long enough to feel like they were part of the local community. Reeder and her housemates became active, working members of society during their stay. However, they also had the opportunity to be tourists. Reeder explored iconic beaches, ancient castles, natural pools and various historical monuments in Valencia. Most evenings and weekends she took a trip to see something else Spain had to offer.
Reeder's advice to other students preparing to embark on an adventure abroad is to always say yes. She explains, "Experience abroad is what you make it. It would be very easy to go to work, go home, and then go to sleep. But by saying yes and doing things that you are scared of or don't think you want to do is so valuable. It's something that I pushed myself to try in Valencia and I think it made my experience that much better." Whether it was participating in a language exchange, going on an excursion in the city with other students in the program, or agreeing to take care of a patient on her own, Reeder said yes to it all. This openness is what made her trip possible in the first place. Her experience in Valencia fostered personal growth, and the lessons learned will undoubtedly aid Reeder in achieving her dream of becoming a physical therapist.