News
Junior kinesiology major interns as athletic performance coach
---
By Caroline Whitlow
Creative Services Student Writer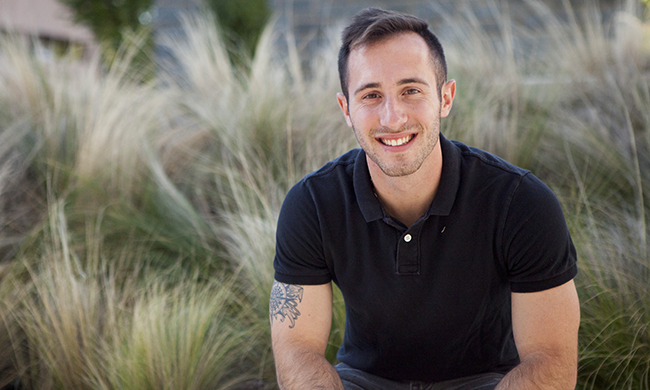 Even as a high school athlete, junior Max McQuillan knew he had a passion for learning about the mechanics of peak athletic performance.
"I was a good soccer player," said McQuillan.  "I wasn't super talented when it came to the game, but strength and conditioning helped get me to the level I was at.  I started reading countless articles about training and spending time in the weight room."
Growing up in Sloatsburg, New York, McQuillan lived conveniently close to Rockland Peak Performance (RPP), a high caliber training facility that caters primarily to improving high school and college athletes.  "The facility is two minutes from my house," said McQuillan.  "I had a few friends who had trained there, so I knew about it.  Looking back, I wish I had utilized the resource myself in high school."
After being accepted to JMU, McQuillan found his niche as a kinesiology major who hoped to become a physical therapist one day, but his interest in athletic strength and conditioning never faded.  After two years of college, McQuillan reached out to RPP's owner and operator, Nunzio Signore, to see what educational summer experience his hometown could offer. 
Signore took the kinesiology major on board as one of only five intern coaches.  As an intern, McQuillan worked with all populations served by the facility, from student athletes to minor league baseball players.  Preparing for the internship required extensive studying before he could begin hands-on work.  "Prior to starting my internship, RPP sent us their exercise database.  We had to memorize 300 different exercises before we even got there," said McQuillan.
The junior had only scratched the surface of his kinesiology curriculum when offered the position.  As one of Rockland's youngest team members, McQuillan had to remain adaptable.  He learned by working directly with athletes and by observing professional coaches and supervisors.
"I was much younger than a lot of the other interns, and I was just starting to get into my major courses.  Anatomy and physiology definitely helped, but you can only learn so much in a classroom," said McQuillan.  "You can be book smart, but in this field, it won't really help you until you can apply it."
As an intern coach, McQuillan worked directly with athlete assessment, program design and implementation.  Rockland operates under the principle of specificity and ensures that each client engages in the training most relevant to them and their sport.  Coaches pay close attention to each players' individual strengths, weaknesses and needs through a comprehensive athletic profile assessment.
"The staff at the facility really prides themselves on being specific to their individual athletes.  Instead of just training them, they're giving them the most personal experience they can get.  We assess them and we make a very specific program for them," said McQuillan.
He also learned how to utilize cutting edge training technologies that would otherwise be out of reach to students, such as velocity based training tools.  Velocity based training manipulates workouts based on the athlete's speed and intensity to give them the most effective strength training, fitting in perfectly with RPP's philosophy of specificity.
"There's a piece of equipment used by a lot of professional sports team and helps us see the optimum weight and speed the athletes should be training ," said McQuillan.  "It was an expensive piece of technology, but it just blew me away." 
The knowledge McQuillan gained from working with athletes and using new technology was complementary to what he gained from working alongside professionals who went out of their way to make the internship effective and valuable learning tool.  RPP staff acted as mentors and led weekly in-service sessions to educate interns on relevant topics such as the business side of the fitness industry in a classroom setting.
"My supervisor, Nunzio, was awesome," said McQuillan.  "He is such a good role model and a constant learner.  The way he interacts with clients inspires me to improve myself as a student." 
Because of his internship at RPP, McQuillan has narrowed his interest in physical therapy to working specifically with athletes.  He plans on returning to Rockland for the summer of 2018. 
"With another year of school under my belt, I'm really excited to get back there this summer.  Maybe it'll become a job in that field one day," said McQuillan.
Students can find more information about Rockland Peak Performance's internship opportunities on the facility's website.