Julie Sanford receives FAAN designation
News
---
By: Trudy Horsting
Creative Services Student Writer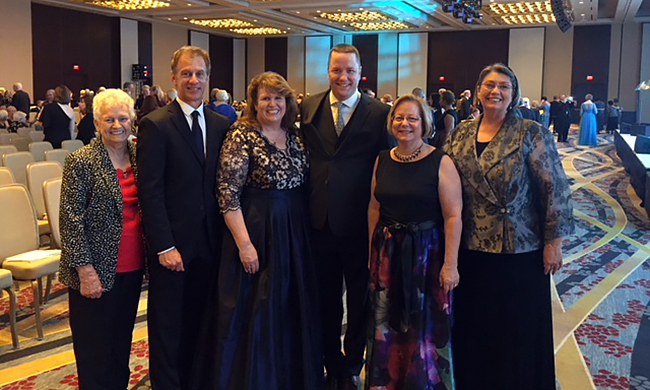 Julie Sanford, Director of JMU's School of Nursing, has influenced health initiatives internationally by what she simply considers her daily work. This persistent dedication led to her being named a Fellow in the American Academy of Nursing (FAAN). There are a mere 2,500 nursing professionals worldwide who hold this title. Fellows are acknowledged as leaders in nursing who have contributed to improving the U.S. health system and strengthening healthcare around the world. Sanford's induction honors her professional achievements and brings esteem to the nursing program at JMU. 
Sanford's long list of accomplishments is a testament to her contributions to the field of nursing. She's obtained over five million dollars in federal funding to help implement nursing programs in rural, diverse and educationally disadvantaged areas of Alabama, Mississippi, and Virginia. She started one of the first doctoral programs in the country for gerontological acute care nurse practitioners. She built an online RN-BSN program for students unable to work in a classroom following Hurricane Katrina. She represented JMU at the White House when the school was recognized for their commitment to teach updated CDC opioid prescription guidelines. Furthermore, she's been an integral part of the JMU Health Policy Collaborative which was awarded the Innovations in Professional Nursing Award from the American Association of Colleges of Nursing earlier this year.
However, most notable is Sanford's global impact in the field of nursing. Her international contributions fit precisely within JMU's vision of global engagement. This summer, she helped facilitate a workshop in Japan on patient safety for students and faculty in the International Network of Universities (INU). The INU includes schools from Japan, South Africa, Spain, Sweden, UK, Germany, Italy, Australia, Indonesia, Argentina and the United States. Moreover, Sanford led efforts to establish the Nursing Leadership Collaborative within the network, which has the potential to impact over 18,500 students worldwide.  For this, in addition to her other advocacy and health policy efforts, she was awarded the 2015 March of Dimes Virginia Nurse Executive of the Year Award.
At home, Sanford aided in the transformation of JMU's nursing program from a department to a school. Since then, she's been an integral part of the program's growth. She remarks on the school's incredible, award winning faculty who have also helped contribute to the program. Above all, helping these educators grow and meet their goals and dreams is what she's most proud of. These individuals go on to have lasting impact on the students they work with. Sanford says, "In academia, faculty are given this wonderful opportunity to work with students who become the next generation of nurses." One nurse can impact an entire community, as students from disadvantaged areas often return to practice in those regions. "When you think about what one graduate does in their lifetime of practice and the contribution you had to their development, it's extremely rewarding."
Sanford's FAAN designation will help her continue to promote excellence in nursing. Not only is it one of the highest honors, it creates a unique opportunity for collaboration. She says, "It's about opportunities to make greater impact- to collaborate and work together for the common good." It is essential for academic leaders to interact with national leaders in their discipline, bringing together some of the greatest minds in nursing and leading to program growth. As partnerships are established, both nationally and internationally, the dissemination of knowledge, influence and advocacy grows.  Sanford says, "Being a fellow in the academy is going to open up even more opportunities for me to impact JMU's School of Nursing, our faculty, staff, students and ultimately patients." She reflects, "Above all, that's the most rewarding thing- to think that I might be improving patient care."