Psychology alumni serve with AmeriCorps
News
---
By: Laura Mack
Creative Services Student Writer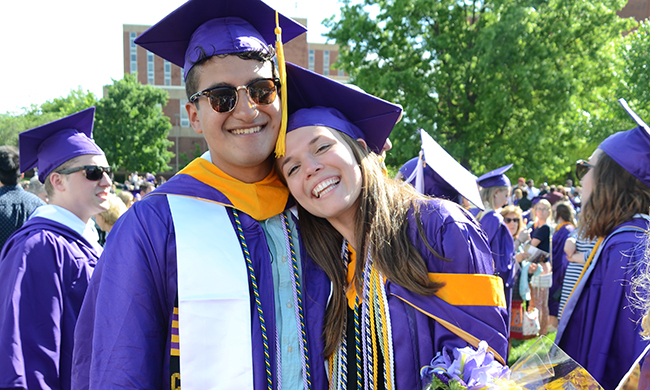 During their time at JMU, Kenna Dickard ('17) and Marcos Contreras ('17) began to see their education not just as a personal goal or accomplishment, but as a tool they would use to uplift and empower others. The two psychology alumni solidified their ambitions to serve communities in need after graduation, landing positions with AmeriCorps. The organization provides matched work assignments at a variety of service-related nonprofits across the nation. Dickard and Contreras are pursuing their professional interests in mental health and public policy, respectively, at two different agencies in Denver, Colorado.
Dickard serves as the Mental Health First Aid Liaison at the Colorado Behavioral Healthcare Council (CHBC). As part of a grant project, she promotes and facilitates mental health first aid training. Mental health first aid training is designed to educate people to understand and respond to those who may need mental health assistance.  "I train everyone from teachers to police officers. For instance, I might train a police officer how to respond to and help deescalate a situation in which someone is experiencing a mental health crisis," said Dickard. While the class teaches the individual to respond in a crisis, Dickard noted the larger impact of this project on the community. "On a broader scale, community-based prevention decreases the stigma attached to mental illness," she said.
Contreras serves as the Health and Research Associate for the Center for Health Progress. The center works to ensure factors like race, income, and ZIP code don't determine a person's access to health care and opportunity to live a healthy life. "I feel like I'm pretty fortunate and have had a lot of doors opened for me, especially as a first-generation immigrant and college student. So, I felt like it was my opportunity to give back," said Contreras. Contreras conducts research on effective health policy in other communities to identify and apply best practices for shaping accessible healthcare across Colorado. He has examined how partnerships between the Center for Health Progress and local clinics can especially benefit the immigrant community. "A lot of this applies to immigration reform. We work with clinics and health providers to benefit everyone, and this allows more people to see a doctor," he explained.
Dickard and Contreras found their passion to serve community health needs through the psychology major. Dickard cited her fieldwork experiences outside of the classroom as particularly impactful. She worked with a children's psychiatric hospital and found a desire to focus on community-based prevention methods. "I took 15 steps back from where I was at the psychiatric hospital to see how a focus on prevention could address the root causes of mental illness," she said. "Psychology gave me an understanding of community systems that are already in place. I can take a psychological theory, apply it to a system and learn how to change it."
Psychology perspectives and skills also prepared Contreras for the work he does today. Because of psychology, he has a better picture of the health conditions and obstacles that some populations face more acutely than others. Additionally, the reading, lab work and writing associated with the psychology major supplied both Contreras and Dickard with strong research skills.
Dickard and Contreras consider the challenges of this work experience as catalysts for personal growth. Dickard discussed the difficult, yet humbling, process of living on poverty wages as an AmeriCorps member. "It's an important challenge for me to live on poverty wages," she noted. "You can't serve people who have waited in line for their food stamps, if you haven't done it yourself." As scary as it may be to live without that financial safety net, Dickard draws her courage from the people around her. She insisted, "If you fall down, the community will pick you back up."
The two alumni remain open to a variety of possibilities after finishing their AmeriCorps work. Graduate school is an opportunity on the horizon, but Contreras and Dickard expressed how their perspectives are constantly shifting and expanding as they learn to work through the complexities of healthcare systems. Both were eager to provide advice to students considering similar paths of service, encouraging others to take the leap. "Doing good for others is one of the easiest roads to happiness and fulfillment," Contreras pointed out. More importantly, it is key to listen to one's own career dreams, and not what others might be pushing. "It's important to have your own definition of success. Ultimately, you know what is meaningful and what is relevant for yourself," said Contreras. "It's important to start spending the latter half of college finding that avenue to pour yourself into whole heartedly."