News
Nursing students work in Tanzania
---
SUMMARY: "We are actually giving them clinical experience overseas," said Andrea Knopp, director and originator of the program. "They are hands-on with these patients and nurses, fully engaged in the Tanzanians and the healthcare system."
---
By: Caroline Whitlow
Creative Services Student Writer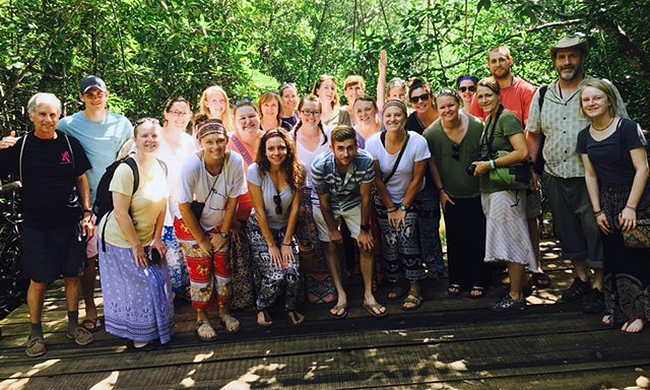 Last summer, nursing students studied abroad in Tanzania, an East African country known for its safaris, the Serengeti and Mt. Kilimanjaro. Through full immersion in a hospital setting, students provided care and learned to communicate cross-culturally. "We are actually giving them clinical experience overseas," said Andrea Knopp, director and originator of the program.  "They are hands-on with these patients and nurses, fully engaged in the Tanzanians and the healthcare system."
Those selected for the program prepared with frequent meetings to discuss daily Tanzanian life and practice basic Swahili.  Knopp provided books, music and even foods they would find abroad.  She also emphasized the importance of adaptability while traveling. "You have to expect the unexpected," said Knopp.  "Helping students understand the need for flexibility is probably the overreaching theme we try and communicate."
Upon arrival, students were paired with mentors from Tanzanian nursing schools to promote collaboration.  Partners worked together on projects and papers and experienced cultural exchange in the process. "We have our nursing students, particularly our undergrads, build relationships with the nursing students there," said Knopp.  "They realize what we have in common.  It builds bridges."
Recognizing these commonalities proves important to students working in such an unfamiliar system. Through interactions with Tanzanian nursing students and patients, they begin to understand context and learn how to make a greater positive impact. "When I think about JMU as a university that pursues engagement, our trip to Tanzania is so wrapped up in that and what that actually means," said Knopp.  "It changes you."
Tanzania, a developing nation, faces different problems than the United States when it comes to medicine. "Their whole mentality of health is so different.  There's not really a huge sense of urgency like there is here.  Here, you see people rushing into the emergency department, and everyone is doing as much as they can," said doctoral student Audrey Myers.  "For them, it [not seeking immediate medical care] is just a way of life.  It's the circle of life."
While chronic diseases and obesity are more common in the developed world, infectious diseases and malnutrition remain pressing public health issues in East Africa.  Students became familiar with the handling of HIV and treatment of malaria. "When we went to our second hospital, there were many more respiratory cases and infectious diseases," said undergraduate Carol Strock.  "We saw lots of malaria.  You hear about these problems in Africa, but it's very different when you're actually there in that scenario. "Efforts are paying off and prevention and treatment of these illnesses have come a long way in recent decades. "The amazing thing about HIV is that when I lived in Kenya in the late 90s, they were estimating 50-70% of the people were HIV positive.  And now in Tanzania, it's five to six percent," said Myers.  "They've made huge gains."
Access to care was another focus for nursing students as they made home visits in more rural areas.  Faced with under-resourced settings, students had to work with what was available."Their healthcare system is government based," said Knopp.  "That works incredibly well in the cities.  It's in the remote areas, like where we work in Shirati, where those government systems have a difficult time getting staff and supplies out there."
In order to provide the services needed, some participants fulfilled unexpected roles.  Myers filled in for a pediatrician for three days when car troubles prevented the regular doctor from arriving on time. "I said, 'great!'  There was actually another physician there from the United States that I collaborated with quite a bit," said Myers.  "I was doing exams.  I actually admitted a child to the hospital and filled hospital orders, things like that.  I also went on outreach to a village." Myers had worked as a pediatric nurse for nearly a decade.  As a doctoral student, she focused heavily on the pros and cons of various Tanzanian systems and acted as a point of reference for undergraduate students. "They were trying to learn nursing skills with equipment they'd never seen," said Myers.  "It was good to be a resource for them."
Working overseas can help students become better care providers at home.  Clinical practice combined with cultural adaptation prepares nurses to serve patients with diverse needs and backgrounds. "I lived for two years in West Africa as a nurse in a rural part of Burkina Faso, and when I go to the continent of Africa, it's like going home for me," said Knopp.  "It pushes you to think outside your comfort zone and outside your box.  Then, when you come home and care for a patient that doesn't fit your 'normal' parameters, you think about working outside of that box to help that person the most."
Students interested in studying abroad in Tanzania should submit applications for the 2018 summer term by November 1, 2017.  Further information and applications are available through the Center for Global Engagement website. 
Published: Friday, September 29, 2017
Last Updated: Thursday, October 12, 2017