Hannah Floyd gets real world experience during Johns Hopkins internship
News
---
SUMMARY: "Learning research skills during our undergraduate years provides an edge that others might not have when applying for jobs."
---
By: Trudy Horsting
Creative Services Student Writer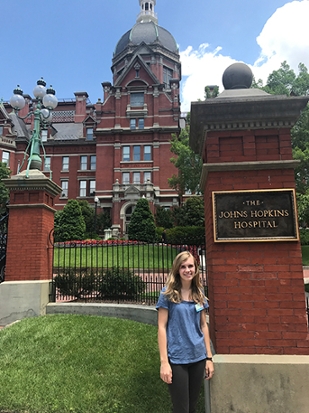 "The highest levels of learning happen through application, practice, and teaching," says Hannah Floyd, a senior health sciences major. Floyd spent last summer as an intern for the School of Nursing at Johns Hopkins University to fulfill a requirement for her concentration in public health. She says it was the perfect precursor to her senior year and a stepping stone for life after graduation.
Much of Floyd's time was spent at the Lillian D. Wald Community Nursing Center, a nurse-run health clinic for uninsured residents of Baltimore. While shadowing the Community Outreach Coordinator, Alexis Peay, Floyd participated in research studies and community activities. She says, "I was involved in two pilot studies as a research assistant. One study called, PLAN 4 Success, focused on the impact of nurse-driven intervention on diabetic patients in Baltimore. The second study called, Passport to Freedom, focused on the impact of mindfulness and trauma-informed interventions for previously incarcerated women in the process of re-entering society." Floyd's enrollment in the JMU health research methods course prepared her to contribute to these studies. She says, "During an evaluation and revision session for the Passport to Freedom study, I was able to offer my JMU research experience on the topic of emotional intelligence as something we could incorporate into the program."
Floyd explains, "JMU's health research methods course is unique in the fact that it requires you to carry out your own group research project and paper." That coursework allowed her to participate in the studies at Johns Hopkins in a real and valuable way.  Floyd says, "Learning research skills during our undergraduate years provides an edge that others might not have when applying for jobs." It wasn't only the health research methods course that allowed Floyd to feel confident during her internship. She notes, "The training and certification for ethical human subjects research we received at JMU was the same course required for my internship." Additional JMU coursework gave her an understanding of the importance of cultural competency, comprehension of fundamental terminology and an awareness of current events in the field.
Floyd also says, "I feel like my summer internship experience helped me on a professional level - establishing relationships within the work world and learning to communicate with co-workers and community members." She continues, "I learned how to participate in meetings and voice my opinion to my supervisors."
The classes Floyd took at JMU gave her confidence while interacting with experts and the individuals they were working to support. "It was very enriching to work with such a diverse population," says Floyd. She explains, "I started the studies thinking that I was going to be a great help to the participants, but I left learning so much more from them and their perspectives on life." Her plans after graduation are to become a public health educator. This career path will involve the same types of interactions and research opportunities her internship provided. Perhaps in a few years she will be on the other side of the table, helping to mentor an intern and offering them the real-world experience she had as an undergraduate.