News
Xiaohui You brings interdisciplinary background to CHBS
---
By: Caroline Whitlow
Creative Services Student Writer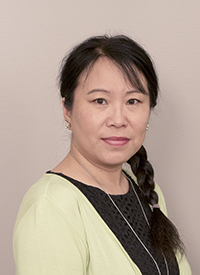 International studies, economics and health may sound like three totally different realms, but new faculty member Xiaohui (Helen) You entered the health services administration field with experiences that connect these diverse themes.   
You attended the University of North Carolina at Charlotte, where she earned both her second B.A. in international studies and M.S. in economics and quantitative finance.  Her focus shifted to the health sphere at the University of Memphis, when she completed a Ph.D. in business administration with a concentration in health economics.   
This interdisciplinary background paved the way for You to pursue research in fields relevant to both health and economics.  Her work has focused heavily on health economics, health econometrics, and pharmaceuticals, especially on technological innovation effects on healthcare and prescription drug utilization.  During her time at JMU, You plans to continue her research with studies on the technological effect on health care and modeling habit formation for opioid prescriptions. 
"I especially focus on investigating the technology effect of international cooperation patents on health care and the impact of opioid prescription drugs utilization using the Habit model," said You.   
International studies and academic services are also part of You's work. This year, she chaired two sections in the International Health Economics Association 12th World Congress held in Boston, MA. You also serves as a reviewer for Economics and Human Biology journal. 
Beyond research, You has extensive experience in the classroom.  She has taught topics ranging from Chinese language and literature to economics, and health economics.
You teaches courses on health economics, statistical methods for health sciences research, and funding in health care at JMU. "I tried looking for a university whose mission statement is consistent with my teaching and research interests," said You. She is particularly impressed by the attitudes displayed by her students thus far. "JMU students are fabulous," said You, "They come to me about their courses and about their lives." 
Although she has lived in the U.S. since studying at UNC Charlotte, You remains connected to her culture through arts.  She enjoys Chinese ink paintings and practicing Chinese calligraphy, as demonstrated by the beautiful canvas hanging on the wall of her office.
"I just came here, and I have a lot of things to do to settle down," said You.  
From her warm personality and excitement about the courses she will teach, it seems that You is settling in quickly.  
We welcome her as a member of the JMU community.