News
Jon Thompson, HSA program director and professor, retires
---
SUMMARY: After 22 years leading the Health Service Administration Program, Jon Thompson is leaving JMU at the end of August 2017.
---
By Health Services Administration Program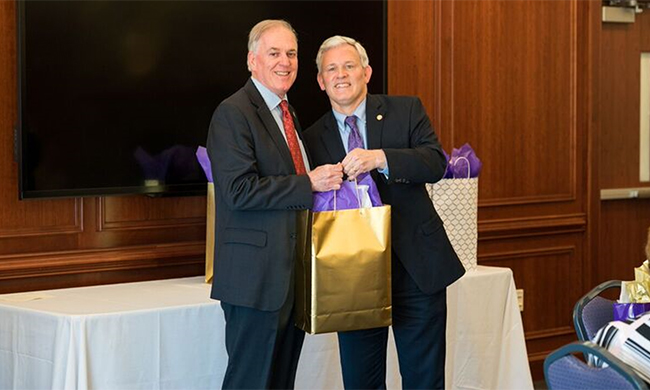 After 22 years leading the HSA Program, Jon Thompson is leaving JMU at the end of August 2017. He began his career in health care consulting and then worked in hospital administration in Florida before completing his Ph.D. in Health Services Organization and Research at the Medical College of Virginia, Virginia Commonwealth University. He assumed the role of program director at JMU in 1995. He is board certified in healthcare management, and is a Fellow in the American College of Healthcare Executives.
Teaching students has been his passion, and he has many fond memories of the students, classroom discussions, internship experiences and his time at JMU. Moreover, he holds great satisfaction in following the progress of HSA graduates in their careers in health services administration and the significant success they have achieved.
Under his leadership, the HSA Program has been recognized for many notable accomplishments, including:
continued certification as a full member program as approved by the Association of University Programs in Health Administration (original certification and three times recertified)

growth of the program from 28 students in 1995 to over 260 students in 2017

approval from the State Council of Higher Education for Virginia in 2004 for the B.S. in Health Services Administration degree (formerly, HSA was a concentration within health sciences B.S. degree)

significant success in winning the Hill-Rom/Richard J. Stull Student Essay Competition in Health Care Management sponsored by American College of Healthcare Executives (11 first place winners. two second place winners and four third place winners)

winner of the American College of Healthcare Executives Higher Education Network Award three times (2014, 2016, 2017)

establishment of an active Health Administration Student Association (HASA) to promote professional development, opportunities for student leadership, networking with health services providers, and community service

over 900 graduates of the HSA Program, who are contributing successfully to their organizations and communities in leadership roles in health administration
Thompson will remain active professionally, and will continue teaching, consulting and writing on a more measured schedule. He sends best wishes to current HSA students and to all the many HSA graduates he has had the privilege of teaching over the years.  
Thompson was recognized by JMU President Jonathan Alger at the faculty retirement recognition luncheon on May 16, 2017.