Natalie Birkelien places first in ACHE management essay competition
News
---
By Health Services Administration Program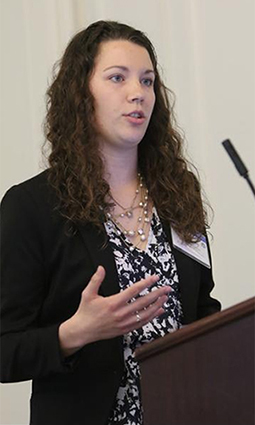 Congratulations to Natalie Birkelien for being selected as the first place winner in the 2017 Richard J. Stull Student Essay Competition in Healthcare Management sponsored by the American College of Healthcare Executives (ACHE). Birkelien presented her paper, A Strategic Framework for Improving the Patient Experience in Hospitals, at a session of the ACHE Congress on Healthcare Leadership, and received her award at the Leon I. Gintzig Commemorative Lecture and Luncheon on March 29. Her first place award included paid expenses to attend the congress and $3,000.
The Richard J. Stull Student Essay Competition in Healthcare Management is open to all undergraduate programs in the United States, Each program is entitled to submit only one essay entry to the competition. Essays are blind reviewed by a panel of judges comprised of academics and practitioners.
HSA program director Jon Thompson stated that Birkelien's paper 'is a timely and important analysis of the elements comprising the patient experience, and provides helpful guidance to hospital administrators on creating a culture and practices that promote a positive patient experience in their facilities'. As the first place winner, Birkelien's paper was recently published in the Journal of Healthcare Management.
Congratulations to Natalie! Her winning essay continues a winning tradition for JMU HSA students in this essay competition sponsored by ACHE. Since the yearly competition began, JMU has had 11 first place winners, 2 second place winners and 4 third place winners.