News
Maiewski named Humanitarian of the Year by the VAPA
---
By Physician Assistant Program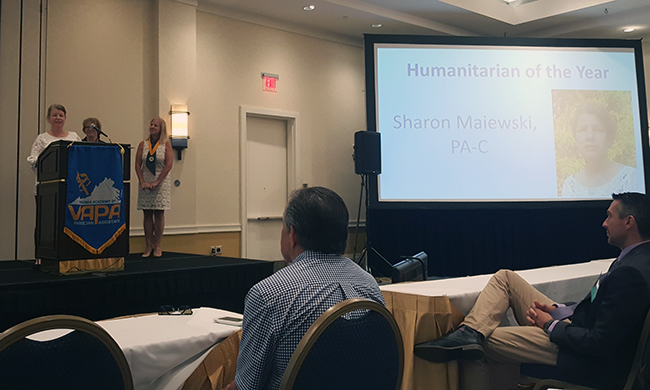 On Monday, July 24, 2017 at the Virginia Academy of Physician Assistants' (VAPA) annual summer conference in Virginia Beach, five individuals were honored with an annual VAPA award during a formal ceremony. Winner of the PA Humanitarian of the Year award was Sharon Maiewski, an associate professor with the JMU Physician Assistant Program. According to VAPA, this award honors "a PA in Virginia who has demonstrated exemplary service to their community, and has made significant contributions to improving access and quality of healthcare to underserved patient populations".
For almost two decades, Sharon has volunteered at the Harrisonburg-Rockingham Free Clinic (HRFC) providing compassionate care to those within the community that otherwise would not have access to healthcare. Over 30% of HRFC patients represent an ethnic minority and 69% of patients earn less than 100% of the Federal Poverty Level.
Sharon's volunteerism does not end with the HRFC. Sharon also co-leads a weekly program known as the "Suitcase Clinic," where she and other local clinicians provide basic medical care and medications to the nearly 100 homeless citizens of Harrisonburg by traveling to the various local homeless shelters.
If this were not enough, Sharon also volunteers at a local non-profit organization, "Our Community Place" (OCP) and serves on their board of directors. OCP is a non-profit, community-centered organization promoting personal growth and community well-being through community meals, recreational activities, meaningful work, spiritual guidance, and other basic services for individuals struggling with homelessness.