News
Campus Camp for Children
---
SUMMARY: In 2006, senior psychology student Angie Fusco approached JMU psychology professor Bill Evans, about forming a grief camp for local children. Together, they worked to form the Campus Camp which debuted in April of that year.
---
By: Trudy Horsting
Creative Services Student Writer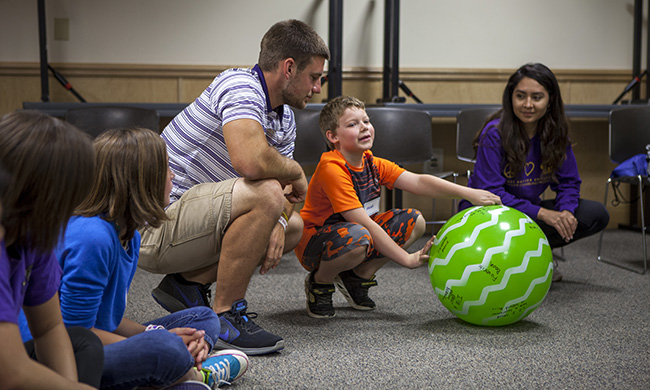 In 2006, senior psychology student Angie Fusco approached JMU psychology professor Bill Evans, about forming a grief camp for local children. Evans, whose passion and research interest has always been service, was thrilled with the idea. Together, they worked to form the Campus Camp which debuted in April of that year. Evans reflects, "I love working with JMU students on events like this so it's always personally rewarding to see something that started back in 2006 still going strong now. Kudos to Angie who stepped forward and said- I see a need and I'd like to do something about it." Eleven years later, Evans says, "I'm just continuing her legacy."
The Campus Camp, cosponsored by the Psychology Service Organization, began with just nine children from Harrisonburg. Now it has expanded to Rockingham County, Augusta County, and Shenandoah County, serving approximately thirty children annually. Evans explains that the program keeps expanding because there's nothing else quite like it in the area. Referrals of potential participants come from elementary school counselors and they've multiplied as word of the camp's success has spread.
Over thirty psychology student volunteers, in addition to members of the JMU dance program, women's and men's basketball teams, and cheerleading team help to make the event possible.  Psychology students are paired with a camper who is their friend for the day. The pairs participate in activities such as music therapy, dance therapy, and play therapy all coordinated by a planning committee of students. Nancy Windsor, graduate student in school counseling, has been the lead coordinator on the committee for the last two years.
Windsor shares Evans' enthusiasm for service. She says her hope is to "encourage students at JMU and elsewhere to find that thing they're passionate about and reach out in that area." For her, it's helping children manage grief. Unfortunately, Windsor speaks from firsthand experience as she lost her father while an undergraduate student at JMU. She reflects, "Reaching out to serve others who have experienced something similar to what I have helps me feel like something positive is coming from my experience with grief. I also feel like camp is, in a way, allowing me to continue in my dad's legacy because he truly had a servant's heart to reach out whenever he was able. My loss and experience with grief highlighted another way that I could reach out and serve others."
Windsor and Evans both emphasize the unique experience Campus Camp provides participants. Windsor says, "We have activities that really highlight and build on the resilience that's already in the campers". Evans adds, "We give them opportunities if they want to talk about their loss, the person that they're missing, and the reason they came, but we don't push that at all. It's mostly a day just to show them we know that they've had a serious loss in their life and that we care." The camp is designed to be a fun, immersive experience where participants can enjoy a day on JMU's campus. Windsor says their hope is to teach campers "It's okay to be grieving and it is okay to miss our special person- there's always going to be part of us that does, but it's also okay to have fun." 
Although the camp only lasts one day, the volunteers have a lasting impact on the children who attend. Windsor says, "We put a gift bag together for them so they can carry out some of the fun from the day." The bag is full of both coping activities and donations from various organizations on campus. With diverse support from the university, the Campus Camp is truly an example of JMU community engagement. Evans highlights the benefits this type of experience provides to student volunteers. He says, "It encourages our students to take what they're learning in the classroom and put it into practice in the community." Additionally, Evans reflects, "I think serving, and the giving of themselves for a day to help these students in need, increases their sense of purpose in life."
The next hope for the program is to make it semi-annual by developing a camp to host in the fall in addition to the one in the spring. Evans also aspires to spread word of the camp to further localities. The success of the Campus Camp demonstrates there is a need in the community for this valuable experience, and JMU is fortunate to be able to help fill it.