News
CHBS announces 2017 faculty awards
---
SUMMARY: The College of Health and Behavioral Studies is pleased to announce the 2017 Faculty Awards.
---
By: Sarah Chase
Creative Services Student Writer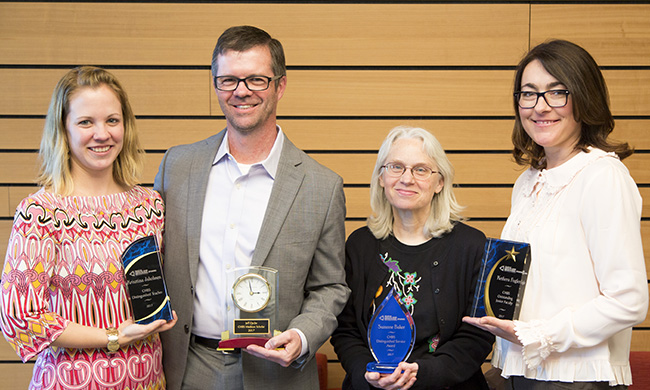 The College of Health and Behavioral Studies is pleased to announce the 2017 Faculty Awards
Madison Scholar 
Jeff Dyche was given the Madison Scholar award for his outstanding scholarship. Dyche came to JMU in 2010 and specializes in sleep performance. Dyche's research is notable in that he studies sleep processes in both humans and rats.  He uses animal research as a model to examine basic questions about sleep and its effects on health and performance. Undergraduate and graduate students are key collaborators in Dyche's work with both humans and rats. He has contributed 23 peer-reviewed publications, mentored students and developed a senior seminar on Sleep. In addition to his scholarly publications, he has been cited several times in the popular press (e.g., The New York Times, The Chicago Tribune and Wall Street Journal).
Outstanding Junior Faculty Award 
Kethera Fogler was given the Outstanding Junior Faculty award for her outstanding teaching, scholarship, and service.  Fogler joined the department in 2011 and specializes in cognitive psychology.  Her scholarly publications appear in the top tier journals for her field. Fogler said she was, "honored just to be nominated for the award and was very excited when I heard I had won." She attributes her recognition to having taught several different courses (including developing two new courses) of class sizes varying from four to over 160, mentoring many students in her research lab and her published research.  She has taught 12 different courses at JMU reaching students in different years of school from first-year students to graduate students.
Distinguished Teacher Award 
Krisztina Jakobsen was given with the Distinguished Teacher award for her scholarly approach to teaching. Jakobsen has been at JMU since 2009 creating exemplary models in course design through her developmental psychology class. She uses evidence-based teaching methods, such as team based learning, to actively engage with her students and achieve academic excellence based on her use of these methods.  Jakobsen's teaching extends beyond the classroom. She regularly involves students in her research, both on the development of face perception during the first year of life and in scholarship of teaching and learning. Over the past 7 years, Jakobsen has mentored 40 students in research. Of Jakobsen's 7 publications in the past two years, 5 of them have student co-authors.  
Distinguished Service Award 
Suzanne Baker was given for the Distinguished Service award for her work within the University and the field of Psychology.  Baker arrived in 1992 and currently serves as assistant department head. Baker said, "I was surprised and very honored to receive this award. I've always enjoyed being involved in service activities, whether it's within the department, the college, the university or the wider professional community. One of my great joys as a faculty member has been to work with colleagues both at JMU and at other institutions on a wide range of service projects."  Within the Department, Baker has been a departmental leader with curricular development.  Within the field of Psychology, Baker has been active with the Society for Teaching of Psychology (STP).  She has served many roles in STP, most notably, she served as President of this national organization.