News
Psychology diversity reading group visits National Museum of the American Indian
---
SUMMARY: The Department of Psychology diversity reading group explores diversity and builds sociocultural awareness through their first departmental trip to the National Museum of the American Indian.
---
By: Laura Mack '16
Creative Services Student Writer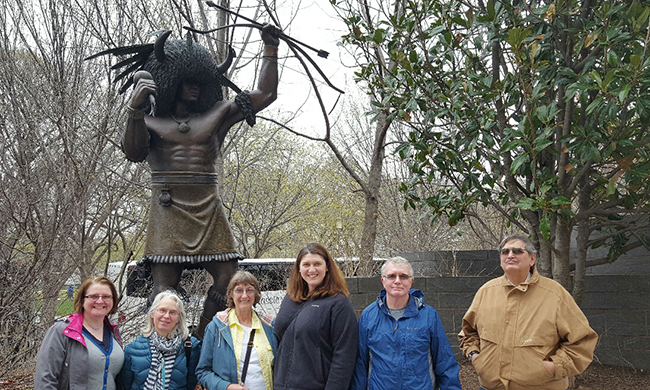 On March 26, seven psychology faculty members travelled to the National Museum of the American Indian in Washington, D.C. to increase their understanding of diversity and sociocultural awareness. These professors are all part of the departmental diversity reading group, which received funding from a CHBS diversity grant to coordinate this trip. The reading group convened last semester, as psychology faculty and staff desired to learn more about diversity and how to better incorporate it into departmental and classroom decisions. 
Claire Lyons, psychology professor, suggested the creation of a reading group after attending the American Association of Colleges and Universities Conference, where one session covered innovative ways departments could explore diversity together. Their reading group looks for ways to learn about diversity beyond books and scholarly articles. "We've looked at YouTube presentations and TED Talks. We've looked at books and articles, but we've also played diversity board game that someone has produced," said Lyons. "We're trying different things. It's a reading group, but it's reading broadly."

The National Museum of the American Indian was the first trip the department took together as a part of their expansive and engaging approach to learning. They chose this site for a number of reasons. This museum in particular is easily accessible, as admission is free and reserved tickets are not required. More importantly, faculty and staff saw that the culture and rich history of the Native American populations receive little coverage in mainstream media and education, despite the significant roles they have played in American history. "The Native American populations in the States are invisible to a lot of people, particularly depending on where you live in the country. On this eastern part, where we are here in Virginia, it's a very hidden population," Lyons explained. "I came here from Ireland, and as someone coming to the U.S. from outside, you learn there's not much in everyday U.S. culture that teaches you about Native American culture."
Faculty explored the museum at their own pace, reconvening at the end of the day to discuss what they learned and saw. Lyons was moved by the particular tragedy in the relationship between European colonists and the Native Americans. "When we look at the history between the two, the way that Native Americans looked at things differently disadvantaged them in many ways - for example their attitude to land and land ownership," said Lyons. "It's eye opening when you go to that museum. You can see how treaties were signed and broken. Often the Native American side, they were the ones holding up their end of the bargain."
Faculty have gone out of their way to educate themselves about such cultures with the goal of becoming more understanding and inclusive instructors. "Our primary concern is that for us to serve our students better, we need to understand diversity and we need to promote diversity," urged Lyons. She further explained that learning about and appreciating diversity is just one part of the reading group's mission. "We're not just trying to as a group, address a diversity perspective. We're also trying to adapt a more social justice approach," she continued. "The conclusion we came to is that social justice is not about simply saying, oh yeah there's diversity and it's welcome. It's also saying there's diversity and some groups are more powerful than others. There are inequalities in systems, there are inequalities in everyday interactions, and we are trying to educate ourselves to be able to address some of those inequalities."
When we do not actively take diversity into account, Lyons described that it is easy to slip back into doing things the way they have always done them. Through efforts like those of the reading group, faculty and staff become more aware of the impact they have on students in a variety of ways. "Now when we have department meetings and an issue comes up for debate or we're making a decision, I think you can see members of the group – there's a lens that we have," Lyons said. "It's a slightly different way of looking at things, so I think we can start to see it making changes."
Moving forward, Lyons and other faculty hope to attract students to future trips by making more explicit connections between their trips and classroom material. Lyons also discussed how faculty and staff have already taken advantage of events happening on campus, going to these events together. "The main thing is that we've had good institutional support," Lyons stressed, explaining their department's ability to plan these trips and learn about diversity together. "Our department head, Kevin Apple, has been very supportive of the group, and then the college has given us this grant. That kind of support helps because it gives you a nudge. Things like this trip - they build relationships between those people, and when you're dealing with this material, that's really important."