News
ROTC nursing student Michael Johnson attends George C. Marshall seminar
---
SUMMARY: Nursing and ROTC student Michael Johnson attended George C. Marshall National Awards and Leadership Seminar in February at Ft. Leavenworth, Kansas.
---
By: Lauren Mitchell
Creative Services Student Writer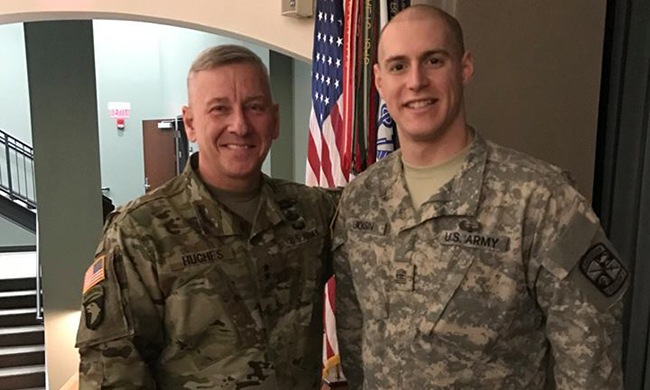 JMU senior Michael Johnson has always had a passion for medicine and helping others. In high school, Johnson got involved with the Roc Solid Foundation, a nonprofit dedicated to building hope for families facing pediatric cancer.  He noted the impact that nurses made on the children's lives and was inspired to pursue a nursing career. However, he also felt called to serve his country and enlisted in the Virginia Army National Guard immediately following high school. The ROTC program has allowed him to pursue both passions simultaneously.
Johnson is the Cadet Command Sergeant Major for JMU's Army ROTC program, a senior ROTC student position. He was recently invited to the George C. Marshall National Awards and Leadership Seminar in February at Ft. Leavenworth, Kansas. The invitees are the recipients of the George C. Marshall award, given to the top cadet from each university across the nation. Their nominations are based on leadership, physical ability and academic achievement. Over 330 cadets attended the conference.
During the conference, the cadets heard from high-ranking speakers such as Major General Hughes, the Commanding General of the United States Army Cadet Command, honored Vietnam War heroes Bruce Crandall and author Joseph Galloway.   There was also an opportunity to talk to officers one-on-one.   Small groups of cadets met with Army and Department of Defense experts focused on critical defense issues and geopolitical matters. These groups discussed how to incorporate what they had learned into their respective branches, making for an extremely valuable experience.  The focus was on better overall leadership not just military leadership. "I came out better equipped to handle different situations and to be a leader than when I came in," Johnson said.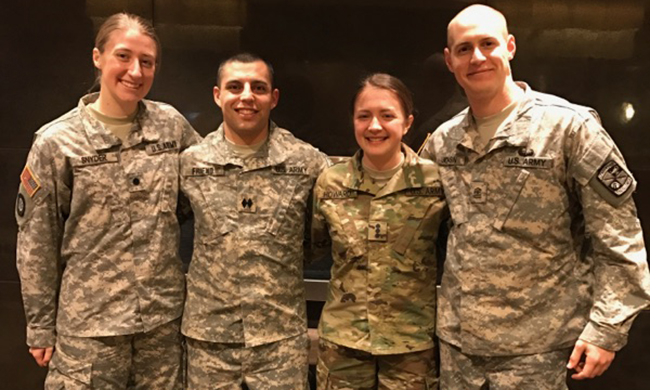 Through the seminar, Johnson realized the influence that a nurse can have within the Army. "It fueled my thoughts that this is something that I am supposed to be doing," he said. The combination of leadership and nursing goes hand-in-hand for him, and the George C. Marshall conference showed him how he might implement this.
Despite the demanding nature of both programs, Johnson has thrived due to the faculty support and encouragement that he has received. The ROTC program has allowed Johnson to use his nursing knowledge and skills in training environments by acting as a medic. "Using the two together has been an incredible opportunity which as better helped my understanding in both fields of study. I would not trade a single experience in either program for something different," Johnson explained.
After graduation, Johnson hopes to fine tune his nursing skills in a hospital after commissioned into the United States Army Nurse Corps. His ultimate goal is to pursue a career on Special Operations Resuscitation Team (SORT), a branch that assists combat soldiers needing medical attention.