News
CCN empowers caregivers and students
---
By: Caroline Whitlow
Creative Services Student Writer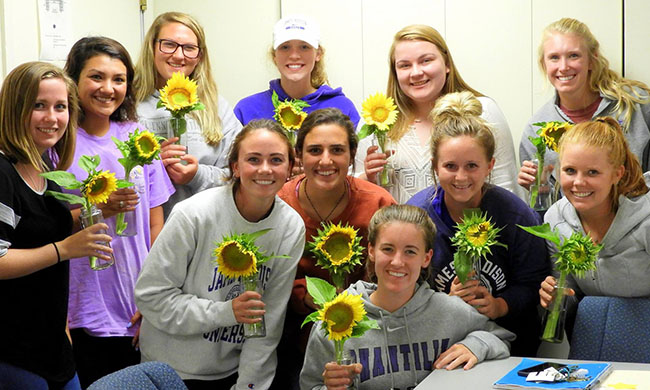 In Harrisonburg and its surrounding areas, the aging population is expected to skyrocket through 2030. Students are working with the Caregivers Community Network to accommodate the needs of this rapidly growing population of older adults.
The innovative program was first envisioned by nursing faculty in 2003 as a joint effort between JMU's Institute for Innovation in Health and Human Services (IIHHS) and the The Alzheimer's Association. As a result, students receive both academic credit and real-world experience with a non-profit agency.
"As CCN was originally envisioned, it was an opportunity for students to participate in evidence-based strategies providing respite care.  They catch a vision of their future as health and human service professionals," said IIHHS Coordinator for Clinical and Interprofessional Initiatives Emily Akerson.
Students enroll in a one credit course where they learn about aging, and some of the issues families face as their loved ones age.  Student "Volunteers" are paired with caregiving families where the care recipient is an older adult. They make weekly visits throughout the semester, allowing primary caregivers a break from their responsibilities so that the care recipient can remain in their own homes.  Students also learn about and practice evidence based strategies for communicating with and supporting older adults.  "It can make the difference for those families between transitioning their loved ones to long term care and keeping them at home," said Akerson.  "The families and the community benefit when there is support for aging in place."
The cross-generational exchange has reciprocal benefits, energizing clients and improving students' professional skills regardless of major.  Students also gain a new perspective on aging.
"Families are so spread out nowadays that younger people don't always have the opportunity to grow up around their grandparents and watch the aging process naturally occur," said Director of Senior Services for Harrisonburg and Rockingham County Beth Bland. "It's really hard to understand what working with older adults can be like if you've never been around one." 
After grant funding ended in 2016, the leaders of CCN had to search for innovative ways to keep the program afloat. 
"We felt that the program was too valuable to not find a way of keeping it," said Bland.
CCN was successful thanks to the United Way of Harrisonburg and Rockingham County, a strong base of student volunteers, and special permission from the state to redirect a portion of the VPAS budget.
"The state was very excited about having such a unique collaboration with the university and a local agency on aging," said Bland.  "I'm pretty sure we're the only partnership like this in the state of Virginia and maybe in the whole nation."
Recent leadership changes have made the program more comprehensive.  This year, Kathy Guisewite was hired as CCN Coordinator.  Guisewite oversees all program logistics and meets with students throughout the semester to provide feedback and guidance. She also stays involved with the Caregivers Coalition, a resource-sharing network that provides education and support.
 "I am really thankful for this opportunity," said Guisewite.
Currently, the network serves counties from Rockingham to Rockbridge, including Highland and Bath Counties.  Coordinators would like to see the program expand by developing similar partnerships with other universities. 
"We do have a big vision for this program. We would really like to see the program recreated in other areas," said Bland. "There are a number of universities and colleges within the service area, so we would really like to see this unique and program grow because it is so valuable to the families."
Students interested in working with CCN should know that the program is offered every semester and open to a variety of majors.
"The majority of the students are nursing students, but we also have students in the social work field, psyschology and health sciences," said Guisewite. 
Department heads have been incredibly supportive of their students engaging with CCN, and some departments offer the course as a multiple credit IPE elective.  Information and applications can be found on the CCN webpage.