News
Journey Around the World
---
SUMMARY: Since beginning four years ago as an after school program for six children, the Journey Around the World program has blossomed into a year-long global and prosocial education curriculum.
---
By: Trudy Horsting
Creative Services Student Writer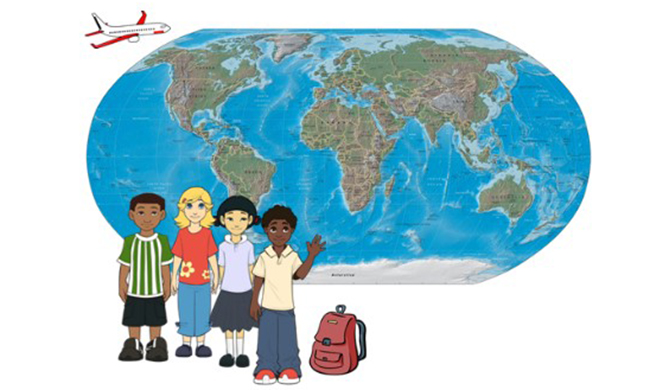 Since beginning four years ago as an after school program for six children, the Journey Around the World program has blossomed into a year-long global and prosocial education curriculum. Its focus is on the development of empathy and prosocial behaviors, such as helping others, caring for others, and standing up for others. The program also fosters cultural competency by helping young students learn how to communicate across cultures and encouraging them to appreciate diversity. Elena Savina, founder of the program, has always had a passion for educating children about different cultures. She says, "One of the reasons I wanted to do this program is because I myself belong to two cultures." Both Russian and American, she has experienced cultural immersion firsthand, bringing a unique perspective to the curriculum. 
Savina received doctoral degrees from Moscow State Pedagogical University and the University of Central Arkansas. Moreover, she has completed extensive academic research in both Russia and the United States. Her specialization is child development and school psychology with a focus on socio-emotional development and learning. This expertise, in addition to her cultural background, aided her in the development of the Journey program. She is trained in Vygotskian Psychology and she utilizes that framework to generate the curriculum. This framework emphasizes the importance of relationships and meaningful activities for child development.  The program is unique because it integrates the mastery of prosocial skills with teaching literacy skills.  "The students are learning academic skills but they're learning prosocial skills simultaneously," says Savina. Additionally, she says, "They have a lot of fun which I think is important for learning."
The program engages students so effectively because it is designed in a thematic story-telling format. Three times a week, it takes the entire class on an immersive journey with a group of fictional friends. The frequency of the program stimulates emotional investment in the participants. Savina says, "The students know those friends, they identify with them and they love them." They are able to follow the accounts of those characters and develop their own individualized and cohesive narrative. She says, "We all have stories about ourselves. Since the curriculum is story-based, children learn how to develop narratives about themselves." She emphasizes that this skill is essential to constructing personal identity.
Suzanne Gilchrist-Thompson's first grade class has been the first to receive the year-long curriculum and Gilchrist-Thompson herself has become an essential part of its development. Savina says, "She is an incredible partner of mine in this project. She's very experienced and dedicated to children, and has a very good grasp of social-emotional learning." Savina believes that it is their collective effort and the support from Joy Blosser, Spotswood Elementary School's principal, which has made the program so successful. Additionally, Savina has had assistance from several students at JMU. Students from the Combined-Integrated Doctoral Program in Clinical and School Psychology assisted with the program's development, including Vesna Hart who contributed to the earlier version of the curriculum. Furthermore, Hayley Lazo, a student from the School of Art, Design and Art History made illustrations for the curriculum. Savina makes it clear how grateful she is for all of the individuals who have impacted the program's development.
Evaluations of the program are very promising, and it is already evident that children who are exposed to the curriculum demonstrate an increase in their prosocial behaviors and intrinsic learning motivation. Students have also learned, "Kindness is important", "Everybody deserves to have a house" and, "People are different and it is OK!" Ultimately, the goal for Savina is to expand the program and reach more students. She says, "I would love to implement the Journey in other schools in the area and have a full-scale program evaluation." Until then, Savina looks forward to continuing to build the curriculum alongside Gilchrist-Thompson and witnessing student's prosocial skills develop at Spotswood Elementary School.