News
Social work students and faculty participate in the Women's March on Washington
---
SUMMARY: "Seeing and hearing students' care and concern about the foundational values of the United States, and seeing their willingness and energy to stand up for what they believe in, their care and respect for diversity, and exercising their rights to assembly and peaceful protest was inspiring," Nancy Poe, social work professor.
---
By: Laura Mack ('16)
Creative Services Student Writer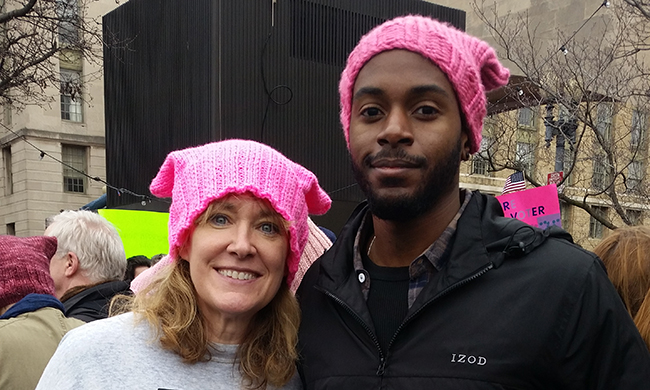 Resisting the urge to hit 'snooze' on their alarms and sleep in, 25 students and two faculty members from the social work department boarded a bus at 6 a.m. on January 21. Headed for Washington, D.C., these future social workers jumped at the chance to participate in the Women's March on Washington. The women-led movement rallied people from different backgrounds, cultures, genders and races to advocate for a broad platform of social justice issues. The JMU attendees joined about half a million people who were marching in the nation's capital, along with those participating in many Sister Marches around the world.
Following the announcement of the march in November, social work faculty members began to toss around the idea of a departmental trip. The faculty anticipated the impact this event could have on social work students and saw it as a valuable opportunity for hands-on learning. "The social work Code of Ethics explicitly addresses the role and responsibility of social workers to the larger society, including participation in political action and advocating for social and economic justice," social work professor Nancy Poe explained. "The march was a perfect venue for expressing those responsibilities." Poe and Laura Trull served as faculty leaders for the trip.
Upon realizing the number of people interested in attending, students, alumni and friends of the social work department pooled donations to fund transportation. Students and faculty arrived in Vienna at 8 a.m. and then endured a tightly packed metro ride into Washington, D.C.  They inched their way to the Smithsonian Museum where hundreds of thousands of marchers were literally unable to move, their heads raised to the large television screens broadcasting activists, entertainers and thought leaders speaking on-stage. "Eventually people started to signal to begin marching. I felt like it took another hour, and people were still trying to go the opposite direction," senior LaShawn Spencer explained. "I knew it was going to be remarkable, but I didn't know the scale…I didn't know that many people were going to show up."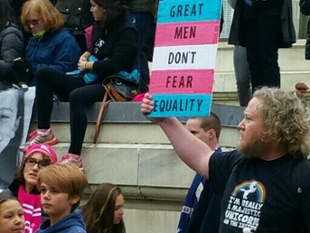 Witnessing this many people, from different backgrounds, unite behind social justice issues was a powerful experience for the students that attended. "Having this huge amount of diversity just went to show that, despite the things that make us different, we were all together to stand for and with one another," junior Rachel Jamrozy said. Many of the marchers donned knitted pink hats in support of women's rights, and Spencer let his fellow female classmates know that he, too, would wear one in support of them. "It just so happens that a woman was handing out hats and gave it to one of my classmates. I told them I would wear it, and I wore it the whole time," Spencer smiled. "I felt good wearing it. Women were happy seeing me wearing it. It was a proud moment for them, and I felt appreciated. I just wanted them to know, no matter what, I got their back."
Emboldened by the march, students connected these kinds of advocacy efforts to their own personal and professional goals. "Course material and theoretical underpinnings, regardless of discipline, seem to 'come to life' or be 'made real' when students have the opportunity to apply it in a real world context," said Poe. JMU students bring passionate leadership to the field of social work, as they continue to challenge current injustices and advocate for a variety of communities in need. "Participating in the march introduced me to what advocacy and community organizing really looks like on a larger scale, which has definitely made me more interested in pursuing macro level work in my future career as a social worker," said Jamrozy.