Health clinician turned educator joins CHBS faculty
News
---
SUMMARY: The Department of Health Sciences welcomes Dayna Henry, health clinician turned educator.
---
By: Laura Mack '16
Creative Services Student Writer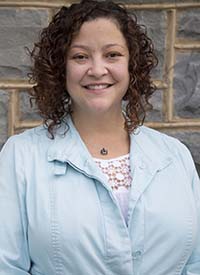 As health clinicians advance in their career, they discover certain patterns among their patients – the reappearing root causes that lead them to seek clinical help. In her practice as a sex therapist, Dayna Henry often found that her patients lacked knowledge about sexual health. Henry, one of the newest faculty members in the health sciences department, began to see the value of sex education in preventing the kinds of relational and personal problems her patients faced. In reference to her career switch from clinical work to education, Henry explained, "It's a really common narrative. I think a lot of people are seeing the importance of focusing on prevention. It saves lives and money."
Originally from Canada, Henry received her bachelor's degree in psychology from the University of Guelph. She then pursued her master's and enrolled in a clinical training program as a couple and family therapist, specializing in sex therapy. "I started to see sex education as prevention for people needing therapy later in life. So after I graduated I worked for two years and then I quit my clinical practice," said Henry. "It was very rewarding, but I was helping people when they were already so distressed and they waited so long to ask for help."
Henry travelled to the United States to receive her Ph.D. in health behavior with a minor in human sexuality from the Kinsey Institute at Indiana University. Henry is passionate about improving health literacy and giving people better access to sexual health information. "To me, it's a social justice issue, that people have the right to good health, which includes sexual health," Henry added.
During her time at Indiana University, Henry took a pedagogy course from a philosophy professor and fell in love with teaching. "My first job out of my Ph.D. was at a primarily teaching institution. I just really loved it. Again, it goes back to what my clients used to say – why didn't anyone tell us this stuff before? I really enjoyed that, and working in the field of health, because it was a new discipline for me," said Henry. She began her first tenure track position at Southern Illinois University, Edwardsville.
As a part of her teaching philosophy, Henry believes students learn most effectively when they feel intrinsically motivated. "Meaning that they're not just motivated by getting a good grade," explained Henry, "but you can't expect students to just come in like that. I think it's partly my responsibility to help them become intrinsically motivated. Trying to get them to be excited about the materials and not just about grades or assessment or the degree." When it comes to her role as an instructor, Henry designs her assignments as learning tools, stating that "All of the projects that I've done that have been favorites have been because they've helped students grow professionally, or personally or both. To me, that's a good assessment."
Since arriving at JMU this past fall semester, Henry has noticed the emphasis placed on student learning here. "JMU really does prioritize good teaching," she cited as her primary desire to work at the school. Now teaching Research Methods and Infectious Diseases, Henry described her amazement with the level of student engagement at JMU. "The students are just amazing here. Honestly, I can count on two hands, out of all the time I was teaching in the Midwest, how many times students came to office hours. And here, I don't have enough office hours for them!" said Henry. "I like that because that pushes me to do a better job. Because they're always striving to do a better job."