Psychology students visit Sentara RMH
News
---
SUMMARY: Neuroscience students visit Sentara RMH Medical Center's department of radiology to see a magnetic resonance image (MRI) scan of the brain and spinal cord.
---
By: Lauren Mitchell
Creative Services Student Writer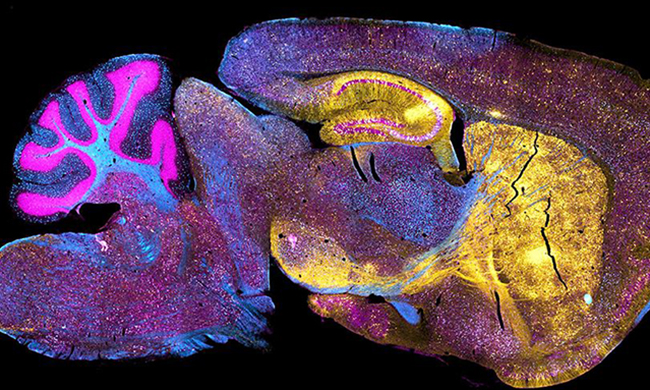 On October 19, students in professor Melanie Shoup-Knox's neuroscience class were given the opportunity to apply what they are learning in the classroom to a real-world setting. Shoup-Knox took six students to the Sentara RMH Medical Center's department of radiology to see a magnetic resonance image (MRI) scan of the brain and spinal cord.
Although MRIs were covered in the classroom, Shoup-Knox decided students would learn more effectively by observing an actual scan and analyzing the images themselves. MRI brain scans are a difficult concept to convey in textbooks due to their complexity. "Being able to experience this hands-on and apply the unfamiliar words that we learned about in lecture during this experience really helped me to understand this topic on a deeper level," said Katy Owens, a student who attended.
At Sentara RMH, technicians showed students MRI scans of healthy and diseased brains and spinal cords. The students' knowledge was tested when they were presented with symptoms and asked to guess what area of the brain was being affected before seeing the scan. This highlighted how the brain compensates after injury. In some cases, injury symptoms may be slight despite a large area of the brain being affected. Through this exercise, the students learned the importance of ordering the correct type of scan to avoid missing serious growths or lesions. "This gave my students a more global understanding of what MRIs do and the specifics that go into the scans," explained Shoup-Knox. Students described how seeing the differences of diseased brain scans in person brought Shoup-Knox's lectures to life.
This trip enabled students to apply the basics of neuroscience to a bigger picture. "This was the first scan that most of us were able to see in person. Seeing the scans and being able to connect them to real people who are possibly about to receive a life-changing diagnosis personalizes the information," Owens said. The students were not the only ones who gained something from this trip. "As a teacher, this helped me to understand how to teach this topic better to my undergraduate and graduate students. I was able to talk to those who designed the protocols and built the machines and get insight from them as well," said Shoup-Knox.
Seeing these scans in person simplified the information for some students. "We were able to make our own memories and experiences that we will never forget. When asked about MRI scans, I won't talk about what is discussed in the textbook, but rather I'll recall the experience that I've had instead," explained student Ryne Skytta.