News
Maxwell recognized for service to CAATE
---
SUMMARY: Paula Maxwell was recognized for her service in June of 2016 at the National Athletic Trainers' Association Clinical Symposia in Baltimore where she received the Bob and Lynn Caruthers Award.
---
By: Lauren Mitchell
Creative Services Student Writer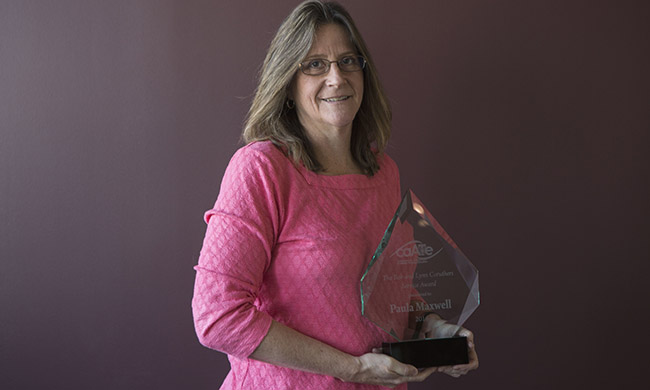 During her first year of college, Paula Maxwell was referred by a teammate to an Athletic Trainer for the lower leg pain that she was experiencing. This trip to the athletic training room began Maxwell's career in athletic training.  Once she realized that she could combine her passion for athletics and medicine, she began her studies in the field. Since then, she has dedicated her life to improving AT education through her work with the Commission on Accreditation of Athletic Training Education (CAATE). She recently received the Bob and Lynn Caruthers Service Award.
The CAATE is the main governing body for athletic training education. In order to be an accredited AT program, there are certain standards and procedures set by CAATE that need to be followed. Every ten years, academic programs need to update their accreditation; and volunteers from the commission make site visits to oversee the process. CAATE manages the accreditation of over 350 entry-level AT programs.
In 2001, Maxwell began working with CAATE as an accreditation site visitor and since then has become an integral member of the CAATE team, serving in nearly every aspect of the commission. She was elected commissioner and during her 6-year term, she worked with a team to oversee non-governmental specialized accreditations, made final accreditation decisions, and developed standards and procedures for accreditation. In addition to being heavily involved with the site visits and review committee, she also served on the nomination committee and helped to redesign the site visitor training process. "My work with the revision and upgrading of the site visit and review process is something that I am happy to have accomplished. We were able to revamp the entire process by making it more formal and more in-depth," she explained. Maxwell and her team created manuals used by the volunteers during site visits and the subsequent review process to ensure quality and consistency around the country. Although Maxwell has achieved many accomplishments while working with the CAATE, the decision to require a Master's degree to practice at the entry level is the one she is most proud of. This was the last major decision that the commission made before her term ended, allowing her to "retire" feeling as though they had accomplished a major step forward for AT. This change will be officially implemented in the fall of 2022.
Maxwell was recognized for her service in June of 2016 at the National Athletic Trainers' Association Clinical Symposia in Baltimore where she received the Bob and Lynn Caruthers Award. This award, named for the founding associates of CAATE, is given to a volunteer in recognition of extensive service. Maxwell is a co-winner of the award with close friend and professional partner Dr. Barbara H. Long from Bridgewater College, who Maxwell nominated for the award. The two worked closely on sub-committees and the CAATE felt that it was inappropriate to split them up when they had accomplished so much together. JMU's AT Program Director, Jamie Frye, nominated Maxwell with support from Long. "I have known Dr. Maxwell for nearly 10 years and in that time I have seen the level of commitment Dr. Maxwell has demonstrated for the CAATE and all avenues of athletic training accreditation," Long explained in her letter to the CAATE. Long and Maxwell became the commission's first co-winners of the award.
"It is honoring and humbling to be recognized for the service that I have done. It allows me to take a step back and realize how much I have actually done. It's a bit embarrassing because I didn't even realize until I received the award the amount of time that I have put into the CAATE," Maxwell joked. Even though her term as commissioner ended last year, she continues to serve as a site visitor and sits on multiple committees.