News
The benefits of being an outsider
---
SUMMARY: Students from the School of Nursing had the opportunity to explore different health care models on a study abroad trip to the Catalan city of Tarragona this past summer.
---
By: Brett Seekford '16
Creative Services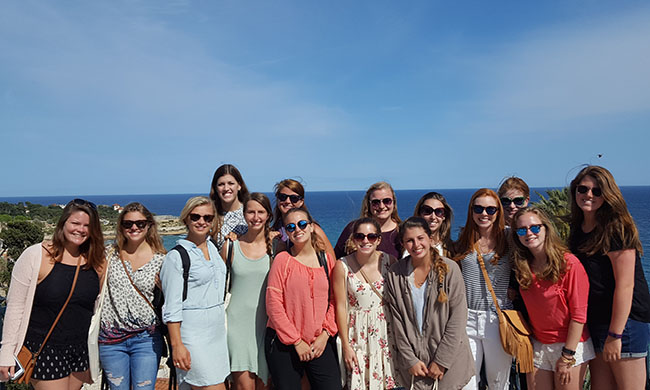 Catalonia is a region culturally set apart from the rest of Spain. Its residents speak Catalan in their homes instead of Spanish and their local government has adopted a different model of healthcare than what is used across the rest of Spain. These are just a few of the differences that make Catalonia a unique place for students in health-related fields to learn about contrasting healthcare models. 
Students from the School of Nursing had the opportunity to explore these differences on a study abroad trip to the Catalan city of Tarragona this past summer. Through JMU's affiliation with the International Network of Universities, they learned about the hopes for expansion among Nursing faculty at Tarragona's Universitat Rovira i Virgili (URV). To help the school establish a greater international presence, JMU allied with URV to design a study abroad program where students travel each year to Tarragona and perform clinical work in hospitals while becoming immersed in the culture. 
Dr. Erika Metzler Sawin, who first went on this trip in 2014, volunteered to travel with the group during the summer of 2016. 
Once they arrived in Spain, students moved in with their host families. They spent the first week studying Spanish before focusing their attention on clinical work for the majority of the time thereafter. The use of Spanish, however, proved to be complicated. While practiced in formal settings since it is the dominant language, most people in Tarragona speak Catalan at home. 
"For study abroad, Tarragona is excellent for students because English is the third or fourth language for most Catalans so students have to become acquainted with different languages," Metzler Sawin explained. "They can't necessarily fall back on English."
Megan McCoy ('17) found language a tricky obstacle, especially in a clinical setting. She found ways to navigate linguistic difference, though, enhancing her understanding of the skills required of a nurse.
"At first, I worried that the language barrier in Spain would prevent me from forming meaningful relationships with my patients, but my clinical experience taught me about the ways in which non-verbal communication can be used to connect just as deeply, if not more so, with patients," McCoy said. "My interactions with patients on the floor taught me about the power of eye contact, a smile, or a hand to hold when someone is in pain—and that sometimes, these small gestures communicate more than words can."
While students had to navigate cultural differences, they also had to learn about the operation of a healthcare system different from the one used in the United States. Spain, and therefore Catalonia, has universal healthcare, meaning the government uses taxes to fund its citizens' health needs. Catalonia, however, takes this universal model a step further through its availability of social security-like welfare for elderly people, in which older people can live for free in communities where their needs are met by medical professionals.
Lindsey Snedeker ('18) found this exploration of global healthcare systems to be especially impactful. "This trip allowed me to compare the similarities and differences between the healthcare systems. It helped me see faults in our system and see some future problems in the field of nursing that I might have to deal with," she said.
The trip to Tarragona ultimately provided an avenue through which students could explore cultural differences as well as expand their understanding of healthcare models. "A lot of students got pushed out of their comfort zones by living with host families and exploring different forms of healthcare. But it was good because it expanded their ideas of the purpose of healthcare, and many of them have also maintained contact with their families so they established meaningful connections," said Metzler Sawin.
"The students had the opportunity to be outsiders on this trip, and that's a very valuable position to assume in developing greater empathy and being the best nurse you can be," she added.