News
Leaving a legacy
---
SUMMARY: As a student athlete and Psychology major, Jesse Tarr ('08) saw an opportunity to combine his love of sports with his passion for service learning.
---
By: Brett Seekford '16
Creative Services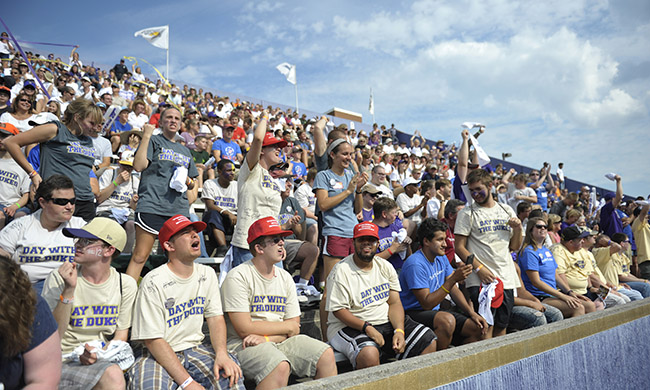 How can JMU continue to be the change? Jesse Tarr ('08) helped answer this question roughly ten years ago with his idea for a "Day with the Dukes" (DWTD). Tarr was watching ESPN's "Make-A-Wish" series when he thought about the potential for a university alliance with Special Olympics Virginia. As a student athlete and Psychology major, he saw an opportunity to combine his love of sports with his passion for service learning.
"Being a student athlete at JMU was a privilege," he said. "In my opinion, part of the responsibility of being a student athlete is giving back to the community."
He soon met with his faculty mentor, Dr. William Evans, who helped him realize his goal. With his help, Tarr devised a plan of action. After reaching out to both the Special Olympics office in Harrisonburg and JMU Athletic Director Jeff Bourne, Tarr's dream soon became reality.
His "Day with the Dukes" pairs JMU student athletes with Special Olympians in the state of Virginia. The event brings approximately sixty Olympians to campus every year to participate in games alongside athletes from several sports teams, learning new skills from the players while teaching them new lessons as well. Each Olympian is partnered with a buddy from the Psychology Service Organization (PSO), a club on campus which seeks to serve the JMU community, the Harrisonburg community, and the world. These buddies spend the day with the Olympians, making sure they have what they need as they interact with the athletes.
Casey Cerullo ('16) participated in the activities as both a volunteer buddy and the event's coordinator during her time as an undergraduate student. Returning this year since graduating in May, she was glad the day looked the same as when she helped organize it.
"It made me so happy to see that even after leaving the position, this event is still getting done and really succeeding. I am passionate about service and I was ecstatic to learn that PSO was so involved in DWTD and equally passionate about the success of the event as I was the previous year," Cerullo explained. "I felt like I could leave the event that day confident in PSO's involvement in DWTD and proud to have been such a big part of it during my time as an undergrad at JMU."
Michelle Hayes ('17) helped provide a smooth transition as this year's coordinator. Her responsibilities included finding student volunteers while also working alongside JMU's Athletic Department to organize the event and solve any potential conflicts.
She thought "Day with the Dukes" saw great success, namely because of the work and sensitivity of its involved volunteers and athletes. "Some of the Special Olympians were more hesitant than others, but we could tell they really wanted to play. We encouraged them to play their hardest. Every time they scored, the room lit up," Hayes said. "We all cared a lot about making it the best it could be for the Olympians."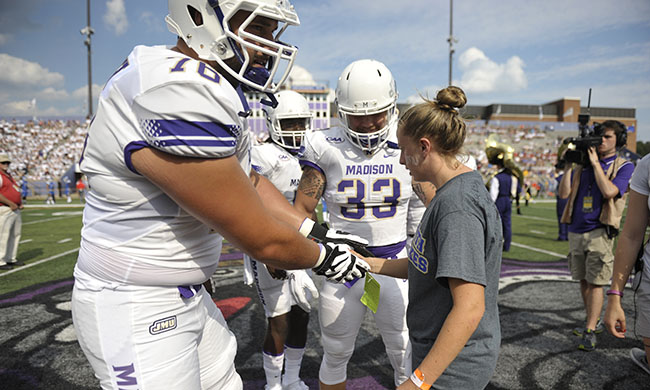 After a tiring but fun day, the Special Olympians and volunteers gathered in the stands of Bridgeforth Stadium to cheer on the Dukes to another big win over Central Connecticut State University.
During the game's second quarter, Jesse Tarr, who spent the day back on campus, walked out to the middle of the field to be recognized for his work in starting "Day with the Dukes." In celebrating the ten-year relationship between JMU, JMU Athletics and Special Olympics Virginia, the university acknowledged the influence of the event since its inception.
As Tarr looked up into the crowds amid the raucous cheering, he could be sure he left a legacy at his alma mater.