News
Mack succeeds at Georgetown University conference
---
SUMMARY: Last spring, Nancy Mack '17 was granted the "Excellence in Poster Presentation" award at the Georgetown University Undergraduate Research Conference in Washington, D.C. for her project that studied a connection between alcohol consumption and sleep deprivation.
---
By: Lauren Mitchell '19
Creative Services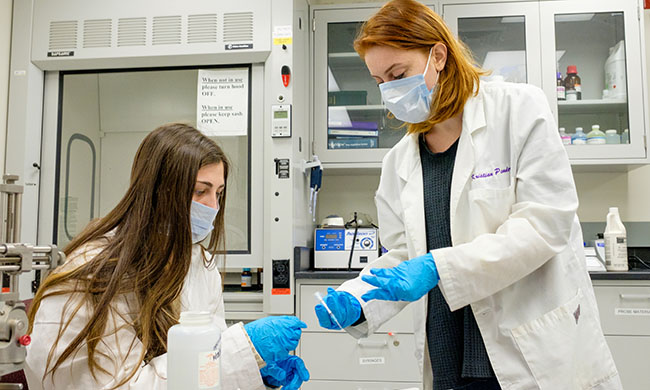 Nancy Mack '17, has always been interested in psychology- specifically the relationship between the brain and our behavior. When she realized the connection between psychology and biology, she declared Psychology as her major. Last spring, Mack was granted the "Excellence in Poster Presentation" award at the Georgetown University Undergraduate Research Conference in Washington, D.C. for her project, "Elucidating the Relationship Between ∆FosB, Alcohol Consumption and Sleep Deprivation."
Since her sophomore year Mack has worked alongside other students on various projects in the animal research labs at JMU with Dr. Jeff Dyche, the director of the M.A. Program in Psychological Sciences. Mack took special interest in the work of psychology graduate student, Kristian Ponder '14, '16. Ponder's thesis studied the connection between sleep deprivation and the consumption of alcohol in a rodent model. There is much existing research that connects the consumption of alcohol to a lowered quality of sleep, but Ponder looked into the opposite; could a lack of sleep make a person more inclined to consume alcohol? Mack and Ponder worked together on biochemical techniques and stained rat brain samples to test for different levels of ∆FosB, a protein commonly linked to addiction. Mack's biology background allowed the two students to take this research a step further to study the data on a molecular level. They found a connection that proved their hypothesis and presented these findings at the Georgetown Undergraduate Research Conference
At the conference, Mack was recognized for their joint work. "The presentations were judged by a panel of judges walking around and asking each participant questions about their research. To know that I could communicate my work and findings effectively enough to be given an award really means a lot to me. Being able to fully understand the work that I am presenting and share it successfully with others is so important," Mack explained. Since the conference was exclusive to undergraduate students, Mack felt fortunate to be able to expand upon the graduate work that Ponder had completed and present their findings. Mack also explained that the conference was a great way to show how unique JMU's research programs are. "JMU provides its students with so many research opportunities and the chance to work alongside not just faculty, but also other students is so rewarding," she said.
Dr. Dyche was an important mentor for Mack in her research and in helping her to grow as a student through her successes and failures. "It is like working with someone who wants to learn more than there is time for. Her enthusiasm for research is infectious to not just the other students, but to the teachers as well," Dyche said about working with Mack in the lab. Through his encouragement, she networked with professors such as Dr. Melanie Shoup-Knox from the psychology department and Dr. Mark Gabriele from the biology department. This cross-departmental team was essential to this project's success.
One of the most important components in research is the ability to analyze data and translate it. "This is what people really want to know," Mack explained. "You must be able to explain and generalize your findings to the public. People want to know- 'How will this help fight addiction?'" Mack gave credit to her psychology core classes such as Psychology 211, which is dedicated to research methodology. This helped her to explain why she picked the research methods that she did when asked about her poster at the conference.
Mack is currently studying the relationship between cocaine usage and impulsivity. She has been influenced by Ponder's research methods and will study molecular levels in this project as well. Mack's undergraduate experiences have helped to shape her vision for her future. "I really feel that my experience in the lab has come full circle and now I am the one who is helping to train the new members." Mack is currently applying to graduate programs for Neuroscience and hopes to study Molecular Mechanisms of Psychiatric Disorders. After working as a teaching assistant in PSYC 210 and PSYC 385 plus mentoring the students in the lab, she has discovered a passion for teaching and hopes to one day teach on the college level.