News
Ready to Listen: Healing and the Ethics of Welcoming
Viewpoints on Health: Huber Memorial Speaker Series
---
SUMMARY: Join us Tuesday, September 27, 2016 - 5:30 pm - HBS Room 5040 for Guest speaker Dr. Margaret Mohrmann - Professor Emerita of Pediatrics, Medical Education, and Religious Studies, University of Virginia.
---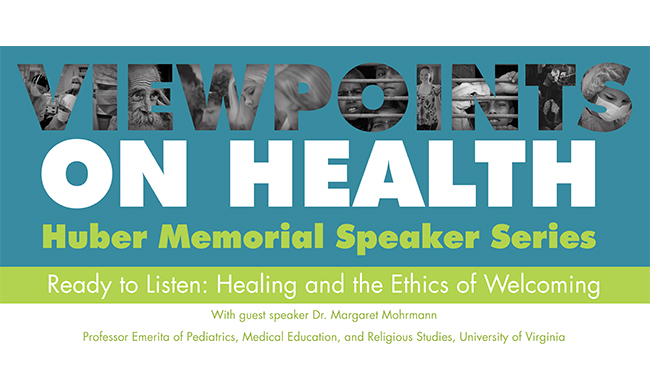 Tuesday, September 27, 2016
5:30 pm
HBS Room 5040
Dr. Mohrmann is the author of Attending Children: A Doctor's Education (Georgetown, 2005) and Medicine As Ministry: Reflections on Suffering, Ethics, and Hope (Pilgrim Press, 1995). She is co-editor of Pain Seeking Understanding: Suffering, Medicine, and Faith (Pilgrim Press, 1999). Her interdisciplinary scholarship at the intersection of ethics, religion, and medicine is currently exploring welcome as a dimension of ethical practice.
We gratefully acknowledge The Madison Collaborative: Ethical Reasoning in Action as our partner for this Viewpoints event. For more information email Dr. Rhonda Zingraff at zingrarm@jmu.edu