Health and Behavior
JMU opens doors for Harley Wheeler
---
SUMMARY: Harley Wheeler ('16) is currently on a path to achieve his desired career as an academic, having already been accepted to JMU's Au.D. Program after completing his undergraduate studies in three years rather than four.
---
By: Brett Seekford '16
Creative Services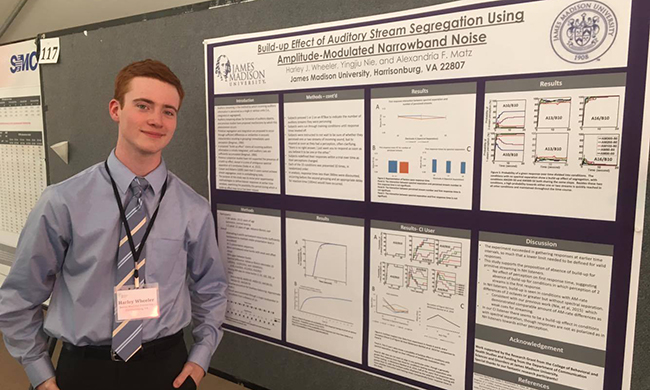 Harley Wheeler ('16) has made a name for himself at James Madison University through his involvement in the Department of Communications Sciences and Disorders. He has cultivated his interest in audiology throughout his college experience, seeking out research opportunities and developing close relationships with his academic mentors. He is currently on a path to achieve his desired career as an academic, having already been accepted to JMU's Au.D. Program after completing his undergraduate studies in three years rather than four. The decision to pursue a life of research and teaching, however, was not his original plan before coming to college. 
While attending Ocean Lakes Mathematics and Science Academy in Virginia Beach, he knew he wanted his future job to include STEM-related topics. He assumed he would eventually choose a career as an engineer; the field was popular among many of his friends and there were aspects of engineering that he found interesting. His involvement in musical extracurricular activities, including the high school marching band and a local rock band, led him to become more aware of the opportunities in the field of audiology. 
Concerned that his hearing was being affected by the music he was playing, Wheeler went to see an audiologist, who told him he had normal hearing after conducting an evaluation. Wheeler never quite left the audiologist's office, though, as he was fascinated by the doctor's work. "My time at this audiologist's office had me intrigued," he said. "The profession seemed to be an agreeable combination of my interests in math and science, but it also pulled in my passion for music and sound."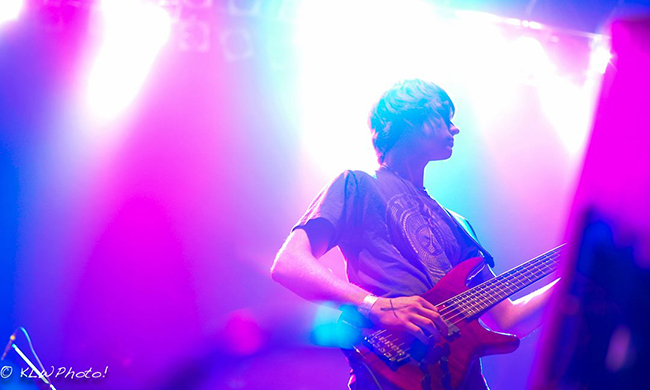 He began independently studying auditory processes and hearing loss. This research led him to a device that would define much of his subsequent work: the cochlear implant (CI). "The most important thing I discovered was the technology of cochlear implants, a device capable of restoring hearing, in some capacity, to individuals who are deaf or profoundly hearing impaired," he said.
Through his studies, he found out that cochlear implant users experienced sound much differently from normal hearing listeners. "What I got from my study was that individuals with CIs weren't experiencing music in the way I felt so fortunate in being able to enjoy," he said. 
He soon began considering different colleges and decided on JMU after much deliberation, persuaded to attend because of the university's top-ranked audiology program. Upon entering one of his first classrooms as an undergraduate student, Wheeler took the initiative in asking his professor, Dr. Christina Kuo, about research opportunities in the department. Detailing his interests to her, Wheeler was soon introduced to Dr. Yingjiu Nie, a faculty member who would come to guide his scholarly pursuits: "Rather than bringing me into her own [Kou's] lab, which I happily would have worked in simply for the experience, Dr. Kuo did an amazing thing and reached out to other faculty engaged in research which was more aligned with my specific interests." 
After meeting with Nie, he began working with her on a project studying cochlear implant users' stream segregation, or their ability to distinguish between auditory objects, such as one talker from another or an instrument within an ensemble. The study revealed that cochlear implant users struggle to identify multiple streams of sound compared to normal hearing listeners.
Wheeler's work proved pivotal as the experiment progressed. "Harley's a collaborator," Nie said. "He found shortcomings in some of the scholarly articles we were consulting. He also suggested adding a visual device to monitor the time it took for participants to recognize the different sounds." He has since presented his findings at two major conferences, events that have provided him with numerous professional connections that helped him land a summer internship with the Scientific and Clinical Studies Section in the Audiology and Speech Pathology Center at Walter Reed National Military Medical Center.
As Wheeler prepares for graduate education at JMU and looks forward to a future career as an academic, he said he owes much of his success to the climate fostered during his years as an undergraduate. "JMU has opened opportunities to me through the engaging faculty. They are willing to engage in mentorship of students and to provide experiences I cannot imagine are readily available at other institutions," he said. "I have been able to participate in challenging experiences and enrich my education in the classroom, and I am thankful for that."