News
A Ghanaian student's journey
---
SUMMARY: Samuel Dogbey is a physician assistant (PA) graduate student at JMU who was a practicing doctor in Ghana before moving to the US towards the end of 2007.
---
By: Daniel Vieth '15, '17
Creative Services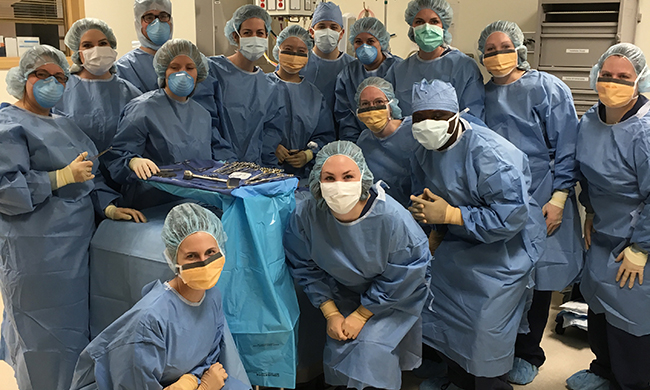 According to the New York Times, there are currently thousands of foreign-trained immigrant physicians in the U.S. today who are unable to use their medical training. Despite an increasing shortage of medical personnel, these individuals still face overwhelming obstacles due to a time-consuming process that often requires duplicating the training they already received. Though this struggle has deterred many from utilizing their life-saving skills, it has not stopped people like Samuel Dogbey, whose passion is to help humanity wherever he is. Dogbey is a physician assistant (PA) graduate student at JMU who was a practicing doctor in Ghana before moving to the US towards the end of 2007. Dogbey is now in the final semester of the program, finishing his clinical rotations.
While growing up in Ghana, Dogbey greatly admired his father, who was a military nurse in the Ghana Armed Forces. Since that time, he knew that he wanted to practice medicine. After graduating from medical school and completing a one year housemanship (a preliminary part of postgraduate medical training similar to medical residency), Dogbey was posted to the Brong-Ahafo Region, a rural area that lacks many resources compared to other parts of Ghana. "Initially I just wanted to go to a place where I would have the opportunity to develop more hands-on clinical skills, but then I realized that I wanted to help people who were disadvantaged," said Dogbey. "After a few months I got involved in programs that dealt directly with the people, traveling with a team from the capital in Sunyani to the rural area clinics and compounds to provide fundamental health services and give supplies." These rural outreaches were also meant to train already identified native personnel in the provision of basic health services, while receiving reports from those already trained. "These trained rural folk would then continue providing basic care until we found the time and resources to visit again," Dogbey added.
When the local government decided that they needed another medical facility to take strain off of the regional hospital, Dogbey was asked to lead a team to establish a new hospital. While most other medical doctors during this stage in their careers would be returning to school to complete their specialized training, Dogbey postponed these plans to create the hospital. "The structure was there already, but being very old, it needed extensive renovation and re-equipping in order to be turned into the district hospital. I put a team together and we worked hard," Dogbey explained. "We were ultimately able to put things together and make a small 50-bed facility, the Sunyani Municipal Hospital." When the hospital first opened in October 2004, Dogbey was appointed the first medical superintendent, a position he held until he moved to the U.S. with his wife in late 2007.
Like many medical graduates from other countries, Dogbey initially struggled to find a hospital residency in the US. "When my wife and I first came, I realized that practicing medicine in the U.S. as a foreign-trained practitioner was possible, but not straightforward," said Dogbey. "It was challenging, but I embraced the challenge because the medical field is my passion." Dogbey and his wife eventually decided to volunteer in rural areas around Prince William County, such as the free clinic in Woodbridge, where he helped screen patients between 2013 and 2014. He also helped to manage the NOVAScripts drug subsidy program in the free clinic. "I had a passion for working in rural areas, maybe because I was used to working with rural communities already," Dogbey continued. "I also view volunteering as a lifelong sacrifice, and I hope to continue offering my services in whatever capacity I can." His wife, a registered nurse, volunteered in other health facilities around Northern Virginia.
Though he had originally planned to study to be a physician in the U.S., Dogbey later decided to apply to PA school. "I found that I could be a PA and help in similar ways to the rural outreach service in Ghana, which is based on primary care," Dogbey explained. "As a PA, I could work in similar capacities, and the schooling would only take about two years." According to Dogbey, the main difference between medicine in Ghana and the U.S. is the philosophy, where medicine is mostly a service in Ghana (and therefore universally subsidized), whereas in the US it is largely a business. "In America, the training is more specialized and subspecialized," Dogbey continued. "In Ghana, you have to be well-rounded, with lots of hands on training. You have to develop the ability to detect and manage conditions with basic tools. You have to have a broad perspective and insight, a total patient philosophy."
Dogbey is currently finishing his clinical rotations in the program, and plans to find a job after graduating where he can make a difference for people. "If I had my way, I would like to work in a rural area, at least for a part of my work life. However, having a family now, my movements would, no doubt, be influenced by family circumstances," said Dogbey. "Wherever I find myself, as long as I am helping humanity, though, I will feel fulfilled."