Health and Behavior
Occupational therapy students volunteer at Massanutten
---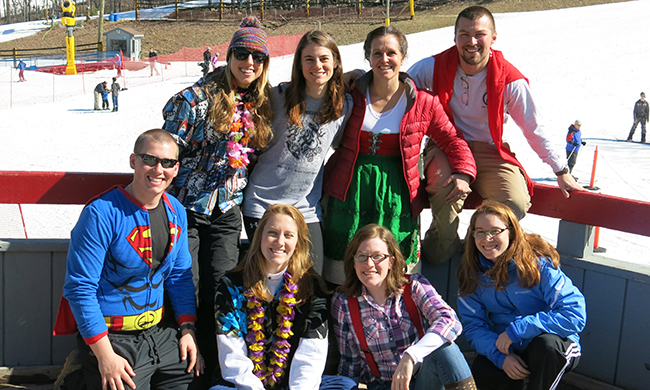 SUMMARY: JMU OT students volunteer with Therapeutic Adventures at Massanutten ski resort.
---
By: Dina Manco '16
Creative Services
Fly fishing, skiing, and water sports are popular activities, but for some, these pastimes may seem daunting and unachievable, particularly for people with a variety of disabilities. Therapeutic Adventures (TA) creates innovative ways to make outdoor sports accessible for a broad range of people with brain, mobility, and/or visual limitations. TA operates with the assistance of community and student volunteers; the JMU Occupational Therapy Program had eleven (11) students who assisted with the program. Student tasks range from scheduling, organizing carpools, completing necessary paperwork, gathering adaptive equipment, assisting with wheelchair transfers to/from mono-skis and bi-skis, assisting participants on and off the ski lifts,  and providing adaptive instruction on the slopes.  Two OT students Jacob Gilbert ('17) and Heidi Maeyer ('17) completed their field work with the nonprofit in February, while Katie Chapman ('14) has volunteered in her free time for over four years. These students assisted with TA's skiing program.
The Massanutten Adaptive Snow Sports program assists people with conditions such as traumatic spina cord injury - paraplegia and quadriplegia, Parkinson's disease, or spina bifida, cerebral palsy, and blind/visually impaired, to name a few, giving them the opportunity to challenge their perceptions of what they are capable of achieving.  According to Maeyer, the aim of the program is to show participants they are not limited by their diagnosis.
The students promote TA's goals by teaching the participants techniques for improved skiing and snowboarding agility. TA Founder/Executive Director Mark Andrews comments, "There are many logistical considerations that go into transferring people from chairlifts to their adaptive skiing equipment." Gilbert and Maeyer said they both learned a variety of transfer skills including a two person transfer and a stand pivot transfer. Volunteers also assisted adaptive skiers using tethering techniques with both stand-up and sit-skiers.  Tethering for a stand up is where the volunteer instructor and an adaptive participant work together, using the support of 1" tubular webbing straps attached to an adaptive trombone tip device that enables the volunteer instructor to support the student by adjusting speed and direction. Tethering techniques when skiing behind a mono-ski or bi-ski require a different skill set, but the overall objective of supporting speed, direction and safety a similar. Other volunteer instructors had opportunities to ski on the right and left sides of the adaptive skier and act as a blocker (safety barrier) by having some skiing behind and others skiing ahead of the pair to ensure a safe and clear path.  JMU OT students also had opportunities to instruct and assist with disabled military heroes, blind/visually impaired skiers and adaptive snowboarding.
Chapman comments, "I've had the opportunity to learn about how to ski with many different types of skiers as well as how to implement the various types of equipment they use. I've directly been able to guide a blind skier...I learned so much from her motivation and willingness to get out and do something that I couldn't imagine." She adds, "What a joy to get to be a part of that."
Andrews says, "[Students are] eager to have experiences that compliment what they're learning and studying." He adds, "They're enthusiastic, creative, and bring a great energy to the program." The OT Department's partnership benefits TA, its participants, and the professional development of OT students. Chapman says, "It makes my heart so happy to watch students learning how to interact with individuals with different abilities as a peer relationship more than a practitioner-client relationship. What we learn about new ways to think in this setting will translate to more opportunities for creative solutions wherever we go."