News
JMU students care for caregivers
---
SUMMARY: JMU student team placed first in the Lindsay Institute sponsored the "Caring for the Caregiver Hack: Advancing Caregiver Health Through Innovations" in downtown Richmond from March 18-20, 2016 bringing home $5000 prize.
---
By: Brett Seekford '16
Creative Services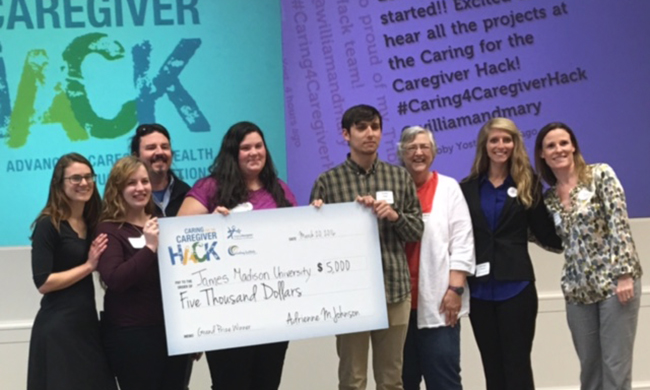 Update: The Team wins round two of the competition! - Read More
Caregivers play an important role in making sure their loved ones have the attention and treatment necessary for their health issues. Their focus on those they care for, however, often leads them to neglect their own well-being. The Lindsay Institute for Innovations in Caregiving works to make sure caregivers don't forget to take care of themselves. This nonprofit organization partners with Virginia's seniors, caregivers, and families to promote the caregivers' health.
As a part of this effort, the Lindsay Institute sponsored the "Caring for the Caregiver Hack: Advancing Caregiver Health Through Innovations" in downtown Richmond from March 18-20, 2016. This "hack," an event defined by the collaboration of software designers and people from other fields to create new technology for the social good, brought together students from several of Virginia's top universities to design a new app or technological project aimed at improving caregiver health. Teams only had a little over 24 hours to prepare their innovation, at which time a panel of judges would select a winner.
The JMU team came to the event with an array of backgrounds. Students ranged in majors, from engineering to social work to occupational therapy, and the faculty coach, Dr. Morgan Benton, came from Integrated Science and Technology. Their diverse fields of study would offer varied perspectives during the process.
Luckily, the caregiver assigned to the group, Mary-Margaret Fosmark, proved to be an invaluable asset. After caring for her husband for approximately ten years prior to his death from Alzheimer's disease in June 2015, she became involved with the Lindsay Institute through an Alzheimer's support group. Her work with the JMU team proved integral to their success.
"We were randomly assigned a caregiver and were incredibly lucky to be paired up with such a dedicated woman. She spent a lot of time talking with us and wanted to stay as we worked. She provided an invaluable perspective," said Kiley Petencin ('16), a second-year occupational therapy graduate student.
With Fosmark's help, the team decided the focus of their app would be to remind caregivers to take care of themselves. They named the invention "My Time," allowing caregivers to log behavior that promotes their health and monitor the actions of their caregiver friends to make sure they are taking care of themselves.
After a grueling 25.5 hours of work, the panel of judges looked at the teams' different innovations. JMU's work stood out, and they were named first place winners. This distinction came with a $5,000 grand prize, a sum that recognizes the students' tireless work and energy.
"I think our team won because we had the most holistic idea and we were the farthest along in the actual development of the app," said Jessica Hilleary ('16), a social work major. "We had a very strong presentation and made our points very clear."
Collier Apgar ('16), an engineering major, found value in working with peers from different academic backgrounds. "I think that working with multiple majors is great for real world experience as well as understanding where you stand in the world and the strengths you have from your major," he said. "Engineers often work in teams who all know about the same thing, but when an engineer is working with a biologist, writer, or a social work major, who have not been taught the systematic way to solve a problem, you really get to understand what you have learned in college and how it can help the world."
JMU students learned more about their fields of study as well as differing perspectives through this experience all while building teamwork skills. Most importantly, they used this opportunity to improve the lives of others.
They certainly left their mark on Fosmark. "The JMU team was very open-minded. They did not come with any preconceived ideas. They listened to my story and we discussed the issues I faced as a caregiver," she said. "I feel very proud to have been associated with this group of students and their coach."