Student showcase: Thriving in Anthropology
News
---
SUMMARY: Anthropology, a broad discipline focusing on the diverse ways that humans live and have lived, gives students many opportunities post-graduation. For students Cheyenne Sewell ('23) and Casey Brewer ('23), and many others like them, anthropology means everything from connecting to the local community to taking on the world.
---
Anthropology, a broad discipline focusing on the diverse ways that humans live and have lived, gives JMU students many opportunities post-graduation. "Anthropology helps students place themselves within a larger, global world, but also allows them to see that the world isn't fixed. It allows them to think of other ways of being in the world," said Megan Tracy, associate professor of anthropology. Many students first encounter the field through the General Education program, which in turn inspires them to join the program as a major or minor.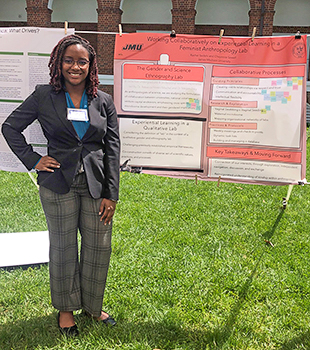 Cheyenne Sewell ('23) started out as a Biology major, but switched to Anthropology to pursue a career helping people in their communities. "I'm a people person — interacting with people and getting to know them is my thing," Sewell said. "I knew that I wanted to help people in some shape or form, but I wasn't sure what field would get me there." The tools and concepts she has learned in anthropology courses have placed her on a path towards public health.
Sewell serves as the vice president and treasurer of Alpha Kappa Alpha's JMU chapter, and is a member of the Black Student Alliance. She also began working in 2021 for anthropology's Gender and Science Ethnography Lab. The lab draws on qualitative ethnographic research on dairy science and human reproductive health to understand the gendered implications of a cross-species microbiome. Tracy, her professor at the time, offered Sewell and another student the chance to help build the lab from the ground up.
"[Cheyenne] has truly been an indispensable part of the project, and in breaking down the boundaries between professor and student," Tracy said. From collecting data to writing the first draft of lab protocols, Sewell's work has proved essential to the lab's success, and she is grateful for the unique opportunity.
"We're in a discipline that students aren't usually exposed to in their high school programs, so they are curious about what they can do and where they can go," Tracy continued. For another anthropology student, Casey Brewer ('23), and many others like her, that means connecting locally and taking on the world.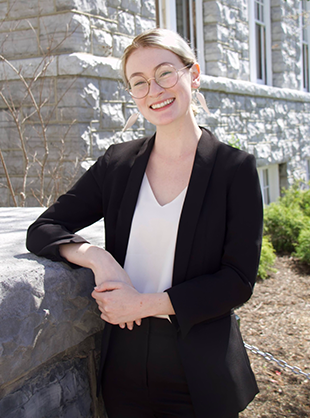 While studying with Tracy, Brewer decided to base a class project about business and community on Isabel Vento, the owner of downtown Harrisonburg's Heritage Bakery & Café where Brewer worked. "Casey develops great relationships with the people around her," Tracy said, and Brewer credits the anthropology program for inspiring her to take that connective impulse abroad.
"This program has opened my eyes to how to engage with the world in a really global sense, especially when what you're doing has some consequence for another group of people," Brewer said. "It taught me to think critically about how beliefs and assumptions about ourselves and other people power what we do."
Brewer was recently named winner of the Henry Fong Award 2022, given to an outstanding student committed to defining global citizenship in terms of rights and responsibilities. She will use the $2,000 prize to travel to Hiroshima University this summer following graduation, to intern and take classes in language, culture and more. This will be her second visit to Hiroshima — she first visited as part of the International Network of Universities Student Seminar series, which allowed her to engage wider world problems.
Brewer sees her experience with anthropology as "less of a career path, and more of a skill set," something she can apply beyond her studies, in all areas of life. She doesn't have a specific career in mind, but knows her acquired skills give her flexibility to find and pursue a passion.
For Tracy, the anthropology program is accomplishing exactly what it's meant to — "students find something in anthropology, in the ways that humans have lived, that gives them hope for different paths for the future."