JMU Alum Thrives at a Global Nonprofit
News
---
SUMMARY: Harrisonburg native and JMU alum Emily Knapp ('18M) found her passion in the nonprofit sector working with entrepreneurs across the globe after a graduate course showed her how she could use her film experience to change the world.
---
Emily Knapp ('18M) grew up in Harrisonburg with dreams of making films in Hollywood. Instead, inspired by her love of documentaries and a class she took as a grad student at JMU, she found her calling in the nonprofit sector.

Knapp attended Virginia Commonwealth University and earned dual degrees in Cinema and Sociology, staying in Richmond for several years after she graduated. After a while, however, she wanted a change. She applied and was accepted to the Writing, Rhetoric and Technical Communication graduate program at JMU and moved back to Harrisonburg to return to the classroom.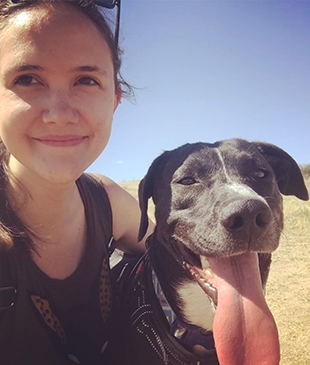 From her two years in the program, one class in particular stands out to Knapp: WRTC 624, Public Work of Rhetoric, taught by Sarah O'Connor. "It brought everything together that I love," says Knapp. "It was using the power of communication, of the written word, for good—essentially, for activism. And it suddenly clicked in my brain, I can do that, make a little bit of good in the world and feel proud of the work I'm doing."
Following that dream, Knapp accepted a job offer after graduation and moved across the country to Denver, Colorado where, for the last two and a half years, she has worked for International Development Enterprises (iDE). iDE is a nonprofit that powers entrepreneurs to end poverty across the globe. The organization works directly with rural entrepreneurs to design and create sustainable enterprises so when iDE steps away, those people continue to succeed and their communities thrive.

iDE works to teach practical skills and business techniques, make connections with local entrepreneurs to help them succeed in innovation, and to involve entire communities in projects with long-term sustainability. The nonprofit embodies JMU's "Being the Change" spirit, empowering people to stay in their communities and make a difference. As more people flock to urban centers, where jobs are plentiful, rural and agricultural areas struggle without the energy and investment of their younger generation. iDE supports young entrepreneurs and gives them the ability to flourish within their community.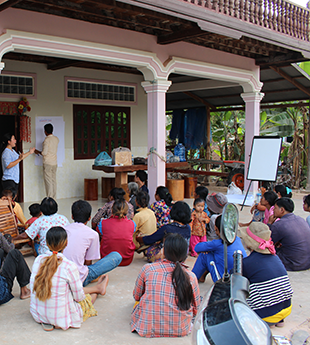 Knapp is passionate about her work with iDE. "When it comes down to it, it's the self-reliance. It's the entrepreneurial spirit," she says. "One of the aspects that I love is that [iDE] focuses on having young people stay within their community, so individually, one by one, those people are being the change, but it leads to this larger community impact."

For Knapp, getting involved in a nonprofit organization was a big learning curve. "There's a certain confidence that you need to have when you're in nonprofits, because it's not easy. I would say I do the job of maybe four or five people. And it's hard, it's tiring, but I do it because I love it," she reflects. "I think people who get into the nonprofit space...are doing it because they want to make a difference."

Requests and ideas flow constantly at iDE's offices, but as a nonprofit with limited capital, not every idea can be funded equally. Detailed contracts lay out what type of work will go into each venture and what happens day to day. As the Digital Media Manager and part of a four-person Global Communications and Marketing team, Knapp is called upon to do everything from tactic reports to email marketing and beyond, working with the dense documents that come from field staff in each country and distilling them down to their heart; "It's a really fun challenge." Knapp says, "It's a puzzle every day. And on top of that, I get to be creative."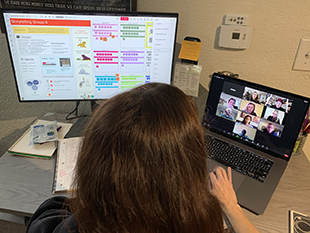 In iDE offices across the globe, teamwork is the gold standard. Knapp's team has a process—they brainstorm together, then step away and work individually before coming back together for edits. "We all value giving each other feedback," she says. "Nothing is right in the first draft, and we want it to be the best it can be because we all believe in the goals, so it's a nice balance of collaboration and individual creativity." While her team is based in Denver, Knapp is constantly working with her international iDE colleagues — on the day of our interview, Knapp had already talked with people in Ethiopia, Nepal, and Mozambique.

Her work has even given Knapp the opportunity to travel to Cambodia to film on-site. She visited the capital Phnom Penh, recorded footage at a local market, hiked through an ancient temple covered in immense vines, and even lost her luggage for a few days in China. The trip is her favorite experience with iDE so far — and next time she gets to travel, Knapp has her fingers crossed for Nepal.

Knapp has found her calling with iDE, but her memories of Harrisonburg and JMU remain near and dear. "Harrisonburg is my hometown. JMU feels like it's part of my hometown. It's always been there, [I've] seen it grow since kindergarten. So much of JMU wasn't there at that time, and it's been really cool to see it grow and change. It's part of my home."