News
Alumna overcomes 'block' to create award-winning LGBTQ film
---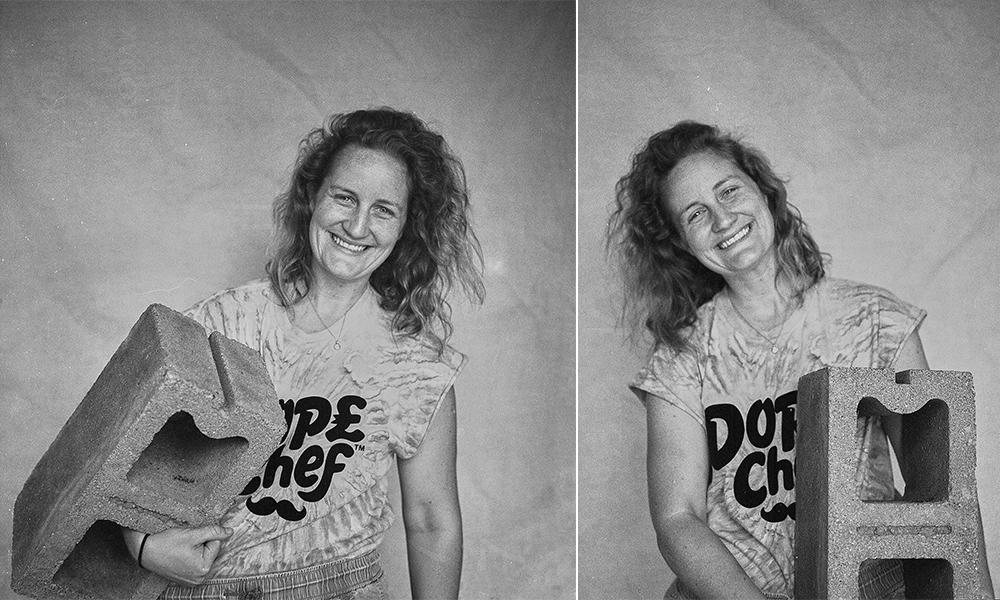 SUMMARY: Carrie Brennan ('16) wrote, produced and acted in the award-winning independent film BLOCK, which details her experience coming out as gay after graduating from JMU.
---
In the opening scene of BLOCK, Kit O'Brian sits behind the wheel of her car and belts out the lyrics to Natalie Cole's This Will Be (An Everlasting Love). She pauses the song, sends a message on Snapchat, then resumes her voice-cracking attempt at matching Cole's soprano. 
"I love slice-of-life movies," said LGBTQ filmmaker Carrie Brennan ('16), who plays Kit. "They make everyday things cinematic, and that's what's so relatable." 
BLOCK is Brennan's story. The award-winning independent film, which she wrote, produced and acted in, details her experience coming out as gay after graduating from JMU. Brennan believes wholeheartedly in the power of storytelling, a conviction that carried her through four years of behind-the-scenes work in hopes of reaching just one person suffering in silence.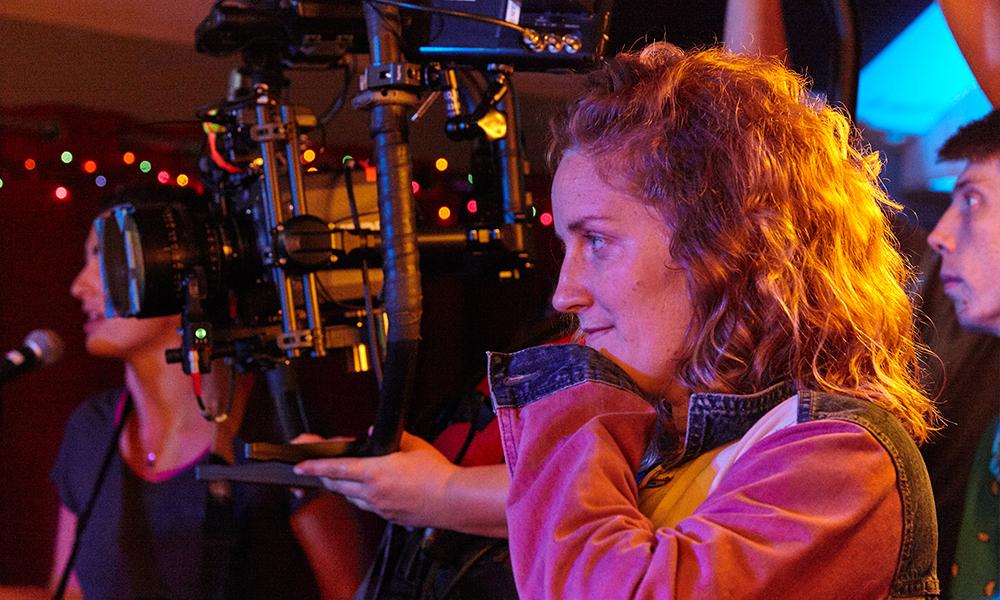 At JMU, "I got into acting from a very vulnerable place," Brennan said. Despite her larger-than-life demeanor, the communication studies major carried a sinking feeling that she wasn't living authentically.  
Even in her sessions at the JMU Counseling Center, she wasn't ready to come out. "I literally couldn't even touch that area because there was so much shame and internal homophobia. I was so freaked out of even the idea that I could be gay," Brennan said. Instead, she decided "I'm just going to pour everything I am into acting and getting famous. I'll be loved by everyone, and I'll be okay to be who I am. It was a totally outward approach, but it was all I could hang onto during that time in my life." 
She auditioned for every student film she could and—inspired by Broad City writers and lead actors Abby Jacobsen and Illana Glazer—often wrote herself into scripts. "My shtick was really comedies," she said. "I thought that the best actors were ... very loud and funny and charismatic."  
In 2016, Brennan graduated and moved back into her childhood home in West Chester, Pennsylvania, where she began attending acting classes at Playhouse West-Philadelphia with director Tony Savant. "That's when I learned the truth about real acting," Brennan said. "I was put in my place." She didn't pick up a script for the first four months of the two-year program. The actors first had to learn their instruments—themselves—and the art of listening.  
This period of introspection challenged Brennan, who had sought out acting as an escape from herself, and ultimately led her to come to terms with her sexuality. "I was writing more than ever, journaling, noting everything—how I was feeling, what I was going through," she said. She began seeing a therapist and found the courage to come out, first to her therapist, and then to those she loved.  
As she found self-acceptance, she developed compassion for those living the way she had: ashamed and afraid. Gathering her journals, Brennan began a new script based on her experience and enrolled in Savant's yearlong online screenwriting course.  
The first draft of her script lacked the tension of an antagonist, an opposing force strong enough to compel the lead character, Kit, to face her fears about coming out. She was encouraged to write in a love interest that would serve as the force to bring Kit out of the closet, but the idea didn't seem honest to Brennan. Instead, she practiced listening to herself and wrote in an unusual antagonist she'd been considering for a while, something that could personify the internal homophobia she'd been wrestling with for a decade: a 30-pound cinder block. 
It came "from a quip that I said to my therapist," Brennan said. The session had opened with a routine question, "How are you?," to which Brennan replied playfully, "Oh, great, just great. I feel like I have a 30-pound cinderblock on my chest all the time. How are you?" The moment rang so true for Brennan that she wrote it into the film.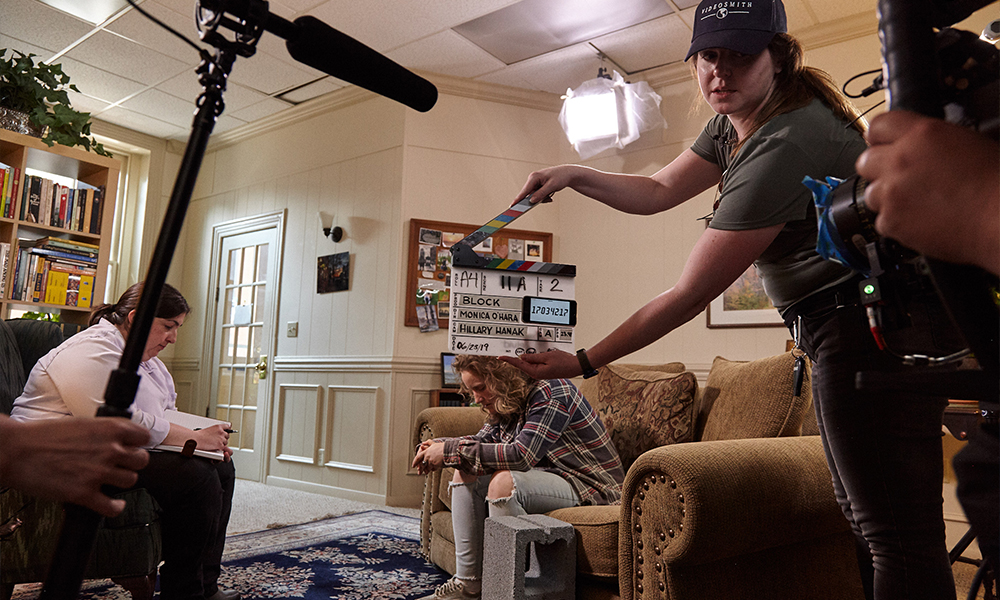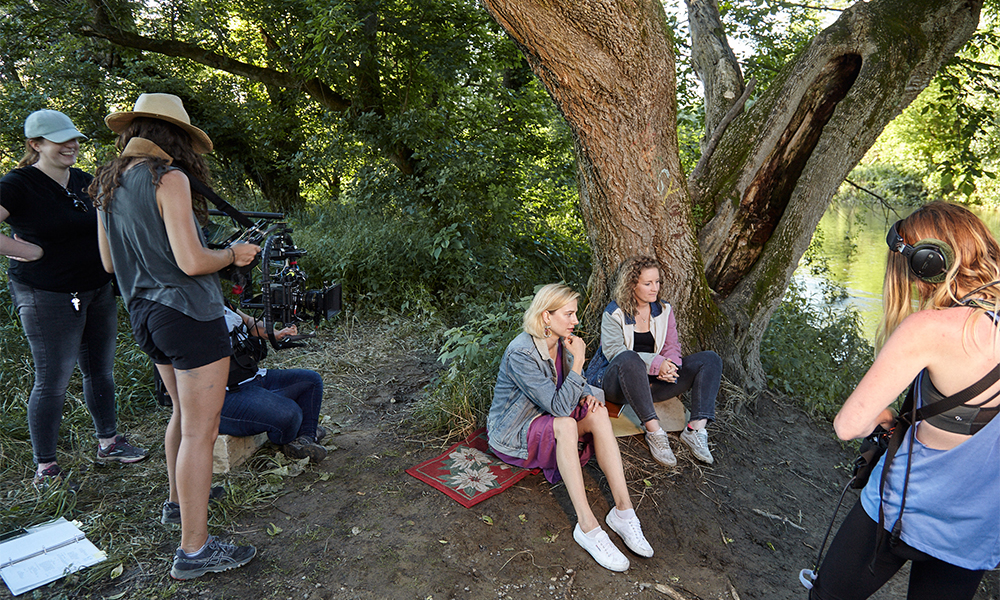 After the script was finished, it took another two years to finish filming. Brennan credits her incredible crew for bringing the film to the finish line. She also credits JMU communication studies professor Dan Schill. 
In his persuasion class, "Schill taught me that it's so much more about giving than getting in persuasion." Brennan put Schill's real-world advice into practice. In desperate need of a film camera, Brennan called a Los Angeles equipment company. Instead of focusing on what she hoped to receive from them, she focused on what she had to give: her story and the chance for the company to support an LGBTQ filmmaker and all-women led film crew. Eager to partner with Brennan, the company provided equipment for a fraction of the cost. 
This giving philosophy is one Brennan now lives by. In fact, it's kept her moving forward after the March 2020 premieres—scheduled in various theaters, book stores and event spaces in New York and Philadelphia—were canceled due to COVID 19. After acknowledging her disappointment, Brennan got to work finding a mode through which she could share her film with those who most needed its message of self-acceptance.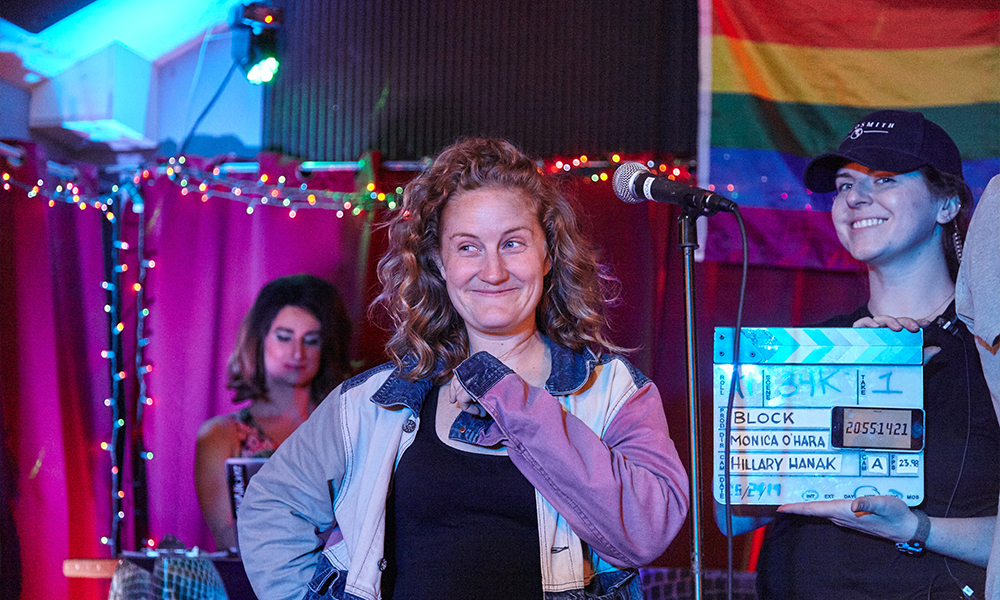 On March 4, four years after Brennan began penning the script, BLOCK premiered virtually for an audience of more than 850 people. There was such a strong response to the film following its premiere that the crew offered an additional two weeks of streaming.  
"I think in a weird way, [the film] was always meant to be super accessible to anyone online," Brennan said. After all, that's how the first positive, on-screen LGBTQ message reached her—through her TV at home. It was in seventh grade, and she was holding a bowl of chicken-flavored Ramen noodles watching Grey's Anatomy. It was a moment Brennan will never forget. 
The virtual premiere of BLOCK was a full-circle moment, the closing of a chapter in Brennan's life, but it left her with a new revelation. 
"It's just begun," she said.