News
Looking to the future
Dukes selected as semifinalists for national fellowships abroad
---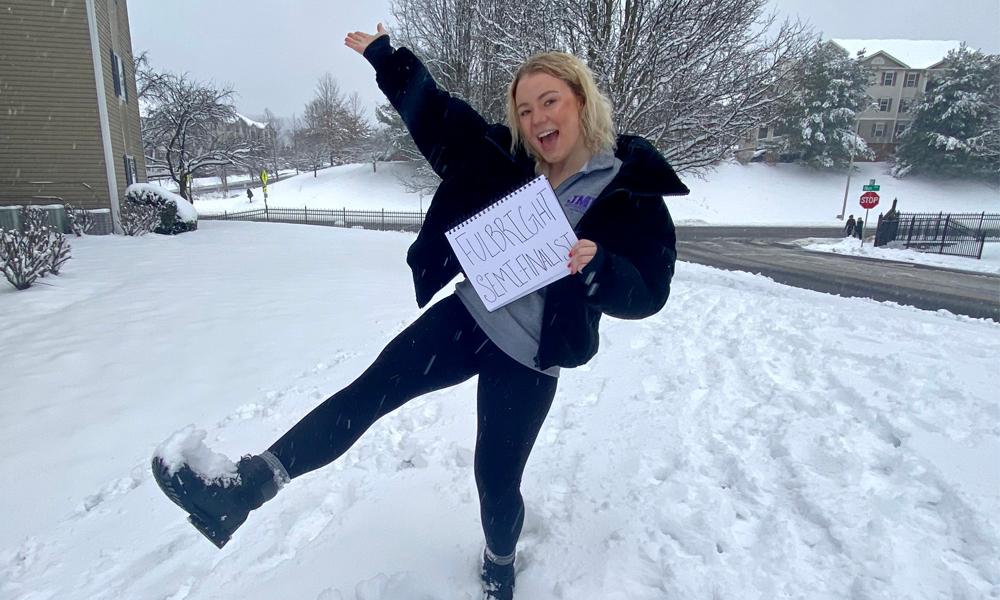 SUMMARY: Thirteen Dukes from the College of Arts and Letters were selected as semifinalists for prestigious educational exchange programs sponsored by the U.S. government.
---
On the last Friday in January, 49 Dukes – myself included – refreshed emails and checked application portals in anticipation of the release of semifinalist results for Fulbright's U.S. Student Program, the flagship international educational exchange program sponsored by the U.S. government. It had been over three months since we submitted our applications to teach English, pursue graduate study, conduct research or complete artistic projects abroad. 
The program, open to college graduating seniors and young alumni, was created to facilitate cultural exchange and encourage intercultural appreciation through personal and professional encounters. In a normal year, the program draws thousands of applications. In a year that can be described as anything but "normal," Fulbright announced that 2020 saw the highest application numbers since its inception 75 years ago. 
"This process takes a village, and it takes imagination, endurance and hope."
Of JMU's 49 applicants, 31 were met with the exciting news of semifinalist status in the most competitive cycle to date. Of the 31 semifinalists, 11 earned degrees – or will soon graduate – from the College of Arts and Letters.
Three JMU students also received semifinalist results for another prestigious national fellowship: The Critical Language Scholarship (CLS) Program, a U.S. government effort to expand the number of Americans studying and mastering critical foreign languages. From the College of Arts and Letters, Lauren Palmieri ('20) and Hannah Schilling were selected as semi-finalists to spend a summer abroad engaged in intensive language courses in Turkish and Arabic, respectively.  
What is easy to miss in the excitement of the semifinalist results being announced is the long, arduous road that all the applicants had to endure, just to submit their applications. The countless hours of writing, editing, scrapping altogether and re-writing personal statements and grant proposals. The emails and phone calls, often abroad, to discuss project ideas or request letters of affiliation. 
Then, there are the campus interviews, which are only intended for applicants' benefit, but come with nerves all the same. Trusted professors, mentors and employers are called on for letters of recommendation, and Meredith Malburne-Wade, the Director of Student Fellowships Advising at JMU, remains on standby for nearly a year with timeline information, astute feedback and "You've got this!" emails. It was Malburne-Wade who helped me to mold my clay aspirations last January into an application that could hold water.  
The final draft (the eighth or twelfth version that finally gets submitted) is an amalgamation of past experiences and current passions, as well as a projection of who we could become and how we could "Be the Change" in a different part of our shared world. This process takes a village, and it takes imagination, endurance and hope. Cheers to all the Dukes who spent a most-uncertain year looking ahead and imagining how they might contribute to and be inspired by the global human community.