News
Honoring the Histories
---
SUMMARY: Through internships with the Shenandoah Valley Black Heritage Project, JMU students have forged deep connections with Harrisonburg's Black community and history.
---
For some, the college experience is about embracing the newfound freedom of living away from home for the first time. A period of self-discovery and experimentation. For others, it represents rootedness in their university community, a time to throw themselves into academics and extra-curricular activities. For senior Spencer Law, his college experience has been characterized by a deep exploration of Harrisonburg's Black community and its history. 
Born and raised in Birmingham, Alabama, Law grew up surrounded by Black history. "I was excited [that] there was an opportunity to learn and tell [Black] history where I was moving to go to college," Law said. "I feel very passionately that where you're going to college ... you're not just going to a college; you're going to a town, you're going to a city." 
Celebrating Simms
During Law's freshman year, Seán McCarthy, a professor in the School of Writing, Rhetoric and Technical Communication, visited Law's public history course to discuss Celebrating Simms, a public history project celebrating the life of pioneering African American educator, Lucy F. Simms, and the school named in her honor.  
McCarthy described the vision he shared with English professor Mollie Godfrey for expanding the exhibit. "I could tell that he was really passionate about the project," Law said. McCarthy ended with a pitch to any interested students with graphic design skills and an understanding of historic context to consider joining the team. The media arts and design major was close to declaring a second major in history, so he approached McCarthy after class. "I said, 'I'm pretty new, I'm pretty fresh, but I'm very interested … this is my niche.'" 
The following summer, Law joined a team of students working under the guidance of McCarthy and Godfrey on the Celebrating Simms project. His immersion in the history of Black Harrisonburg began with the reading of memoirs by local authors and historians such as "The Way it Was Not the Way it Is," by Doris Harper Allen, who was awarded an honorary doctorate from JMU. The team then interviewed members of the Shenandoah Valley Black Heritage Project (SVBHP), a Harrisonburg nonprofit dedicated to recovering, sharing, centralizing and expanding the resources on African American history of the Shenandoah Valley. SVBHP president Robin Lyttle says that some of the nonprofit's regulars went to the Lucy F. Simms high school and remember being moved to a white high school when it was shut down.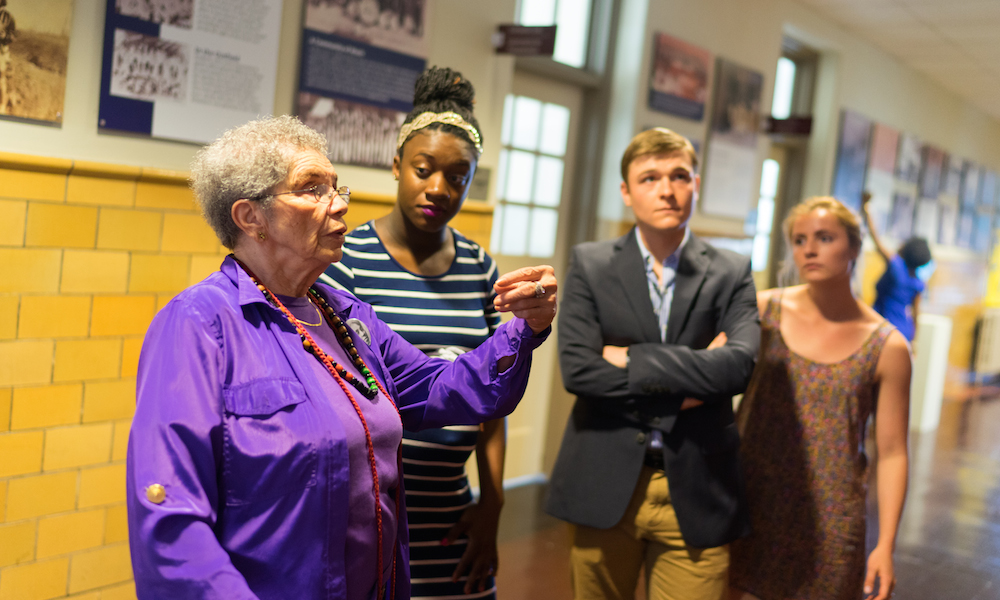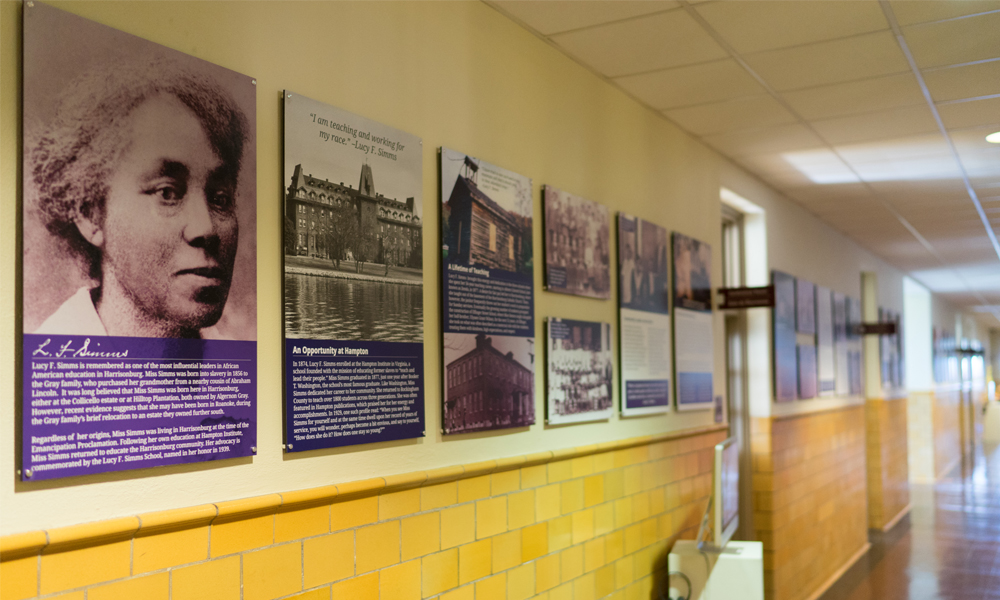 A task that was initially intimidating became an avenue for deep connection, as Law heard stories from SVBHP vice president Robert Harper—Allen's son—secretary Sharon Barber and community member Corliss Brown. "They sat down and told me their life stories and what it was like to grow up in Harrisonburg, to go through desegregation, to go through urban renewal, what it was like when their houses were taken away by the city government," Law said. "I just found a lot of common humanity and kinship … I could tell [the SVBHP] was where I wanted to be."
Planting Roots
Law began spending more time at the SVBHP, dropping in during office hours to chat with community members and listen to their stories. "They're great storytellers," Law said. "As tough as it is, they're wonderful at being able to articulate Harrisonburg's Black history, and I found that so much more valuable than trying to read a book or take a class on the topic because it was, you know, tangible." 
Shortly after Law began volunteering, Lyttle offered him some advice. If Law's plans for involvement with the organization were short-lived, then it would be better that he conduct his research from afar, through books or oral histories. 
The noncommittal relationship Lyttle warned against was a common theme in the memoirs Law read early in the Celebrating Simms project. The authors "wrote a lot about having these tangential experiences with [JMU] students, where they would pop in and do a project based on Black history of Harrisonburg and then kind of abandon it and move on," Law said. "It hurt my heart to read that." 
Law assured Lyttle he wasn't volunteering with a short-term project in mind. He was invested in the people and stories of the SVBHP. "I think that's where we connected and where I kind of planted my roots in saying 'this isn't a one-time thing,'" Law said. "I've realized that there's not only that opportunity to learn and tell [Black] history but to make a commitment."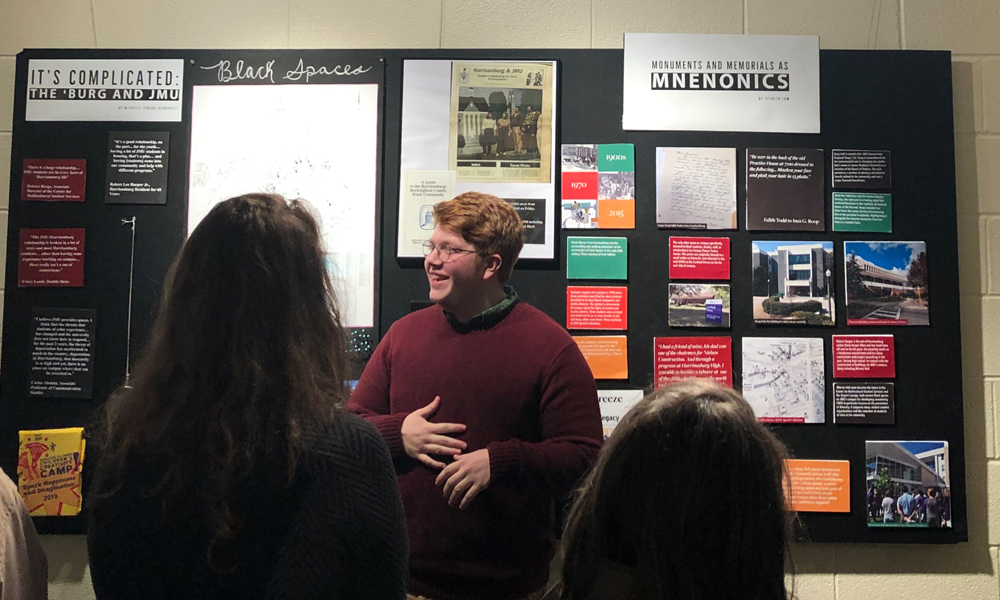 Thinking back on Law's relationship with the SVBHP, Lyttle laughs as she remembers Law arriving bleary-eyed one morning to help work a yard sale. "Spencer just came in and plopped down and has been working with us officially and unofficially since." 
Tracing African American Chefs
Law also connected History major Elainah Elkins with the SVBHP, where Lyttle helped her create an internship based on her interests. "Our thoughts are, when someone like Spencer or Elainah comes to us, we like to ask what they're passionate about and we like letting them create the project they want to work on," Lyttle said. "Because there's so much history out there yet to be uncovered and a lot of oral history leaving us every day with each elder passing, there are so many different topics." 
Since January 2020, Elkins has worked alongside Lyttle to trace the history of African American chefs in the Shenandoah Valley. For the Staunton, Virginia, native, this project hits close to home. "Researching the Shenandoah Valley gives me a chance to research, not only where I go to college, but where I grew up," Elkins said.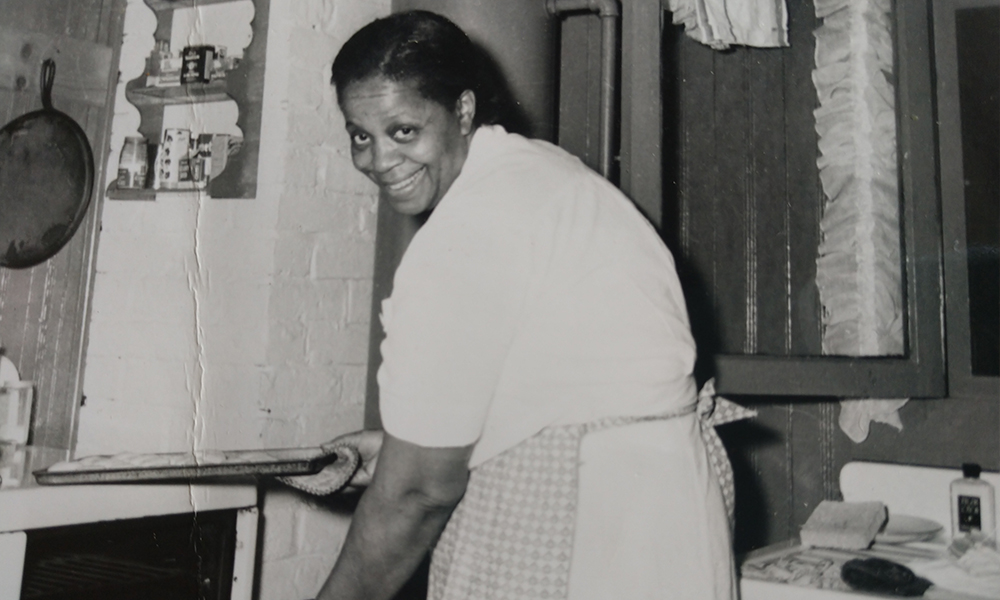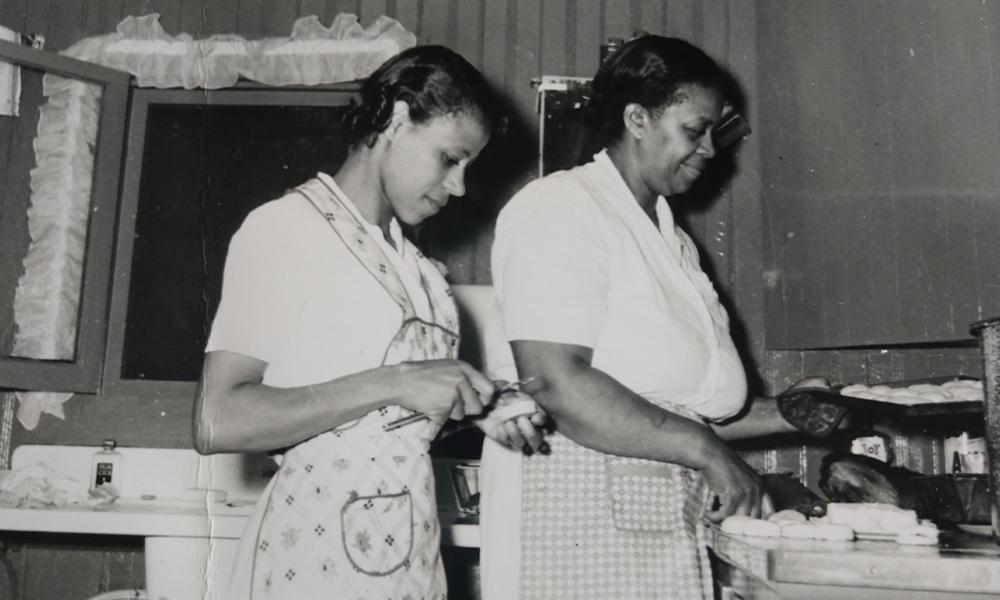 Elkins is currently interviewing community members to gather oral histories about African American chefs and local food shops, which will be used to honor chefs through the annual Soul Food event. Through their research, Lyttle says they've discovered African American restaurants, inns and neighborhoods that provided food to their communities during the Jim Crow era. There's a story about a shop "that for one dollar, you could get your box of chicken and a shot of whiskey," Lyttle said. 
Before the SVBHP closed due to COVID-19, "Elainah would come once a week and we would just sit around and talk," Lyttle said. "What [students] bring to the project is not only research, but themselves. I think that's been as important in so many ways because our goal is to help people learn and illuminate this history." 
Although the internship was scheduled to end in May, when Lyttle offered a three-semester extension, Elkins took it. The senior aspires to earn her Ph.D. in African American history and become a professor. "Research is what I love doing," Elkins said. "And also getting to interact with people from the community, interviewing them ... getting outside of the JMU bubble." 
On November 20th, eight chefs and their descendants will be honored at the Soul Food Dinner, a virtual event open to the local community. For thirty dollars, attendees can order dinner and dessert to be delivered to their homes and then gather around their respective tables to celebrate the history of soul food in the Shenandoah Valley. Some of the chefs being honored include Bethany Veney, who was an enslaved woman in Page County, and Chef Mike Brown, who is known for his BBQ restaurants and cooking for the Washington Football Team. The event will showcase the short stories and recipes Elkins has gathered. "It's going to be a great way to highlight, to honor the community," Lyttle said. She also hopes to compile Elkins' research into a book to be published next summer.
Changing the Relationship
When Godfrey approached Law about declaring the African, African American and Diaspora Studies (AAAD) minor his junior year, he was skeptical. With two majors and one minor already, an on-campus job and plans to graduate in three and a half years, he simply didn't have time. But Godfrey knew he was passionate about the subject and only one course away from completing the minor.  
Because AAAD is interdisciplinary—bringing together faculty from diverse subject areas to teach under a common theme—Godfrey helped Law retroactively count SMAD courses toward the minor. She and fellow English professor Besi Muhonja also help to place students in internships with community organizations. Law discovered that "there's absolutely something you can take within the minor that overlaps with a requirement you already have."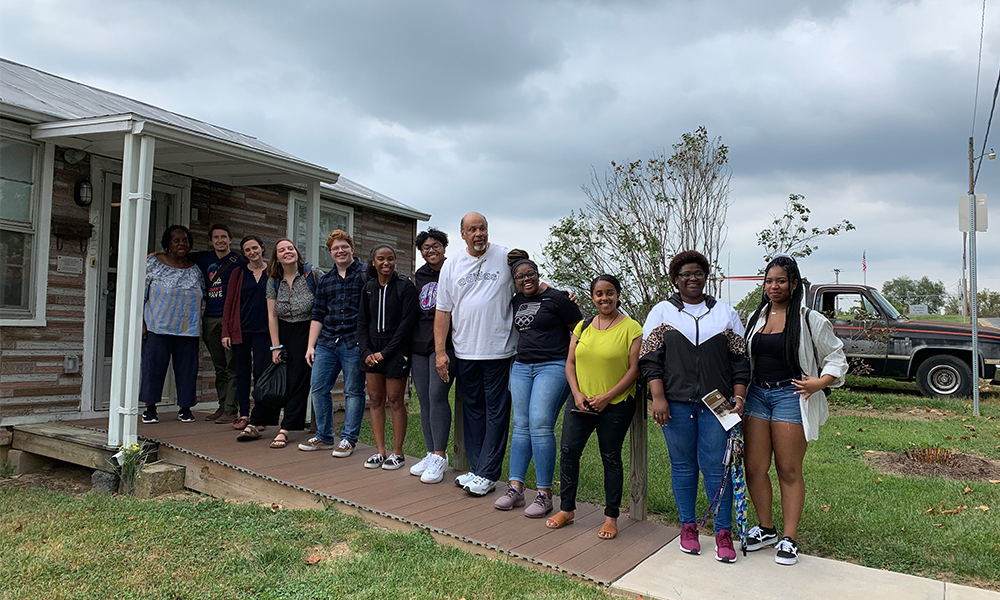 Today, both Law and Michelle Pineda-Hernandez, a psychology major and AAAD minor, sit on the SVBHP advisory board. Both students consider it a great honor to serve an organization with which they have exchanged stories and shared friendship over the years. "The most rewarding part of my involvement with SVBHP has been the witnessing of community members being connected with a safe space to discuss difficult topics that have often been forgotten," Pineda-Hernandez said. "I can't wait to see what the SVBHP has yet to accomplish." 
Law wants other JMU students to develop and nurture their relationships with community members and local organizations. Doing so will pave the way for a more sustainable and enduring connection between the university and the city of Harrisonburg. "I firmly believe that a lot of what happens on a college campus is directly interrelated to the way the surrounding town works," Law said. "I feel passionately about trying to encourage students to be involved with the city, so I've tried to take my own advice and live into that." 
Lyttle agrees. "It's been a great relationship with the JMU students, and we hope to keep it going."